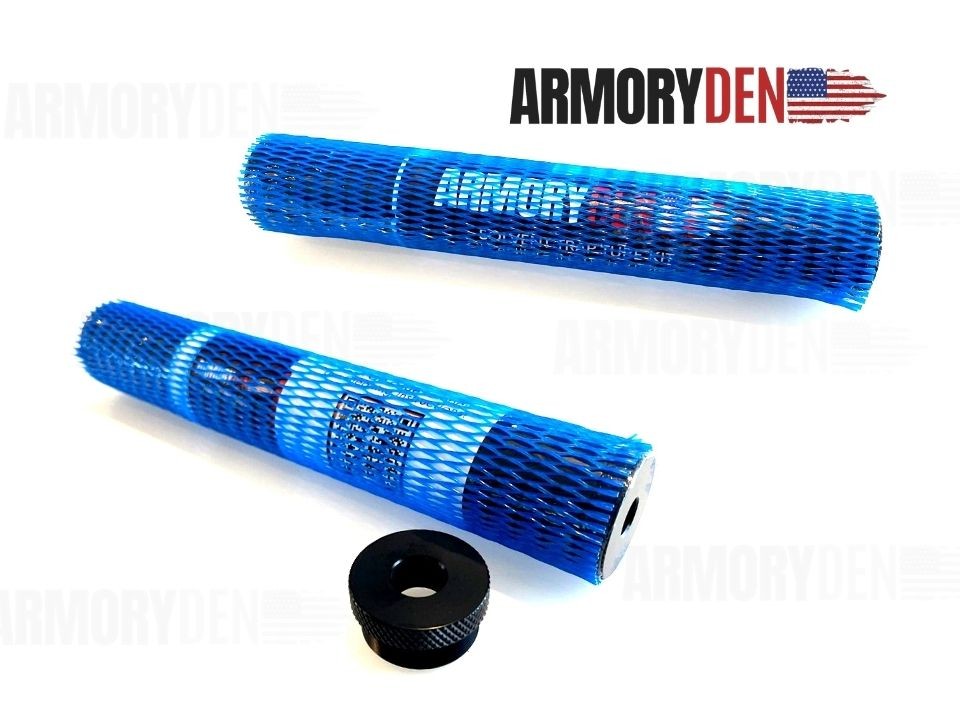 What to Consider While Selecting a 22lr Solvent Trap
While you can always find several good 22lr solvent traps on the market today, not all are ideal for your firearm. It is essential to buy a 22lr solvent trap type with a thread protector that matches the thread pitch of your firearm barrel.
As it's a challenge for most firearm owners to determine the most suitable option, this article will provide you with the factors to consider while selecting a 22lr solvent trap to make your buying decision easier. But first, let's look at the solvent trap kit models available.
Best 22lr Solvent Trap Kit Models
Before purchasing your solvent trap, understand what you want to use the kit for. It can be for firearm cleaning, dry storage, or firearm cleaning and dry storage altogether. Depending on the use, here are the best solvent trap kits you can find at armoryden.com.
Solvent Trap Tube Kits
Solvent trap tube kits are best for firearm owners who want to use the kit as an accessory to clean their firearms more efficiently or as a dry storage solution. You can use the products as one or the other but only one at a time and not simultaneously. A variety of solvent trap tube kits exist to suit every preference. They include:
7" Aluminum Tube 1.45" OD w/9 Stainless Steel Cups Kit
7" GR5 Titanium Tube 1.45" OD w/9 Stainless Steel Cups Kit
10" Aluminum Tube 1.75" OD Stainless Steel Cups Kit
6 and 7" Aluminum Tube 1.05" OD Stainless Steel Cups Kit
7" AD-EX Aircraft Aluminum Tube (D Cell) w/9 CNC Cups Kit
Adaptive Solvent Trap Kits
You can use adaptive solvent trap kit models for cleaning or dry storage. They also work best for cleaning and dry storage simultaneously. Generally, these models adapt to your preferences, which depends on what you want the product to perform, whether as a cleaning or storage solution.
And if you need to maximize their storage performance and get to store large items, armory den offers AD Space Connectors to help you with that.
All you need to do to create an additional dry storage setup is to attach the thread protector to the x2 solvent trap tube side to adapt to the larger solvent trap. Afterwards, attach your end cap to the x1 solvent trap tube side while joining the solvent trap parts with AD Space Connectors. And there you have your dry storage space.
What to Consider While Selecting a 22lr Solvent Trap
Here are a few factors to keep in mind when shopping for your 22lr solvent trap:
Price
It starts with your budget or the amount you expect to spend on a solvent trap. Also, you need to understand if it is a one-off cost or a recurring element. Remember, quality is not always very expensive.
You can still find high-grade 22lr solvent traps with impeccable design and higher durability at a reasonable price. No matter the solvent trap model you choose, you should get the most value out of your investment.
22lr Solvent Trap Types
The type of 22lr solvent trap you select will depend on the task you need it to perform. Some models are best for effective firearm cleaning or act as a dry storage solution, but only one at a time. On the other hand, some solvent trap models can perform as cleaning accessories alongside dry storage solutions simultaneously.
Durability
There is a wide range in durability from one solvent trap to another, depending on the construction materials. Most cheap 22lr solvent traps consist of alloy materials, which wear out within a short time. With such, you can never get value for money.
Before you decide to purchase a 22lr solvent trap, know the duration of time you want it to serve you. Research online reviews to know how long various solvent trap models last. Check out the construction materials of several 22lr solvent traps and settle for the best. Some quality materials to look out for include aircraft aluminum, grade-5 titanium, and stainless steel.
Place of Purchase
Most firearm owners turn to the internet to purchase their 22lr solvent traps instead of visiting physical locations. It's probably because of the convenience that comes with online shopping, as it is easy to check out multiple solvent trap models, types, and pricing from anywhere, anytime.
Although online shopping doesn't enable you to test and try out your solvent trap before buying the same way as in physical stores, most brands offer several trials. They give you a chance to test your kit within a specified time and allow you to return it if you don't like its performance.
Besides, most online 22lr solvent traps are more pocket-friendly compared to those in physical stores. It's because the online stores have less overhead. And since they operate without intermediaries, they tend to pass savings on to the consumer directly.
Nonetheless, while purchasing online, ensure you confirm if the company pays for shipping or not. You can still find a few companies that provide free shipping.
22lr Solvent Trap Design
Selecting the most suitable solvent trap design has proven to be a challenge for most people. While some firearm owners may like the style and look of a particular solvent trap product, it doesn't necessarily mean they have chosen the best design.
Luckily, a few factors can help you decide on the type of product design to select. They include:
Solvent Trap Material – Consider what constitutes the product and the advantages of selecting a particular material over another.
Dimensions – Check out the sizes of various solvent trap models available. Remember, the solvent trap thread protector should match the thread pitch of your firearm barrel.
Generic Characteristics – Look out for the key features of every 22lr solvent trap model and see what makes it stand out.
Specific Product Functionality – While every solvent trap kit has unique features, some stand out in functionality more than others. You need to know how effective the solvent trap kit is in regard to performance.
Vs. Comparisons – Basically, compare and evaluate the main capabilities of two or more 22lr solvent traps to determine how similar they are and to what extent they differ. Then draw your conclusions.
The proper information makes choosing the ideal 22lr solvent trap as easy as 123. It all narrows down to your personal preferences and the budget. Also, know the number of 22lr solvent traps you need to use and how often you will use them.
With new solvent trap models entering the market every few months, consider upgrading your old solvent trap to the latest model with better features. Always purchase solvent trap kits engineered from high-grade quality materials. Armory Den has unmatchable solvent trap kit models that give you the most value for money.