Welcome to the Den!
Supporter of U.S Veterans & First Responders!
Active Member
DENDEAL15
15% Off Den Discount:
Browse Solvent Traps
Home of the Adaptive Solvent Trap™
America's #1 Supplier Of High Grade Solvent Trap Cleaning Kits and Solvent Trap Parts. Routine Cleaning Helps Reduce Risk & Improves the Safety, Reliability, and Overall Performance For Your Firearm!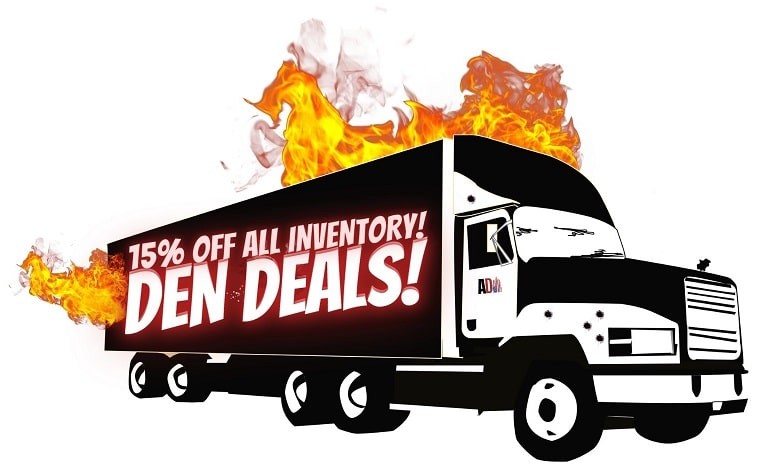 Den Discount Code:
DENDEAL15
Copy Code to Apply At Checkout.
Solvent traps are used during routine cleaning, which helps improve firearm safety, accuracy, reliability and overall performance. Solvent traps catch and trap solvent which also helps protect your skin from potentially harmful chemicals during bore cleaning processes. Our eco-friendly solvent traps help us all do our  part for the environment by allowing us to recycle, store, and dispose of solvent properly.
Like any product you buy from a home improvement or hardware store; our products do not cause harm or injury to anyone when used as intended. A solvent trap is used during routine firearm cleaning, a small investment to help reduce risk for Police Officers, Govt Officials & Firearm Owners!
Configurable, Compatible, and Adaptive Cleaning Solutions.
Armory Den is a U.S based company and supporter of US Veterans and First Responders. We bring firearm enthusiasts the absolute best in solvent trap cleaning solutions. All of our solvent traps are configurable, adaptive, durable, lightweight, affordable, and constructed of high-grade materials.
Our innovative den designs are built to last and catch solvent during firearm cleaning. Armory Den provides a customizable product line, such as our Adaptive Solvent Trap kits. Our complete kits include Thread Mounts, End Caps, and additional Storage Cups in the event of damage during transport.
We take pride in quality control, and work with seasoned machinists to engineer high-grade solvent trap cleaning systems at competitive price points! 


Great customer service. When the item I ordered was late being delivered by USPS, they stepped up to the plate and made things right. I would recommend this company to anyone who is interested in well made quality products. You guys rock! Mike
Very nice quality item and excellent customer service. Prompt responses to questions. Would highly recommend.
Excellent customer service, go the extra mile to make sure you are satisfied as a customer. Would highly recommend the Den for any of your needs of there products,
I think of all the online retailers I have dealt with, these guys are truly set up for great customer service. They have gone way out of their way to make this buying experience more than great. Quick response to the needs of customers are rare today. Thank you for doing what other online realtors have just forgot to do. Taking care of the customer.
Thanks for taking care of everything. It's been a pleasure working with all the staff in all aspects of the Purchase, returns, credit and exchanges-all due to my decisions & mistakes.The quality products and stellar customer service are impressive. The Armory Den has certainly earned my business for life.
Long story short, Armory Den has the absolute best customer service ever! I made a mess of not one, but two orders (completely my fault), they worked with me and fixed the whole thing, got back to me very quickly even on a Sunday! Will definitely be directing as much buisness as I can towards them. Also, the machine work and quality of their products are top notch, great company.
My name is Andy from Tn. I have order things forever and often wonderd about the Reviews people put and what they say about a company as GOD as my witness this company is great if I emailed them I had a response in no time I order 3 and had a 10% coupon that night they honored and had money back on my card the next day!!! When I told my buddy he said now that's a company you can trust and I 100%agree and trust me theres not many of them out there anymore like this one.If your on the line about ordering from them I promise you you wont regret it Andy from Tn A REAL PERSON thanks again Armory Den I wish you and your company all the BEST!!!...

Taylor Headley
30/11/2020
Product is high quality, customer service was even better, I had an issue with one item and they made sure I was taken care of I will definitely be buy again
Worked great once I used it correct lol.
We Support Our Veterans & First Responders!


We understand when our customers shop around to purchase high-grade products, not an incomplete solvent trap kit.
Our company takes pride in offering the very best products, and all-inclusive solvent traps which include all parts that make it one complete solvent trap kit. Only at Armory Den, can you get the best deals, responsive support, and a complete solution without having to purchase each item separately. Browse our solvent trap den today without headaches and additional grunt work.
Free Shipping

Sealed End Caps

Pressed Stainless Steel Storage Cups, K Cups, or Titanium/Aluminum Adaptive (AST) Cups

Thread Mounts (1/2×28" or  5/8×24" with Titanium Kits, 1/2×28" and  5/8×24" with all other kits)

Select Kits Include 8 to 9 Storage Cups, opposed to ALL Aluminum storage cups like our competitors.
Solvent Traps, Firearm Cleaning Kits, Accessories and More!
Armory Den is a nationwide distributor of reliable high-quality solvent traps, solvent trap parts and accessories. Our customers expand from firearm owners to firearm safety instructors, law enforcement, government officials and more. Our products stretch from firearm cleaning kits to barrel devices, adapters and various firearm accessories. We're proud to be the nations preferred solvent trap supplier for consumers and retailers in the U.S.
Our reputation and high volume of returning customers reflect our commitment to superior products and dedication to world class customer service. By choosing our company, you guarantee the best products, price points, and customer service!
American Company.
Seasoned Machinists.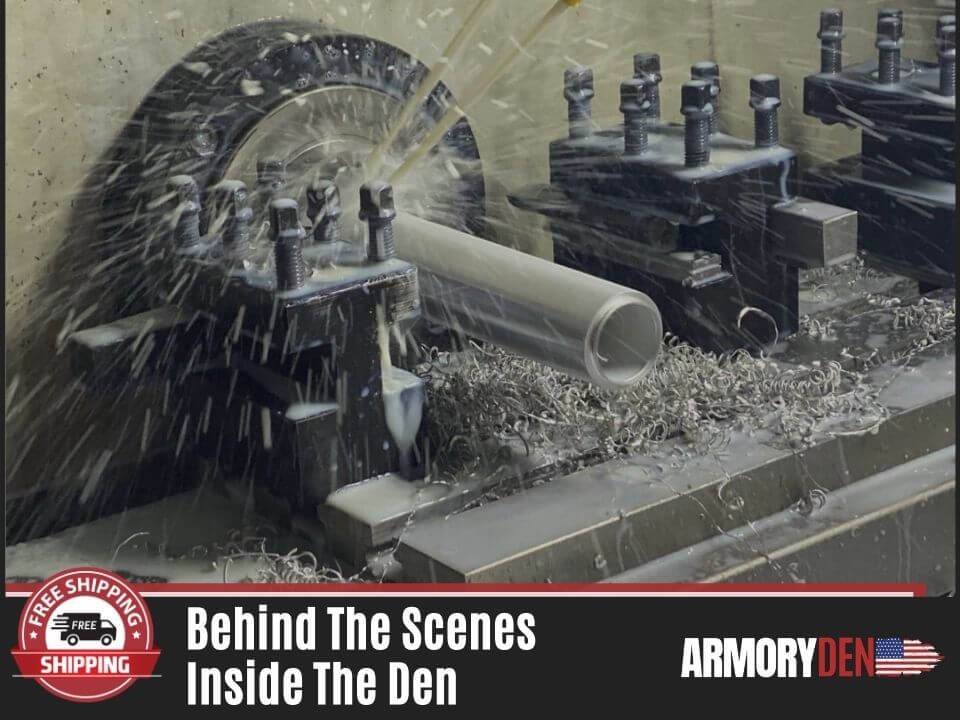 Solvent traps can be purchased legally without a Form 1. However, you cannot modify, alter or redesign them into a device for silencing, muffling or diminishing the report of a firearm without first filing & receiving back from BATFE, an approved Form 1. Please be aware of the restrictions and regulations.
FEATURED SOLVENT TRAP KITS
#1 Solvent Trap Supplier Nationwide!
7075 Billet Aircraft Aluminum Adaptive Solvent Trap Kit.
This Solvent Trap Kit is the most versatile option on the market due to its distinct modular design and heavy-duty construction.
This adaptive solvent trap includes eight 60 degree storage cups, a 3" tube extension, one sealed end cap and two thread mounts (1/2×28" and 5/8×24"). Also included in this complete kit is the industry standard 1.375- 24 TPI end cap adapter.  In it's longest configuration, this solvent trap weighs only 11.8 ounces and is 8.25 inches long, with a 1.57" Outer Diameter.
The GR5 Titanium Adaptive Solvent Trap Kit (Grade-5)
The GR5 Titanium Adaptive Solvent Trap Kit is identical in engineering and aesthetic design as our 7075 Billet Aluminum Adaptive Solvent Trap. It sports the same modular storage cup design and includes a 1/2×28" or 5/8×24" threaded and sealed end cap with a 3" tube extension.
More importantly, it includes the same industry standard 1.375-24 TPI end cap adapter for those that want to adapt to various industry muzzle adapters we all love! The main difference is it is made of Grade 5 Titanium.
Unlike other titanium solvent traps on the market that use Stainless Steel or Aluminum Cups, the GR5 Titanium Adaptive Solvent Trap Kit is made of durable Grade-5 Titanium. This Adaptive Solvent Trap Kit has a unique modular design expandable to 8.25″, and can be used for rifles and other high-caliber firearms, and is retractable down to 3′ for pistol configurations. Better yet, the cups and tube are separate pieces making cleaning and storage easy! The den delivers more for less and we included threaded end caps, opposed to only selling them separately like our competitors.

Always The First In Innovation, New Inventory & Leading Designs 
304 Stainless Steel 1.57" OD Adaptive Solvent Trap™ Kit
Our 304 Stainless Steel Adaptive Solvent Trap Kit (AST) is identical in both engineering and design as our Aluminum and Titanium 1.57″OD AST kits, and includes both the 1/2 x 28" and 5/8 x 24" thread mounts, a Sealed End Cap,  3" Tube Extension, and 8 Adaptive 60-Degree Storage Cups.
This setup works with the optional 1.1875-24 TPI adapter to adapt to various industry muzzle adapters, for purposes such as a quick detach setup to simplify the the connection and disconnection of the solvent trap.
Stainless Steel 1.10" OD Adaptive Solvent Trap Kit
This kit sports the same modular cup design as our kits above, but made of 304 stainless steel and a beautiful matte black finish. Stainless steel is heavier than aluminum and titanium, but more durable than aluminum.
Due to the weight increase, this kit is offered for those in need of a solvent trap with a smaller diameter. This stainless steel solvent trap has a 6.4" length in it's longest configuration, 3" minimum length, and weighs in at only 14 ounces.


All U.S veterans receive 10% off all Armory Den purchases, and getting verified is quick and easy! Simply visit our Veteran's Den and complete our short verification form. Once our team verifies your submission, you will be sent an email with your very own den discount code. Use your Den Discount Code at every purchase and get 10% off for life! 
Thank you for your service!
The Legality Of Solvent Traps.
Be aware of the restrictions and regulations, and please reference our Terms and Conditions to understand more about our products and how they are sold. Solvent traps can be purchased legally without a Form 1. However, you cannot modify, alter or redesign them into a device for silencing, muffling or diminishing the report of a firearm without first filing and receiving back from BATFE an approved Form 1. 


We Support Our First Responders!
All First Responders receive 10% off all Armory Den purchases, and getting verified is quick and easy! Simply visit our First Responders Den and complete our short verification form. Once our team verifies your submission, you will be sent an email with your very own den discount code. Use your Den Discount Code at every purchase and get 10% off for life! 
Thank you for your service!
Customer Protection & Den Deliveries.
Armory Den is an American company, not an overseas provider. We do not stock illegal and low-grade solvent traps, or other products for that matter. Remember, the products you order are tied to your shipping address upon order processing. Purchasing illegal solvent traps overseas can result in a felony charge. A few examples of illegal solvent traps are: Monocore Solvent Traps, Center-Marked Storage Cups (i.e, dimples on Storage Cups), and Illegal Cup Degrees.
Our products are sold with Storage Cups which are designed to catch solvent when cleaning firearms. Moreover, our End Caps and Storage Cups are not Center-marked, and the angles of our storage cups (used to catch solvent) are 60 degrees, which are within the legal and known guidelines.
Unfortunately there is not a list of what the ATF/NFA defines as a legal vs. illegal solvent trap, interpretations can be made based on 'constructive intent'. The ATF works with their NFA FATD "Firearms & Technology Division" counterparts to analyze individual parts, as well as the overall design of solvent traps to determine if they should be deemed unregistered suppressors, which are essentially illegal firearms parts.
Using the ATF/NFA interpretations, it is easy to conclude that monocore solvent traps are illegal unregistered suppressors from a 'constructive intent' point-of-view. This is because they have a hole through the middle of the 'Monocore' or 'Single Core' baffle. Feel free to browse our solvent trap den…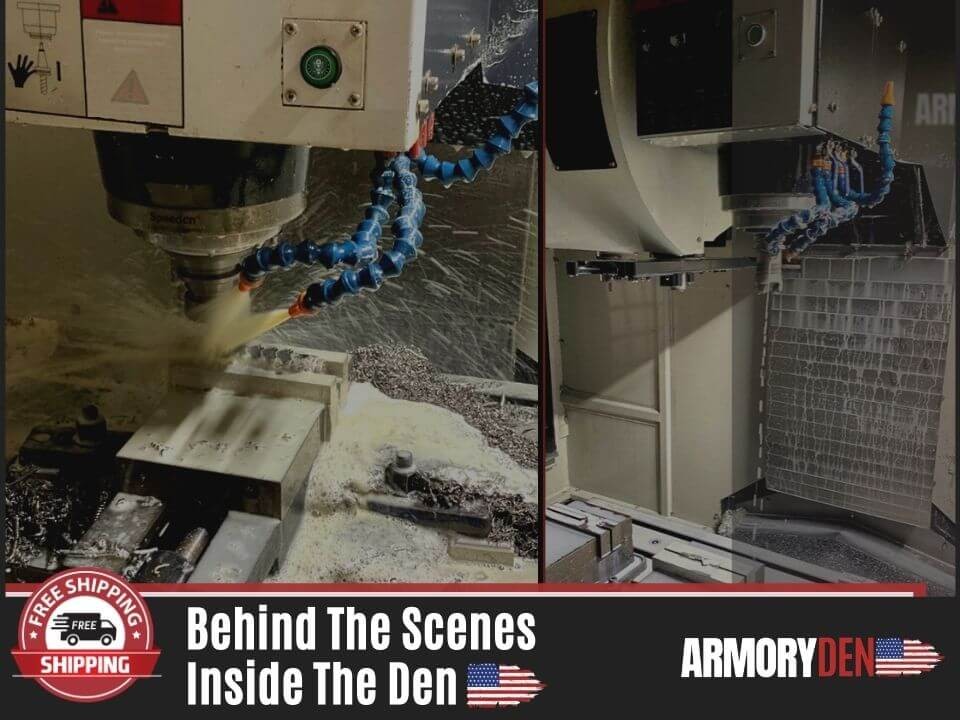 Reliable Wholesale Solutions
Premier distributor of high-quality solvent traps, Adaptive Solvent Traps (AST's) – and more! Our reputation and volume of returning customers reflect our commitment to superior products and dedication to world class customer service. 
Creating an account is free and simple – If your application is approved, you will have access to your very own Dealer Den. Our Dealer Den allows retailers to place bulk orders at competitive wholesale price points. Our den reps work quickly to get your orders packaged and shipped as quickly as possible!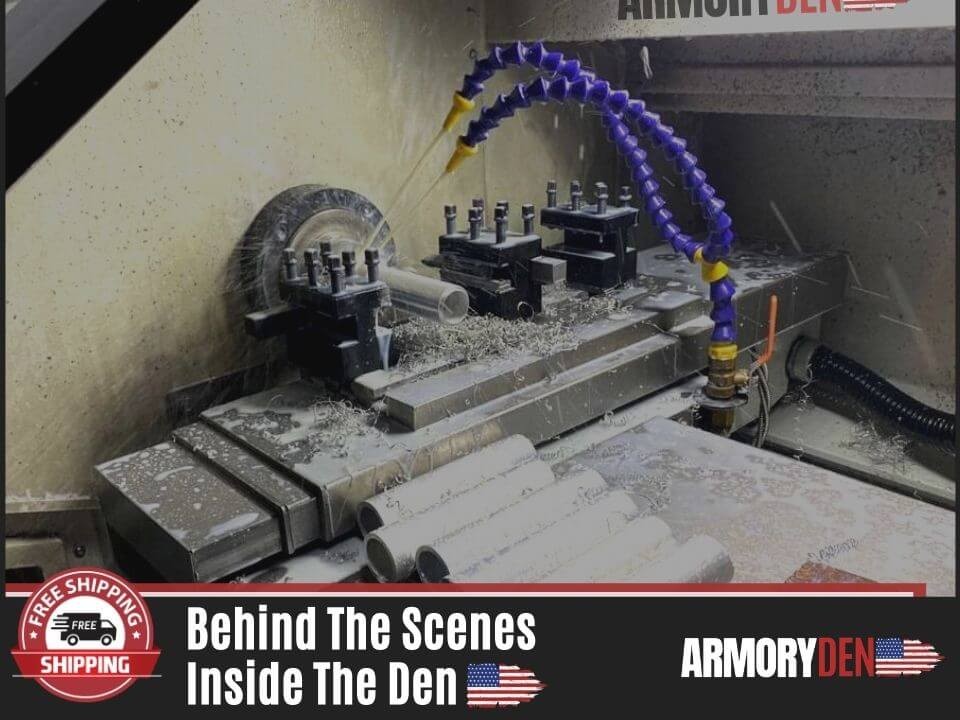 High-Grade Solvent Trap Kits & Solvent Trap Parts
Armory Den works around the clock to maintain our position as America's preferred choice for high-quality solvent trap cleaning systems. You may have already noticed our high-grade line-up of solvent trap solutions and other firearm accessories available for individual customer orders.
Our ultimate goal to always be the #1 retailer for solvent trap cleaning kits, and wholesaler distributor for solvent trap, firearm, and firearm accessory dealer's. Our Dealer Den portal will provide dealers the same best-in-class solvent traps, solvent trap accessories and firearm accessories with better margins than ever before! Once applications are submitted and approved, Den Dealer's are provided access to the 'exclusive members only' Dealer Den. Dealers are able to do everything from submitting custom design requests, to ordering bulk orders across our entire current product line.
Our company is also proud to announce our Marketing Den! This is a newer initiative which will be released in our Dealer Den portal, exclusive to our Den Dealers! Our Marketing Den will offer several effective marketing and advertising solutions at wholesale rates, including web development services. The marketing den will support our Dealers, whether their business is operated as a storefront, online or both!
Our solvent traps have one primary purpose, but they have also proven to serve other needs as well. The primary purposes of a solvent trap cleaning system are to attach to the muzzle-end of a firearm to catch solvent, particles and other residue during active cleaning sessions. Without a solvent trap, anyone who has completed a detailed cleaning of their firearm will know that it can make a huge mess.
Another use of our solvent traps, that relate to cleaning, is for cleaning supply transportation and storage. Our solvent trap storage cups are tightly sealed between each cup compartment area, and cleaning items can be stored in our cups for when you're ready to clean your firearm. For instance, it is very common for firearms owners to use various forms of solvent, ranging from CLP, lubricant, to bore cleaner.
Our storage cups allow firearms owners to store these different types of solvents and oils that serve different purposes, in the different cup storage areas…completely cut off from one and other. Furthermore, disposable cleaning cloths and other cleaning supplies. Depending on the storage cup style, you can store batteries and other 'prepper' items as well.
Another common use for our solvent traps is the use for safety accessories. This is one of the reasons we make some of our solvent trap cleaning systems out of 7075 Billet Aluminum, Grade 5 Titanium, and 6061 T6 Aluminum. 
Pulling it all together, you can store all of your cleaning solvents in your solvent trap, transport these items with the solvent trap screwed onto your firearm for safety, and when you're ready you can deploy your solvents and catch them during cleaning. This is truly the best way to safely clean your firearms without making a mess. Not to mention it is environmentally friendly because it ensures that solvent fluids and discharged contaminants don't find their way into mother earth!
Solvent Trap Anatomy: Internal Parts & Construction
Solvent traps are fairly simple designs and different companies use different variations of parts. Armory Den settled on three types of Dry Storage Cups, and two main Tube designs.
For our dry storage cups, we have K Cups which are the standard 60-degree cups and our AST Cups. Our K Cups are utilized on our D Cell sized 9" Solvent Trap, a very popular firearms cleaning option. One reason K Cups are popular is because the K shape allows for the base of the cup to sit on a flat surface, like a drinking glass. This allows for solvent that is trapped to not spill out of the cups as you remove them, or during transport when pouring solvent into the cups.
Our AST Cups are popular for transporting solvent and cleaning fluids due to their tight seal when assembled together. For those who want to store solvent in their solvent traps for cleaning at a later date, simply set the AST Cups out on a flat surface and pour your favorite solvent, lubricant or bore cleaning brand into the separate cups. As you load up one cup, screw it into another cup and repeat this for as many cups as you would like. Then install the 3" Tube Extension and End Caps and you are ready to clean and go green!
There are many solvent trap providers on the market, so it would be no surprise if you came across solvent traps with center markings or "dimples." A question we get often is, "do your storage cups come with center markings?" The answer is NO. We do not have center marks on our solvent traps because they serve no purpose for our cleaning systems.
Our solvent traps are designed and sold as firearm cleaning systems to catch solvents. Any modifications or alterations our customers make to our solvent traps after our products are delivered is done at their own risk. It is very important that our visitors review our website Terms & Conditions and ATF Legal Den for more information, prior to purchasing products from our website.
Select solvent trap cleaning systems at armory den include both a ½ x 28" and a 5/8 x 24" threaded end cap. A ½ x 28" threaded end cap is used for 9mm, .22lr and .223/5.56 NATO chambered firearms. These are the more popular calibers industry wide, and therefore ½ x 28" is the most popular thread pattern. The 5/8 x 24" is very popular as well, which is the thread pattern on most larger caliber firearms, such as the .308, 7.62×39, .30 Cal , 6.5 Creedmoor, 300 Blackout and more.
Other solvent traps offered by Armory Den, such as our GR5 Titanium Adaptive Solvent Trap, GR5 Titanium Tube with Stainless Steel Storage Cups, and Stainless Steel Adaptive Solvent Trap include either a ½ x 28" or a 5/8 x 24" threaded end cap, rather than having to pay for them separately. Armory Den delivers more for less, making it easier and more affordable. We do this by either including both adaptors to select solvent traps, and by allowing our customers to choose the correct size needed for their firearm, at no additional cost!
All you have to do is make sure you select the correct size threaded end-cap to adapt to your firearm, prior to placing your order with us! As always, if you would like additional end caps, please reach out using our contact forms before placing an order, or after your order purchase with order number included in your inquiry. This will allow our Billing Den to issue an invoice and add it to your order.
Additionally, all of our solvent traps include a sealed end cap. This is the cap that screws onto the side opposite the barrel. This end cap is sealed so solvent is unable to exit the solvent trap.
Just like our Dry Storage Cups mentioned above, our end caps are not center marked. If you purchased a solvent trap in the past, or about to purchase a solvent trap, or recently purchased a solvent trap and would like an additional sealed end cap, please send an inquiry with your order number.
Eventually, we will offer additional sealed end caps and sealed end caps in a variety of styles, just as we do our threaded end-caps. We take our customer feedback seriously and some customers recommended hexagonal and octagonal sealed end caps to make it easier to use their wrenches when tightening and/or loosening them – These requests are in the works!
Solvent Trap Accessories and Required Parts
Our Product Line Is Growing!
Our accessory offerings are growing every week, so make sure you are subscribed to receive our newsletter on product updates. It's important to know that many of our solvent trap accessories are offered independent of our solvent trap kits. Some customers purchase accessories for items they already own and don't purchase solvent traps. This is why we do not bundle accessories with our solvent traps.
For instance, we offer boosters which are required for pistols with a 'browning style action'. As an example, Glocks have a guide rod that deploys when the slide is racked. If you install a solvent trap and would like to run solvent or a bore snake through the ejection port and into the barrel, you will be hard-pressed. As you go to rack or "cock" the slide, the guide rod will deploy and be stopped by the base of the solvent trap. This makes it impossible to clean a pistol like Glock with a guide rod.
Installing a booster solves this problem. Most of our boosters have a thread pattern of 1.1875-24 TPIwhich is a common industry thread pattern, and many customers buy them to use on their own solvent traps. Others order them after purchasing one of our solvent traps, not realizing the guide rod issue. That is why we share content such as this throughout our website to ensure customers are aware of the accessories they can adapt to, or that are required!
What's My Threaded Barrel Size?
You would be surprised at the number of customers who purchase a solvent trap, only to receive it and not realize it can't be installed because their barrel is not threaded. So, please ensure you have a threaded barrel, and to match your barrel thread with the correct threaded end-cap pattern when purchasing your solvent trap or any threaded accessories. 
Currently, we do not offer threaded barrels, but we are in partnership with firearm dealers to offer the top brands threaded barrels such as 'True Precision' and others! We will keep everyone up-to-date.
When Are Titanium Solvent Trap Parts the Right Choice?
As mentioned above, our solvent traps are purchased and used primarily for cleaning and secondarily for storage and safety, such as safety during transport, whether you are moving or going on a hunting trip or other. Traveling with your safety on, without rounds in your chamber, or with your magazines disconnected from your firearms are all means of increasing firearm safety.
Sometimes we're in a rush and we forget things, and forgetting things relating to firearms can be disastrous. If you know you will be cleaning your firearm after several uses, it's best to take your cleaning supplies with you. If you are one to load your solvent trap with solvent and other cleaning supplies, and screw it at the end of your firearm, there is nothing more to remember for cleaning purposes. If you have the correct material for your caliber, the installation of your solvent trap can be safer during your travels. 
Titanium Solvent Trap parts are the right choice for higher caliber firearms when it comes to safety against misfires. Ensuring your 300 Blackout, .308, 6.5 Creedmoor other higher power rounds have a titanium solvent trap installed during your travels, make misfires a nonissue. We will not claim safety as the primary purpose for solvent traps, but it's definitely an ancillary purpose.
Titanium also has better anticorrosive properties than steel and aluminum. Titanium is lighter than steel and stronger than aluminum as well. Although titanium is more expensive, when looking at it in the long run, it may prove to be the better solution.






Complete the form to learn more about our wholesale solutions & discounts!
A den representative will get back to you shortly!