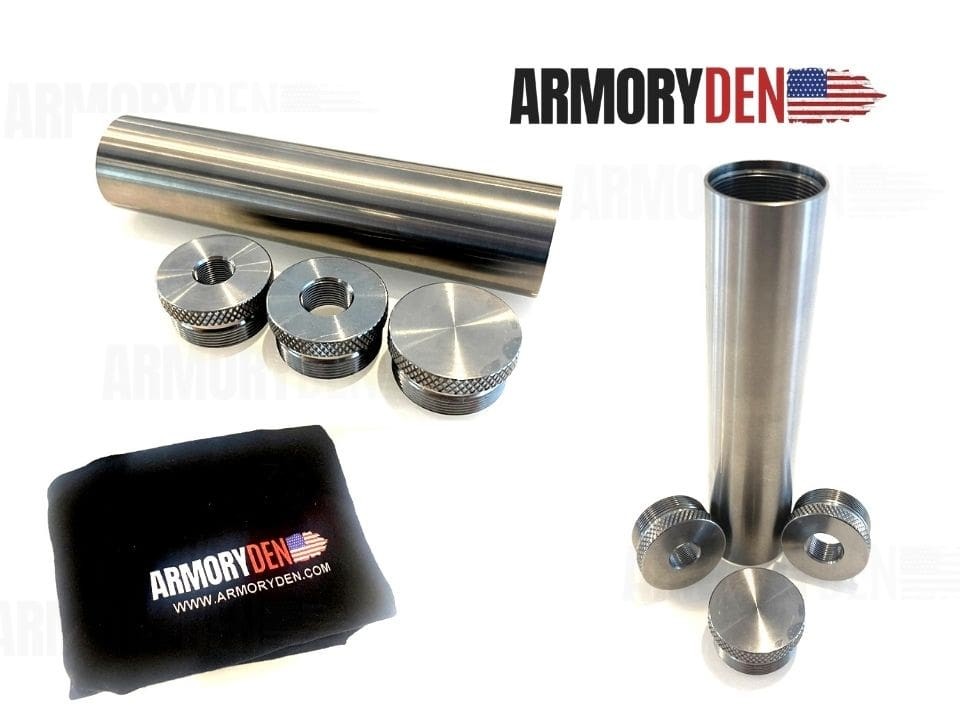 Which Material Type is Best For Solvent Traps?
The purpose of a solvent trap is to remove any residual solvents from your firearm as quickly and neatly as possible. These devices are available in different materials, and each type offers unique pros and cons. The popular materials used for solvent traps include aluminum, titanium, and stainless steel. Understanding the uniqueness of each of them will help you determine which type is best suited for your budget and cleaning operation.
You should also consider the solvents that come off your firearms before choosing a suitable material for trapping them. Almost every solvent trap on the market today will work with lubricants and solvents. The main differences between them are how fast they release the solvent, how easily they drain, and whether or not you have to disassemble them for cleaning or resealing after each use.
Let's take a closer look at the different types of solvent traps to find the best option for your needs.
Features of Aluminum Solvent Traps
Pros
Aluminum is a sturdy metal that makes an excellent material for firearm solvent traps. It is the third most abundant element in the Earth's crust. That's why it's inexpensive and commonly used for making several products, including solvent traps.
Its main advantage over other materials is that it is lightweight, making it ideal for portable traps. Since aluminum is relatively inexpensive, it's an attractive alternative for budget-conscious firearm owners.
In addition to being lightweight and affordable, the 7075 aluminum we offer is more durable than most aluminums. This way if you choose to go the more feasbile route with this material, it's still a great product to reduce wear and tear on threads. Sure, not as strong as titanium but if you don't clean super often, it will last a good while. Additionally, we like like our products to look good and our hard coat anodization look great on aluminum.
Cons
Aluminum is softer than other metals and surfaces may scratch more easily relative to other metal types. Under normal atmospheric conditions, aluminum solvent traps are corrosion resistant, but in a humid environment, they absorb moisture from the air and can corrode quickly.
Another drawback of aluminum is that it can react with some firearm cleaning solvents and cause a buildup of copper deposits. It also attracts dust particles which could lead to grime buildup on the interior surfaces of the trap. These residues could interfere with the next cleaning round and are difficult to wash off. If you're looking for aluminum solvent traps, ensure it has anodized surfaces that are less likely to react with solvents.
Features of Titanium Solvent Traps
Pros
Titanium is a higher quality metal. It's widely known for its corrosion resistance and high strength-to-weight ratio. Because of titanium's strength and hardness, it can withstand the impact of accidental drops and does not scratch or dent easy.
The metal provides a stronger barrier against solvents. This is because it reacts with different solvents to form insoluble complexes. These complexes effectively prevent the solvents from penetrating the pores of the metal and destroying its integrity. As a result, titanium resists cleaners and solvents well. It also has good corrosion resistance, making it suitable for humid environments.
Cons
Titanium is relatively expensive compared to other metals like aluminum and steel, so it may not be practical for some people looking for a cleaning solution on a budget. Titanium is also heavier than aluminum.
Features of Stainless Steel Solvent Traps
Pros
Stainless steel is an excellent material for solvent traps because it does not absorb any chemicals or become contaminated during use. It is like a vacuum cleaner: ready to clean up any mess and never get dirty. It also does not rust or corrode when exposed to solvents.
A stainless steel solvent trap is highly durable. It can last for several decades withstanding corrosion, scratches, and dents. The material is also easy to clean. Washing off the solvent from the surface feels like washing off dust particles from glass.
Cons
One drawback of stainless steel is that it can be more expensive than other materials. Its high strength makes it a good choice for people who want to buy quality tools, but it may not be the best choice for people who want to save money.
Aluminum Vs. Titanium Vs. Stainless Steel
Aluminum is a softer metal than steel and titanium, which makes it a weaker and less durable material. However, it's a great option for buyers on a tight budget, especially for those who don't own plenty of firearms.
If you need something that will last longer than aluminum, consider buying a titanium solvent trap. You may have to spend a little extra, but you get the benefits of longevity when it comes to wear and tear from constant threading.
For something that meets in the middle, go for a stainless steel solvent trap. This type of material rewards you with its long lifespan. Sure enough, it will cost more than aluminum, but it's less expensive than titanium.
| | | | | |
| --- | --- | --- | --- | --- |
| Material | Strength | Weight | Durability | Affordability |
| Aluminum | 6/10 | 9/10 | 7/10 | 9/10 |
| Titanium | 9/10 | 8/10 | 9/10 | 6/10 |
| Stainless Steel | 7/10 | 7/10 | 8/10 | 7/10 |
Regardless of which material you choose to purchase, it's important to buy your solvent trap from a reliable vendor. Several counterfeiters sell low-quality solvent traps that could have other malicious functionalities. To avoid getting mixed up with them, consider making your purchase on Armory Den, America's top supplier of high-grade solvent trap cleaning kits and solvent trap parts. Check out our solvent traps list to find your preferred solution.