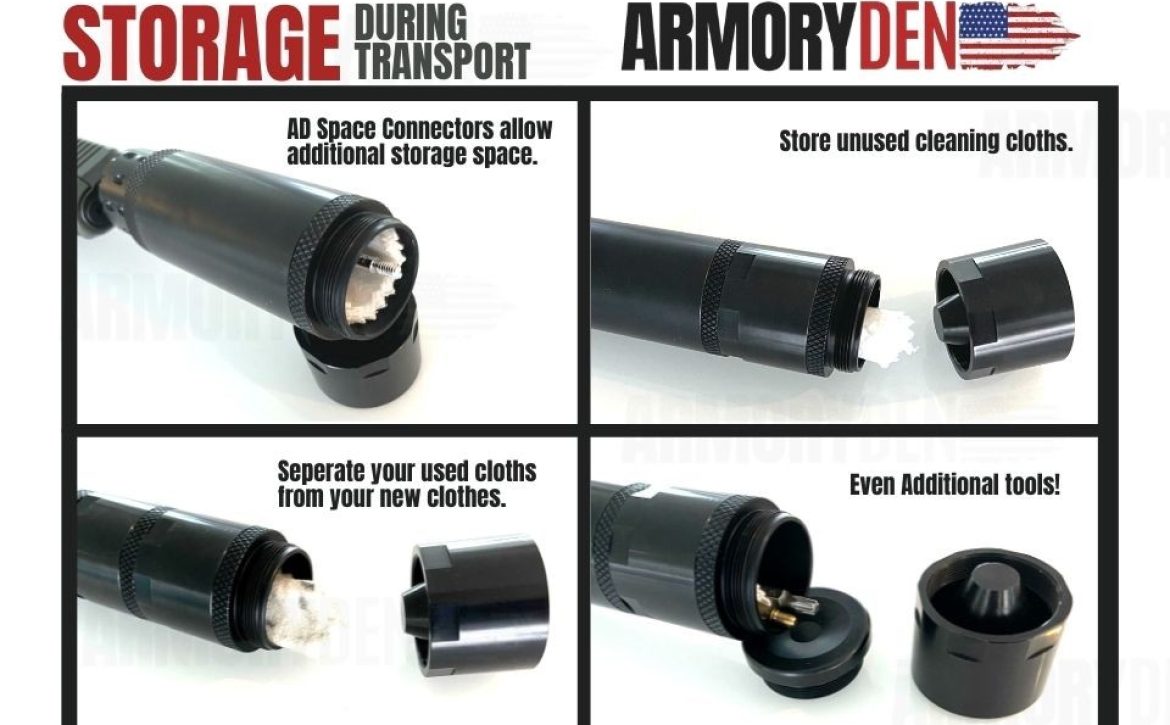 5 Things You Need to Know About Solvent Traps (2022 Updated)
Top 5 Things To Know About A Steel Solvent Trap
Consumer Caution: Solvent Trap Market
When shopping around for a solvent trap, you will come across websites that provide links in their blogs that direct you to overseas companies who list low-grade solvent traps with diluted materials or illegal products labeled as solvent trap kits. Be wary of any links that leads you to external third party sites as they may illegal products and not solvent traps, such as the 'monocore'. Don't be fooled with the names and text like "fuel filter". The ATF doesn't care what the overseas manufacture calls it, only the individual who purchased it.
Always think twice prior to placing your order on an overseas website, because once you submit the order your
shipping address or P.O. Box
will be tied to that illegal product. Do NOT
purchase from overseas counterfeiters as it may result in felony charges when seized at customs, and then you will receive a letter in the mail from the ATF with another situation on your hands. If you are like us, you don't want to purchase products that are diluted with cheaper metal composites in the first place. 
Armory Den takes pride in selling legal solvent trap cleaning kits and dry storage solutions. We do not sell illegal solvent traps or other items referred to as solvent traps, such as monocore products and products with index marks. Some websites may post product images where index marks are not apparant and still ship center-marked (or indexed) items anyway. This is especially true with overseas companies who claim to be based US based companies.
In the context of piping (because we sell solvent traps) an index mark and a lathe mark refer to different types of markings:
Indexing Definition: Indexing by definition is to

indicate

 or 

signal, meaning additional work is done to adjust products through indexation.  
Lathe Mark: Unlike indexation, a lathe mark is

caused through the manufacturing process and are commonly found in end caps sold with tubes or pipes in essentially every industry. This is because circular marks that can be caused by the cutting or machining process used to shape the part and other marks that can be caused by the cutting tool, such as a lathe or drill, leaving small impressions on the end cap. 
If the cutting tool on a lathe is not set at the exact size it could leave small marks. Similarly, if the injection molding process is not precise then it could result in small depressions or marks on the inside part of the end cap. These marks can vary in size and are generally small or barely visible, if not absent at all. From common search, you can find a wide array of end caps with and without small lathe marks that are sold by a plethora of online businesses who sell end caps with their tubing and piping products such landscaping, irrigation experts, plumbing, home improvement, contruction, storage tube and container solutions, etc. 
Regarding Solvent Traps being mentioned in the Final Rule 2021R-05F:
We have always sold our products without index marks. We sell our solvent traps for their intended use of trapping solvent and they are available to purchase as dry storage solutions. Both of which require no modification to the product in order to use as intended.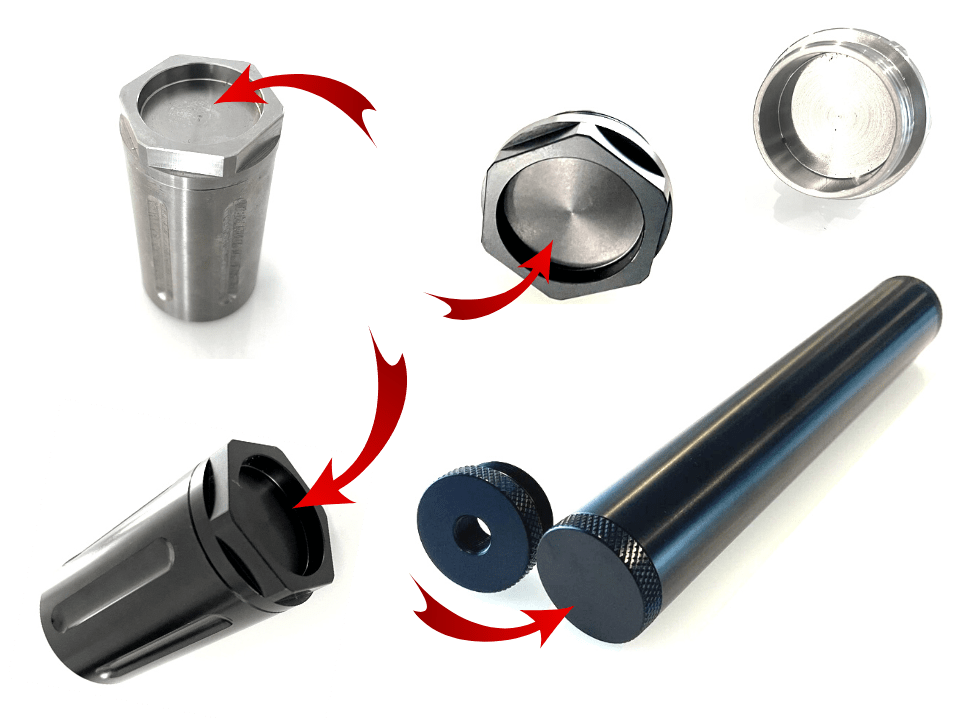 The rule seems to focus on frames, receivers and firearm parts and kit parts. This has caused a direct impact on our business because the words 'solvent traps' are briefly mentioned in the rule. Solvent traps are still firearm accessories and can still be used for dry storage, giving you the value of two solutions for the cost of one.
Armory Den does not sell 'so-called solvent traps' or 'auto oil filter solvent traps', nor do we sell frames, receivers, or firearm parts kits. In light of the rule it appears that solvent traps have been grouped in with much of the content related to frames, receivers and firearm parts kits content. Armory Den is not an attorney and our company is not familiar with the interworking of firearms, firearm kits or building firearms. What we do know is the rule is large, complex, and attorneys tend to agree the vagueness of the rule can subject any company in the firearms industry to NFA violation due to the rule being open to interpretation.
Due to reasons above and the impact this rule had on our company, we are limited on resources and time for support. We hope to have a completely new line of cleaning and dry storage products by 2024. We do not sell NFA items as we strive to do everything we can to ensure we operate a legal and fun company. Due to our product being mentioned in a new rule, if we ever feel we need to have an attorney reach out to the DOJ or ATF about product concerns, we will be sure to do so.
We hope you understand why it's important to do your research when shopping for firearm cleaning solution, even if you plans to use it for dry storage. Always make sure it is a legitimate US based company. Below we have provided a few videos, along with how our safe and eco-friendly cleaning and dry storage products are used! 
Our solvent trap and dry storage solutions, dry storage cups, solvent traps parts and accessories are within clear legal parameters in known guidelines.

MissionMan
February 13, 2022.
Armory Den = HELL YEA! 🙂 Finally a company who doesn't rip people off. I searched forever for a trap kit that matches industry design and option. Ran into tons of scam sites until now. I bought the 304 Steel Adaptive Trap (10" inch) and that was on a Friday. That same night or the next day they already had USPS label from Florida and it shipped out that same day! Armory Den is the best site out of all the knock off scams or just plain fraudulent sites claiming to sell traps. Everything from their shipping to the transparency of sells via Stripe payment, keeps reputation in the front seat. Thank you whoever runs Armory Den. You are doing so many people favors. Your prices are cheapest along with design and materials offered. Its China that makes knock offs and Armory Den DONT PRODUCE OR SELL THAT GARBAGE. (P.S. stay away from Solvent Traps Direct).
Frankie
December 17, 2021.
Amazing! Absolutely thrilled with the level of customer service. Anytime I had a question they respond very quickly and always answer my questions completely. I love their packaging. While it may be somewhat difficult to get to their products through all the packaging, I really appreciate that they take the time to properly wrap their products. I feel like this attention to detail would protect my order if the delivery person were to leave it where it could get rained on or left in the weather. The packaging is amazing, and I will continue to return as a customer.
Mike S.
December 11, 2021.
Outstanding on all fronts Great company! I am 110% satisfied with my experience. The ordering process was easy and secure. The package arrived 3 days early by USPS. The product was extremely well-packaged: outer bubble envelope, inner bubble wrap, a box, and the individual pieces were separated and secured within holes in foam material. The trap itself is very well constructed as advertised. I'm glad I paid the extra $$ for a high quality product rather than risk with a random internet company just out for sales. Also customer service responds within hours and is extremely responsive—they have actual humans interacting with you! Will use again. Thx!
Adam Carruth
June 19, 2021.
custumer of Armory Den for life. where do i start, well for one thing these people have custumer service covered on a legit level. the best hands down communication with me then any company has ever had. up until my first purchase amazon had that on lock. but Armory Den has them beat. And if your skeptical of the quality of material or machining. one time is all it will take for you to truely trust that every single purchase you make with them will be the best you can buy. The best business and people you will ever spend money with. I am a customer for life and that is a fact! truely greatful for a business that actually cares about the people they do business with. thanks yall god bless you!! Adam Carruth
William Patterson
May 25, 2021.
Solid from website to my hand, top shelf As I shopped for the product, I kept returning to the Den website. Descriptions are clear, lots of good information, very good value. Ordering is simple, terms are straightforward. I had special shipping instructions, followed perfectly. Secure packaging. The trap is well machined, fits tight, and is nicely finished. The hand-feel has heft and is of quality. Extra care at every step. Thanks.
Great experience Great experience
They did the right thing! Let me just start with Thank you Armory Den! What exceptional customer service! Their response time to emails, is faster response time then the police department has where I live for 911 calls lol j/k. Seriously, they answered me on Sunday, morning and afternoon. No company does that! Also, I asked about a part I thought came with my order. I was ready to pay for it, nope, they sent them to me for free, and shipped on a Sunday! No one does that! I'm a customer for life! I even canceled an order I had with another company, just so I can buy from ARMORY DEN! My business motto is "always do the right thing l, no matter what" they obviously follow it also!
This company is the real deal I was a little skeptical about ordering honestly. I hadn't heard much about armory den and could only find good reviews lol. But I took a chance and put through an order. Everything arrived as described and is awesome. Be aware that you may receive multiple shipments based on what you order. These guys respond fast and from what i have seen, produce quality products. They have my future business. I've put up similar reviews and given a recommendation on their FB page.
Michael Whitehurst
February 14, 2021.
Great experience Great experience. Product can exactly on time, as expected. Very pleased with product. Very well engineered and good quality. Customer service is excellent. Answered all questions quickly and very informative about products. Will definitely be ordering more in the future
A
solvent trap is a "firearm accessory". As a firearm accessory, they can be attached to the end of the barrel and with an adapter, as a cleaning accessory. Thus, they are not considered as anything other than an accessory because a bullet, or projectile, cannot pass through the tube without modification. Therefore, because a projectile cannot pass through the tube, firearm cleaning lubricants and solvent can be captured and disposed of properly.
They can also be used for dry storage and organizational purposes.
These devices have become extremely popular in the firearm community, and the demand for these products continue to grow in the industry. If you often clean your firearms, using a solvent trap can be very helpful if you wish to prevent a total mess. Because our company clearly states our intent for the use of our solvent traps on our site, our customers enjoy asking questions regarding the best products to clean their firearms with. Firearm owners love conversations and talking about their firearms, and cleaning is a fun topic! feel free to share new dry storages uses with us as well! We'd love to hear your feedback!
Solvent traps also help our customers trap and reuse cleaning fluids at a later time, depending on the frequency of their routine maintenance.
The purchase of a solvent trap is 100% legal, without a Form 1. However, there are important restrictions and regulations you must be aware of prior to purchasing these products. For instance, You cannot alter, modify, or redesign them into a device for muffling, silencing, or diminishing the report of a firearm, without first filing and receiving back from BATFE an approved Form 1. You must always be aware of the restrictions and regulations, especially within the state you reside.
Only after getting the approved Form 1 back can you make any modifications to the product. You will be committing a crime if you make the alterations or modifications prior to obtaining the paid tax stamp. A Felony Alert: Do not make any alterations or modifications to our products, or any solvent trap product or part for that matter, before getting back the approved Form 1. To learn more, please review our ATF Legal Den and website terms and conditions.
Now let's dive into our videos and information below to learn how to properly use a solvent trap solution. Armory Den is the ONLY company that delivers solvent traps like WE DO! Don't be fooled by those who claim they supply products like us! 
Solvent traps are devices that can be attached to the threaded muzzle of a firearm in order to capture the fluids that are used to clean your rifle and/or pistol. Cleaning your firearm regularly can help improve performance, and help improve safety and reliability. As previously mentioned, thy can also be used as storage solutions.
Solvent traps have a female threaded end, so that you can attach it to the threaded barrel of a firearm, the male end. Although solvent trap kits have various designs when it comes to aesthetics, they also have mechanical designs. For instance, our products are made from common metals providing options such as a steel solvent trap, and aluminum and titanium.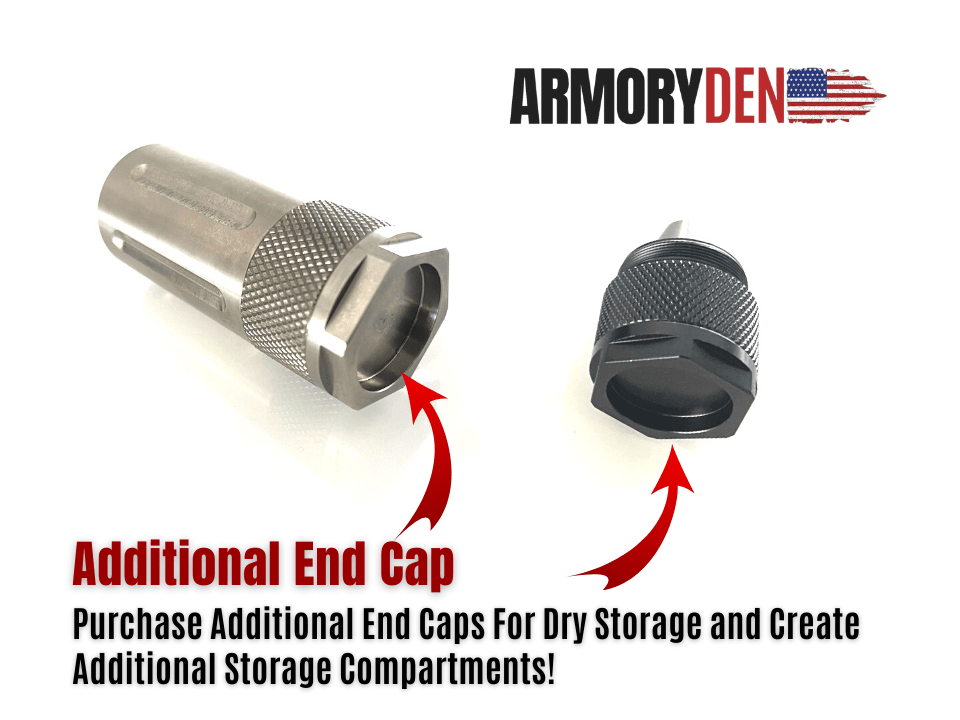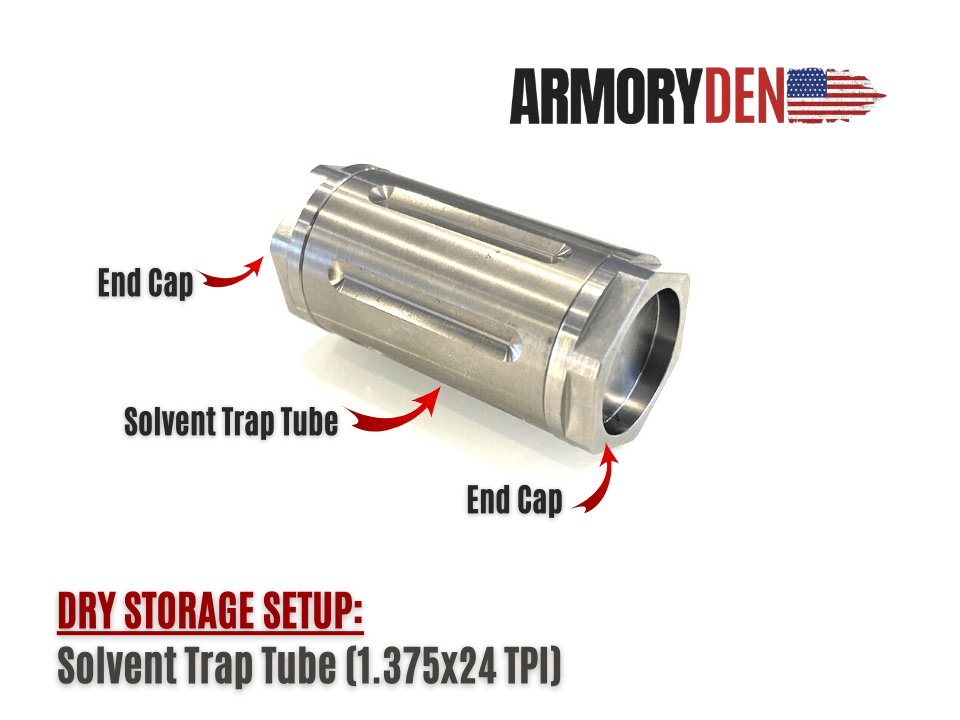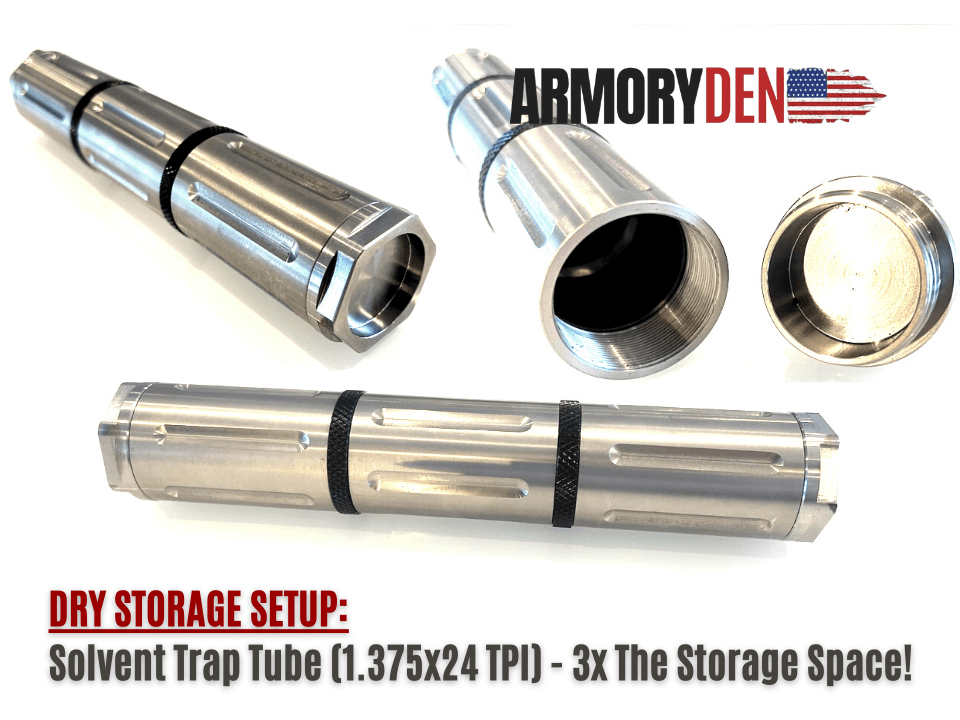 Understanding What's Needed Based on Preference
Once you have an understanding of the product that will be compatible with your firearm and/or other firearm accessories you own, only then should you choose one based off the preference. For example, we offer both a 1/2×28″ or 5/8×24″ thread size option. If you are purchasing a solvent trap solution for an application with these common size thread types then you will have options to choose from. For firearm cleaning the main go is to catch cleaning oils and debri from the end of your barrel so that you alleviate the mess during bore cleaning processes. We have tube, end cap and accessories which can be used for dry storage solutions too.
Unlike a AR-15 which comes standard with a threaded barrel, all pistols without a threaded barrel will need to purchase one in order to use this product. Again, all solvent traps come with the threaded end, the female end. This way it can attached and work properly.
A Solvent Trap, Versus Other Similar Looking Products
A solvent trap does not have a hole for a projectile, or a bullet to pass through. Solvent traps are a 'firearm accessory' made for cleaning your firearm, such a bore cleaning processes. Solvent traps are for trapping solvent to make the cleaning process easier and more efficient. Catching solvent is the purpose of a solvent trap kit, legally and mechanically. Frequent cleaning can also improve the performance of your firearm, as well as make it more safer and reliable.
Like any product in a home appliance or hardware store, they are to be used as intended. The name implies exactly for what they are, a device for trapping solvent, and they can be used for transport and storage as well. So we reiterate, our solvent traps are not NFA items and are 100% legal to purchase and own. All responsible firearm owners or those looking to purchase our products for storage.
Purchasing illegal solvent traps and/or modifying these products without taking the proper legal avenues mentioned above can result in a felony charges. Armory Den sells solvent traps for their intended use, which again, is to trap solvent. If you are looking to purchase a solvent trap legally for
routine cleaning, to improve firearm safety, reliability and overall performance – Then we are the company for you!
What Armory Den Recommends to Buy: Best Materials for Strength and Anti-Corrosion (Stainless Steel and Titanium)
The first set of solvent trap kits that stormed the market was initially constructed of aluminum. Billet 7075 Aircraft Aluminum is a strong metal, but stainless steel and titanium are much strong and durable. Moreover, they have anti-corrosive properties which will allow your solvent kit to be less prone to damage during transport or routine bore cleaning.
Armory Den also offers a standardized 1.375-24 TPI Adapter which is simply a standardized male-to-male adapter.
The Grade 5 titanium tube and GR5 Titanium Adaptive Solvent Trap is stronger than aluminum but lighter than stainless steel. In fact, titanium and stainless steel have anti-corrosion properties to help with heavy corrosion, damage or rust. This also helps reduce wear and tear on product threads as well.
Best Solvent Trap Options: Titanium and Stainless Steel Solvent Traps Are Some Of The Best
If you're looking for the best solvent traps to use, then look no further because you're at the right place. Here, we will provide a few reasons why Armory Den's Titanium and Stainless Steel solvent trap kits are the best
• Titanium and Stainless Steel offer superior and superb properties as construction materials for solvent traps
• Armory Den offers stainless steel and titanium solvent traps with a variety of surfaces that do not readily get discolored with the passage of time.
• Titanium solvent traps have stronger threads to reduce wear and tear overtime.
• Titanium is a good conductor of heat for firearm barrels and can be used as a component of a heat dissipating system for firearm barrels.
• Titanium and Stainless Steel have superior and superb anti-corrosive properties as construction materials for solvent traps
• Titanium is not only stronger, but lighter as well if you are not looking to add more weight to your cleaning or transport needs.
Titanium and stainless steel solvent trap kits are cleaning solutions that allow firearm owners to get creative with their routine cleaning. Armory Den is where affordable meets high-grade solvent trap solutions. One of the most popular products in our collection which comes highly recommend by firearm owners is our Grade 5 Titanium Adaptive Solvent Trap.
Grade 5 Titanium Adaptive Solvent Trap
This Grade 5 Titanium has a unique solvent trap design which includes a shorter Adaptive Solvent Trap Tube which can be created into longer versions using AD Space Connectors. The solvent trap kit has titanium storage cups (Adaptive Dry Storage cups) that have an overall inner diameter of 1.18″ and an outer diameter of 1.57″, which can be removed if not using for storage to a minimum length configuration of 2.5″. This would be the Adaptive Solvent Trap Tube which will serve as the solvent trap itself.
The maximum length configuration during transport of the Armory Den's Grade 5 Titanium Adaptive Solvent Trap is 8.25″ at a max weight of 28oz, which  is quite impressive. This unique solvent trap kit also comes with a 2.5″ adaptive sovlent trap tube, an end cap, titanium adaptive dry storage cups, a 1.375×24″ TPI industry-standard adapter, and a 1/2×28″ or 5/8×24″ threaded protector.
Armory Den's Grade 5 Titanium Adaptive Solvent Trap Is Alluring and Anti-Corrosive!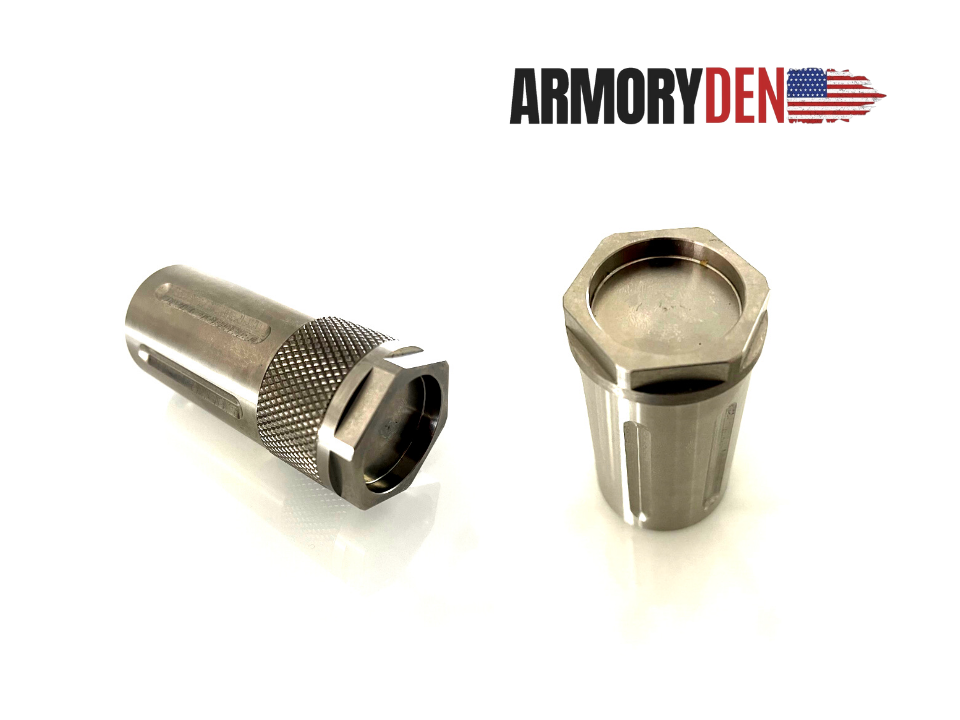 The Armory Den's Grade 5 Titanium Adaptive Solvent Trap Kit is made from high-quality and industry-standard materials. This product can not only be used for firearm cleaning and dry storage but can also be used for firearm cleaning and dry storage simutaneously with our AD space connector. This product creates additional space and storage comparments. This allows this solvent trap model to be used for storage during transport or cleaning. Additionally, select products and accessories such as tubes and end caps with a 1.375-24 TPI can be threaded together for standalone try storage as well. The AD Space Connector allows you to create additional space for these items as standalone dry storage use as well.
The Grade 5 Titanium Adaptive Solvent Trap Kit is a unique solvent trap, which can be found exclusively here at Armory Den as both a cleaning and dry storage solution. Additionally, this is one of our most popular models for those looking for stainless steel and titanium solvent traps. We are the best when it comes to top-notch solvent trap products which can be used for both cleaning, dry storage or cleaning and dry storage simultaneously!
304 Stainless Steel Solvent Trap
The 304 Stainless Steel Solvent Trap is a firearm cleaning accessory catalog that traps solvent-soaked residue throughout the cleaning procedure. This is achieved by collecting any chemical liquid that passes through the firearm barrel, which can then be recycled or disposed of depending on the user's requirements.
The design and engineering of our 304 Stainless Steel solvent trap is similar to the Aluminum and Titanium 1.57′′ OD Adaptive Solvent Trap kits, and is naturally heavier due to the material.
When searching for a solvent trap, you're undoubtedly concerned about the 304 stainless steel solvent trap's distinct qualities and features. The configuration, adaptive, and anti-corrosion components are the most important factors to examine in solvent traps. This product is from our adaptive solvent trap collection, which can also be used for mobile storage and transport solutions outlined in our solvent trap product guides.
The good news about 304 stainless steel solvent traps are that they are interchangeable with other 1.57″ OD Adaptive solvent traps kits, and may be used on any firearm as long as the thread protector included with this product matches the thread pitch of your firearm. This product includes both a 1/2 x28 and 5/8×24 thread protector for those who may cleaning guns with various size thread pitches.
You may be more concerned with the material of your solvent trap, opposed to the color. If this is you, the 304 Stainless Steel Solvent Trap has several benefits that make them well worth the investment. This can save you money in the long-run.
The Type of Solvent Trap You Use Matters
Firearm solvent traps are not just modern-day innovations. They have been in existence for quite some time, although with a different look. The current designs available on the market were developed to be more flexible and stylish.
Traditional Solvent Traps
In the olden days, solvent traps were just a modified nut with an oil filter attached to the bottom of the firearm to trap fluid. You can still find some of these types at lower prices on the market. They are relatively cheap, not because they are of bad quality, but because they come with a simple and straightforward design. Actually, in practical terms, anything attached to the lower end of a firearm to catch fluid/solvent can be classified as a solvent trap. Please take note, we are not advertising cheap products, but educating you, with what is going around the internet. So better choose wisely.
At this point, we like you to note that our solvent traps are engineered for one sole purpose: to trap cleaning solvent residues so that they can be reused. Most of our products are hybrid solvent traps made of titanium and stainless steel. The modern-day solvent traps are customized differently and offer more.
Customizing Your Solvent Trap
Nowadays, there are different firearm solvent trap options available on the market and it is not uncommon for certain individuals to want specific design changes for a multitude of reasons. Some solvent trap cleaning supply companies will offer cerakoting in different colors for a $60 to $100 up-charge, but beyond that, most companies will not customize their items for individual orders, but only bulk dealer orders. If you find the right solvent trap company, customizations will not even be a consideration. Be careful if provided solvent trap cleaning kit customizations, because reputable solvent trap companies build their kits, process them through a rigorous quality control, and ensure they are legal without markings or features that may create a legal issue.
Choosing The Best Solvent Trap
Choosing the right solvent trap kit suitable for your use depends on what design, style, material, or color appeals to you. If you like to use the solvent trap exactly as it is, you can go for a standard build.
A firearm solvent trap makes firearm cleaning and maintenance stress-free. If you're an enthusiast firearm user, it is a worthwhile collection and versatile accessory. When you choose to make a purchase, ensure that you select the one that meets your needs and suits your budget.
If you have different gun types and perform lots of firearm maintenance tasks, you probably need something sturdier and more reliable. Buy one that will not wear off or get damaged easily, leading you to buy a new one almost immediately. If you are looking for reliable, durable, versatile, and top-notch solvent trap kits, then Armory Den is your best choice.
Armory Den offers a wide collection of stainless steel and titanium solvent trap kits that meets industry standards. 
Knowing Each Solvent Trap Part
Solvent traps contain four main components that are necessary for their operation.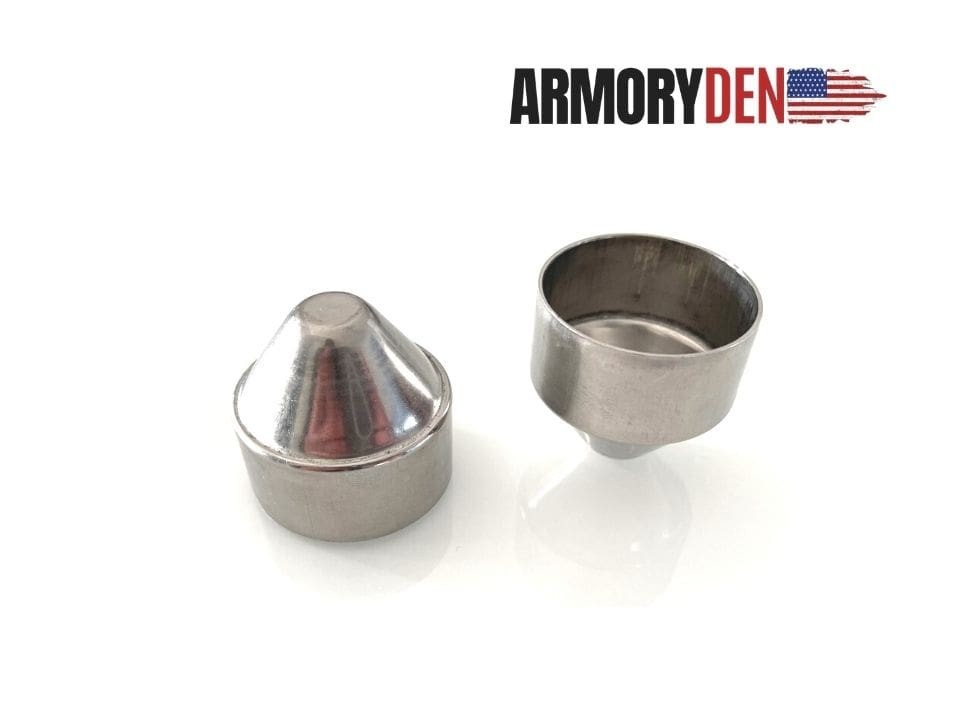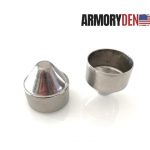 The solvent trap storage cups (or dry storage cups) may be used for cleaning or dry storage based on preference. Dry storage cups can be used to filter solvent and debris during firearm cleaning. Dry storage cups are an accessory for solvent traps that can also divide the inside space for emergency storing of essential items. For cleaning with the
solvent trap tube kits
, the user adds the preferential number of storage cups based on their preference mentioned in our
product guides
. After cleaning is completed, the solvent trap may be removed from the barrel and the used solvent can be transferred to another container for recycling or proper disposal. Solvent traps are typically constructed of aluminum, stainless steel, or titanium.
Solvent trap dry storage cups, on the other hand, can be utilized for a variety of purposes and will depend on the type of solvent trap kit purchased. Again, please refer to our Product Guides located on our product pages for more information.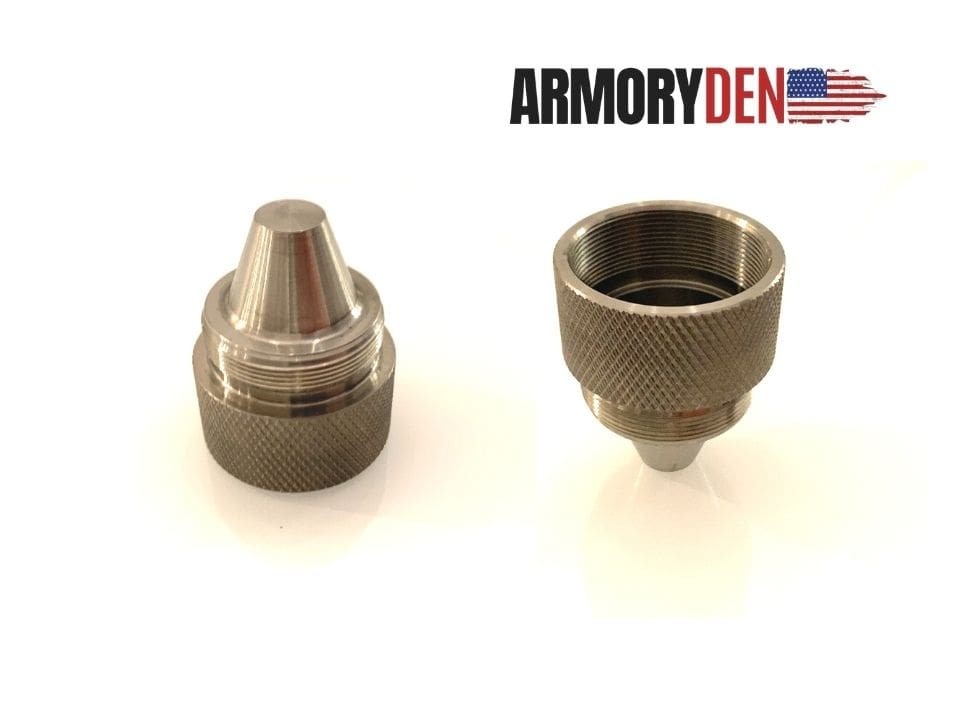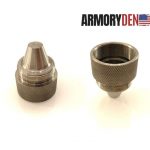 Adaptive Dry Storage Cups can be securely fastened to one another to make transport easier and more efficient. Adaptive Dry Storage Cups can be attached for transport, used to create storage compartments and divide the interior space for emergency storing of essential items. Mentioned in the video above, we also offer AD Space Connectors which allow users to create additional storage space and compartments, and allows customers to use their Adaptive Solvent Traps for both Firearm Cleaning and Dry Storage simultaneously, and to their preferences. Here are Instructions  on how these can be used. Click here to Learn More About Cleaning and/or Dry Storage Solutions.
Dry Storage Prior to and Post Cleaning
Prior to securing the
End Cap
onto the
Adaptive Solvent Trap Tube
, screw an Adaptive Dry Storage Cup onto the
Adaptive Solvent Trap Tube.
Essential items can be placed for dry storage in the
Adaptive Dry Storage Cup
prior to and post solvent trap cleaning. Once you have stored smaller essentials inside the
Adaptive Dry Storage Cup
, you may then proceed with the securement of the end cap. This setup will allow you to clean using the Adaptive Solvent Trap, while having any items stored during or post cleaning.
You may also store small items, small tool bits/heads used for cleaning, and other items essential to you. Please note AD Space Connectors need to be purchased separately to create additional storage space and/or compartments. Cleaning + Storage Methods
Easy Secure For Transport
After the Adaptive Dry Storage Cups are threaded on to one another, and the end cap is tightly secure, you will be ready for transport. Unthread your solvent trap thread protector from the muzzle end of the firearm and store away. When you are ready for your next cleaning, you will have your solvent trap ready in one place to begin. Feel free to purchase additional End Caps, AD Space Connectors, and Adaptive Solvent Trap Tubes for more storage and Transport methods.
Risk Reduction During Transport
After dry storage cups are threaded to one another, and the end cap is tightly secure to the end, you are ready for transport. Fasten the complete solvent trap to the end of your chosen firearm and then stow away the firearm for transport or storage.
This does not eliminate misfire risk
, but may act as a misfire risk reduction system in the event of an unfortunate misfire due to users not properly clearing their firearms.
It is important to note that this is an ancillary benefit. Armory Den does not market its products, nor do we confirm that misfire risk has been tested. Armory Den does not guarantee risk will be reduced if a misfire is to occur, nor does Armory Den accept any liability or fault for a misfire occurring with or without its solvent traps installed on a firearm.
Solvent and Cleaning Oil Holders
For Adaptive Dry Storage Cups not currently being used for Dry Storage, users may keep them in the box to use as Solvent and Cleaning Oil Holders. Any unused solvent or cleaning oils may be poured back into the original bottle. Be sure to clean and dry the Adaptive Storage Cups after the solvent and/or Cleaning Oils have been discarded or recycled back into the original bottles.
Dry Storage Solutions and Additional Storage Compartments
This method equires an additional
Adaptive Solvent Trap Tube
and the purchase of
AD Space Connectors.
Prior to securing the
End Cap
onto the
Adaptive Solvent Trap Tube
, screw an
Adaptive Dry Storage Cup
onto the
Adaptive Solvent Trap Tube,
followed by an
AD Space Connector.
Place any cleaning patches or smaller essentials in the
Dry Storage Cup.
You may then seal off this section using an additional Adaptive Solvent Trap Tube. The additional Adaptive Solvent Trap Tube will serve as another space more larger items you'd like to store. Then it may be sealed off with the End Cap. This will allow users to store new and used cleaning patches and other essentials.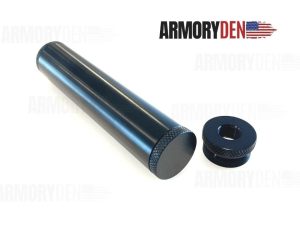 Solvent Trap Tube Kits:
The solvent trap tube is connected to the thread protector on one end which is then connected to threaded muzzle of the firearm prior to cleaning. The purpose of this tube is to contain solvent and debris during cleaning and to hold storage cups in place if used based on user preference. Cleaning solvents often include chemicals that may be harmful if absorbed through the skin. During the cleaning process, the solvent trap is intended to collect and "trap" within it, preventing potential harmful solvents from touching the users skin. These tubes may also be used for dry storage by using two end caps to seal both end sof the solvent trap tube.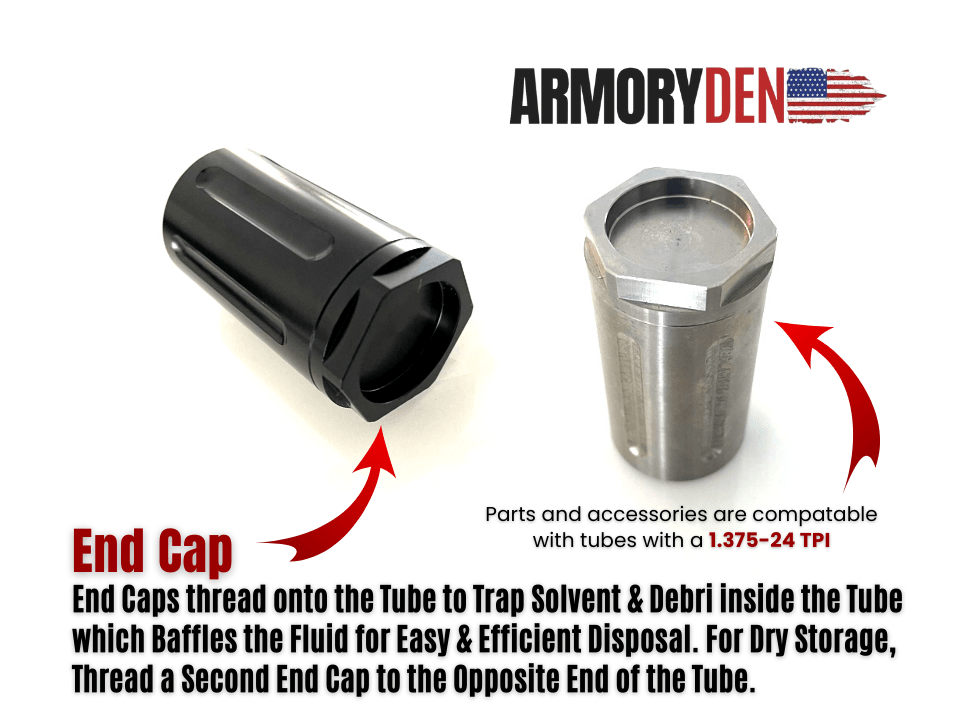 Adaptive Solvent Trap Kits:
Once the thread protector is secured on your Adaptive Solvent Trap Tube (a shorter tube) and the thread protector is screwed tight to your barrel, you may take the end cap and screw it on to the opposite end of the Adaptive Solvent Trap Tube. This setup serves as your solvent trap solution. As shown above, Adaptive Solvent Traps (or shorter tubes) can be used to create dry storage solutions and storage compartments with accessories such as Adaptive Dry Storage Cups and End caps.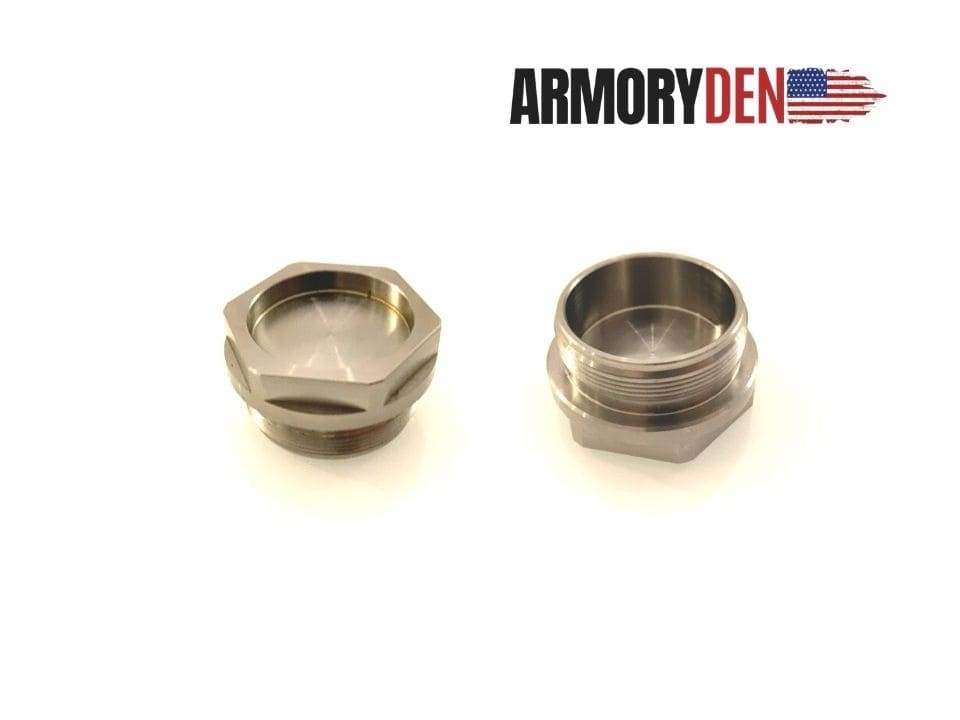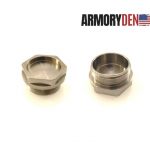 Sealed end caps are used to seal one end of the solvent trap tube or adaptive solvent trap tube. They serve the function of sealing the solvent trap tube or adaptive solvent trap tube to ensure that all of the liquids and other debris dislodged during cleaning are trapped. They may be used to seal both ends of a tube for dry storage if the tube has a 1.375-24 TPI. Solvent trap end caps are generally constructed of superior materials, such as titanium, stainless steel and aluminum which help reduce wear and tear on threads overtime. All Armory Den's aluminum end caps manufactured of 7075 Aircraft Grade Aluminum. They also come in a variety of external forms, such as hexagonal, which makes it simpler to attach and remove them.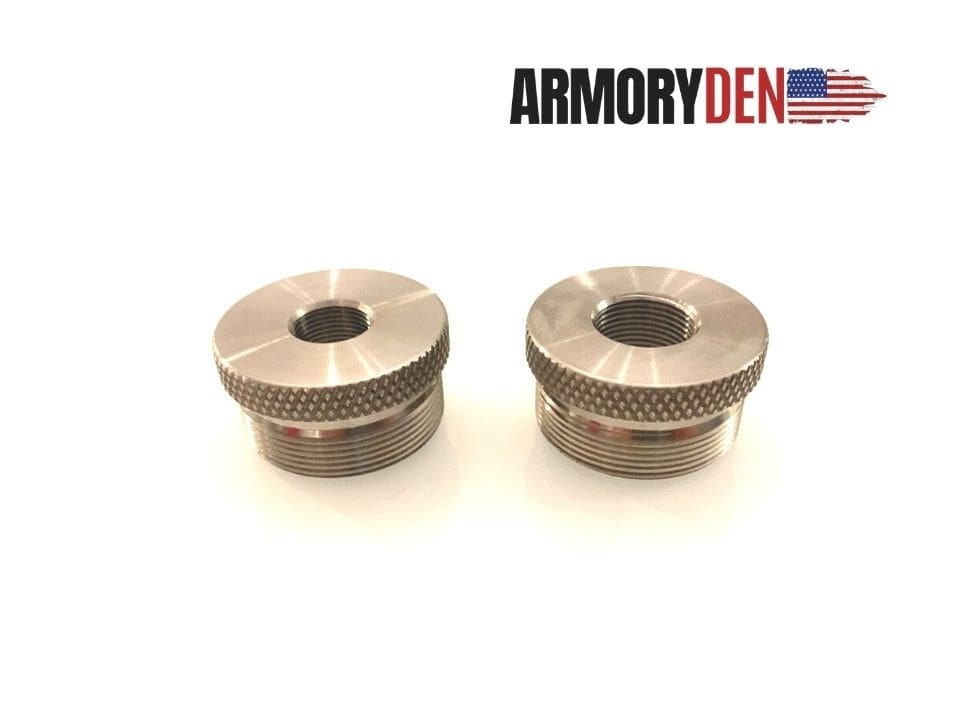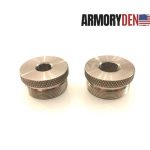 The thread protectors included with our solvent trap kits are screwed into a threaded hole in the firearm after attaching the solvent trap tube or adaptive solvent trap tube tube. Depending on the sort of gun it's intended to clean, they can be equipped with various pitch barrel threads. – i.e. 1 / 2 x 28″ being used for 9mm, .22LR, 5.56 NATO caliber firearms and 5/8×28″ being used to clean larger .30 Cal Firearms. Armory Den's thread protectors are identical in build and material to the sealed end cap of the respective solvent trap they are installed on.
These are the four fundamental elements of a solvent trap kit. Additional items that may be purchased include simplified cleaning solutions, and we have several standardized thread adapters, accessories and more!
It's critical to remember that solvent traps are only intended to be used in the way they are designed, whether cleaning, transporting, or storing. Solvent traps are not, however, NFA items and may be purchased and possessed lawfully as long as they are not modified, redesigned, or changed in any way.
Armory Den is America's #1 supplier of high-grade solvent trap parts and kits. Routine cleaning and maintenance are important for maintaining the safety, dependability, and overall performance of your firearm. To view our entire inventory of premium quality solvent trap products, click 
here
.
Never Buy Knock Off Solvent Trap Parts
There are many suppliers of solvent trap parts and kits on the market, but not all are created equal. It's important to never buy knock-off Solvent Traps as mentioned by
Josuha Prince law firm (Prince Law Offices, P.C.)
. You should only purchase from reputable sources like Armory Den to ensure that you're getting quality parts that will work as intended and last a long time. Additionally, to ensure you receive a product in mint condition, as opposed to damage on arrival.
Beware of cheap knock-offs made with inferior materials where threads can strip and parts can break easily or worse, cause harm to your firearm or barrel.
Everyone wants to save money. Some items may be low-quality knock-offs made with diluted materials, which is a safe method to saving money. In reality, if you invest in low-quality solvent trap parts, you may put yourself at risk from a legal standpoint and if chemicals are not contained during cleaning it can be a hazard to your skin. Beware of clones that use lower grade metals that are advertised as higher quality metals, very low-quality finish that wears easily on a single use, and cross-threading and thread mismatches that cause corrosion or leaks.
Let's look at a few reasons why you should avoid knock-off solvent trap components at all costs.
Obviously, as with many low-cost replicas, the reason they are so inexpensive is that the manufacturer most likely cut corners in terms of materials. Many counterfeit solvent trap parts, on the other hand, are composed of lower-quality metals.
As a result, their ability to perform as intended can be significantly compromised when it comes to anti-corrosion. They won't last long, and you'll end up having to purchase replacement parts frequently. At worst, they may cause damage to your firearm.
Regular cleaning can improve the performance and security of your firearm. One of the advantages of cleaning a firearm with a high-quality solvent trap is that it prevents the liquid from leaking out and coming into contact with your skin. While many cleaning solutions on the market contain harmful and toxic compounds that, while excellent for gun cleaning, may be hazardous if not handled correctly. Using a high-quality solvent trap helps to reduce the possibility of harm.
On the other hand, if knock-off solvent trap parts are used, there's an increased danger that they will not contain the solvent properly, exposing users to dangerous chemicals. The best materials for solvent trap parts are stainless steel and titanium, which provide superior strength, liability, and resistance to corrosion.
They'll also have cross-threading, grinding when threading the solvent trap cups, thread protectorings, and end caps, as well as leaking solvent. Obviously, this defeats the entire purpose of obtaining a solvent trap where constant threading occurs.
There are strict regulations with regard to the ownership and use of a firearm. Solvent traps are not covered by the Gun Control Act of 1968, which regulates firearm components and weapons.
Some online knockoff retailers are unaware, but others simply don't care and will sell low-quality fakes just to increase their revenue and bottom line – the only person who is at risk is you!
We aren't the only ones who think so. Don't take our word for it. Take it from the NY man who was visited at his home by U.S. Customs and Border Patrol agents after they seized a package he'd ordered containing imitation parts imported from overseas. Despite his pleas of ignorance, authorities searched the man's house, and he's now facing multiple charges.
To avoid all of these hazards, stick with reputable solvent trap components from a US-based source, such as Armory Den. We take pride in selling legal solvent trap parts that are designed and manufactured within legal parameters and known guidelines.
We only use top-grade components, so you may rest assured that our items are safe and efficient for their intended purpose. Best of all, our high-grade solvent trap parts are priced at an affordable rate, eliminating the need to risk buying knock-offs to save money.
It's important to be aware of the risks before buying: There is no distributor channel for Armory Den, thus if you see similar items on other websites, they are surely clones or replicas!
To view 
our broad selection of stainless steel and titanium solvent trap parts that meet industry standards
Click here
.
ATF Rule 2021R-05F (Final Ruling) Effects on Solvent Traps (2022)
The new ATF Rule 2021R-05, which was added on April 24th, 2022, will be effective from August 24th, 2022. Among its provisions, there is a small segment that relates to Solvent Traps as well.
The final ruling on ATF 2021R-05 was reviewed by 20 executives and personnel of the Bureau of Alcohol, Tobacco, Firearms and Explosives (BATFE or ATF for short) at Firearm Industry Conference (FIC) hosted in Georgia, held on the 26th through the 27th of April 2022.
Since the announcement of the final ruling for ATF 2021R-05, various uncertainties have stemmed from rumors that have permeated Reddit, YouTube, and other platforms preceding the official April 2022 inclusion of the final ruling in the Federal Register. This has made many people nervous who are now deferring or canceling their plans of buying solvent trap cleaning kits.
It is important to note that ATF Rule 2021R-05F becomes effective August 24th, 2022. If you are planning to purchase a solvent trap for cleaning and dry storage, it is important to understand who you buy from so that you are not subject to NFA violations.
Senator Cruz and 21 colleagues, including the 11 other Senators, have introduced a Congressional Review Act Joint Resolution of Disapproval (CRA) to prohibit President Biden's Department of Justice from implementing a new rule to expand firearm definitions.
According to the Government Accountability Office, "The CRA allows Congress to review 'major' rules issued by federal agencies before the rules take effect. Congress may also disapprove the new rules, resulting in the rules having no force or effect."
Armory Den sells high-grade solvent traps that are 100% legal. Our products are tested and go through quality control testing prior to delivery. Moreover, our
high-grade products
are sold without indexing as they are for firearm cleaning purposes and dry storage solutions.
Armory Den is a U.S. company that carries the best quality solvent traps, firearms cleaning kits, accessories and parts. We are proud of our quality control, with our research team constantly updating the best and lowest prices in the industry.
DISCLAIMER: Information and videos contained on this site is added on a regular basis. Due to the nature of the information posted, it becomes outdated rapidly. Users are therefore cautioned to independently verify the correctness of information contained on the website that may have become outdated. The info on our website is not legal advice and legal advice may only be provided by a properly licensed attorney.This blog post is not legal advice. The information provided is for informational purposes only. Any information posted on our website is to inform our customers due our industry, and also appease companies we do business with, such as those who insure us.