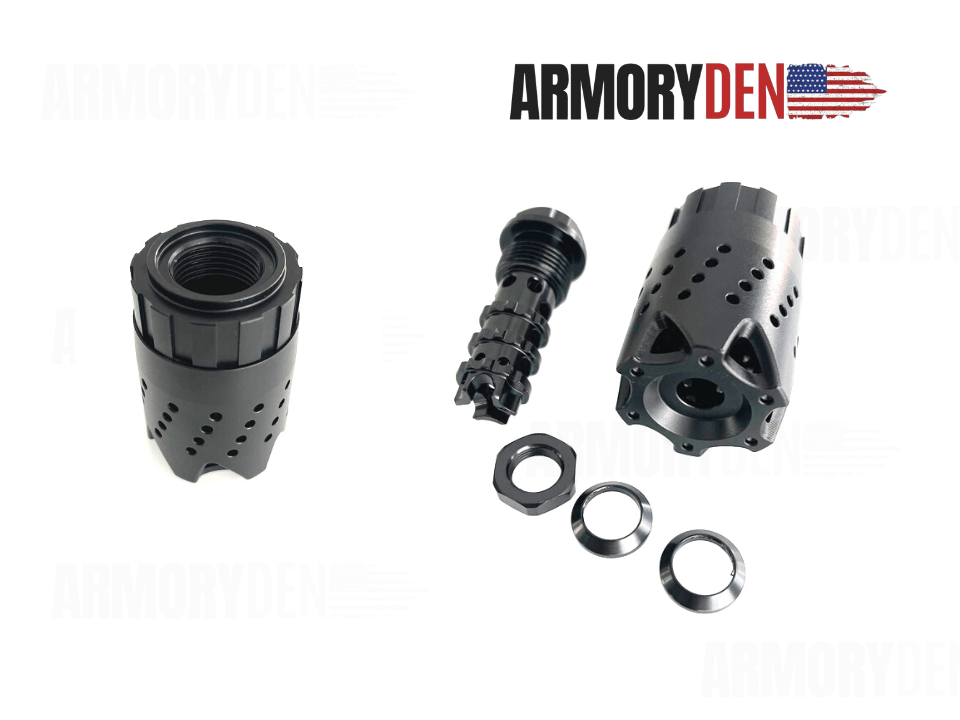 Muzzle Brakes, Compensators, and Flash Hiders: What's the Difference?
You may have seen muzzle devices on rifles designed for hunting, sport shooting, and even military use. But do you know the difference between a muzzle brake, compensator, or flash hider? Each of these serves a different purpose, but they also share some similarities.
A muzzle brake is used to reduce felt recoil when shooting with some muzzle brakes providing universal external threads that allow for the streamline adaptation of additional muzzle devices or items that may serve various purposes. Compensators are designed to keep a rifle from rising when firing quickly. Lastly, flash hiders help conceal much of the visible light emitted from the barrel when a round is fired.
Many of these three muzzle device types will serve a primary purpose, but also help with other purposes (i.e. some muzzle brakes will reduce flash incidentally, while some flash hiders may reduce recoil and so on) – but the most important thing is that the specific device accomplishes what it's intended for. Therefore, knowing which type works best with specific firearms can be beneficial.
As a firearms aficionado, understanding the various types of muzzle devices that can enhance your shooting experience should be at the top of your priority list. In addition to flash hiders and compensators, there are several specialized options tailored for specific purposes or platforms. Quick-detach (QD) systems allow you flexibility in swapping out accessories on short notice while preserving accuracy and control with minimal effort, perfect for when switching between multiple applications like hunting, competition shooting, or tactical use.
A muzzle brake is a valuable accessory crafted to attach to the end of a firearm's barrel. Its primary function involves directing ignited gases and the resulting blast away from the shooter, generally towards either side or 180 degrees opposite of the muzzle. This redirection process drastically reduces felt recoil, enhancing shooting accuracy and enabling rapid follow-up shots.
Muzzle brakes are particularly beneficial for large-caliber firearms producing significant recoil forces, such as those used in big-game hunting or long-range competitive shooting events.
Advantages and Disadvantages
A muzzle brake offers notable advantages, such as significantly reducing felt recoil and minimizing muzzle rise, resulting in improved accuracy and quicker follow-up shots for shooters. However, some disadvantages accompany these benefits: notably increased noise levels and concussive forces experienced by the shooter and nearby individuals. Additionally, a flash from redirected gases may affect visibility while shooting under low-light conditions or with night vision devices.
Balancing the pros and cons depends on personal preferences, specific firearm applications (e.g., target shooting vs. hunting), and being aware of one's surroundings to ensure safety for all parties involved during firing sessions.
A compensator is a muzzle device designed to reduce the effects of recoil and minimize unnecessary movement when firing a firearm. It helps stabilize the weapon's barrel during firing, resulting in increased accuracy and control over follow-up shots. Compensators are especially beneficial for fast-paced shooting scenarios or situations that require rapid target acquisition.
Ideal for competitive shooters as well as tactical applications, incorporating a compensator into your setup can improve both overall performance and ease of use in various engagements on the range or in real-life operations.
Advantages and Disadvantages
A compensator offers several advantages, such as reducing muzzle climb and improving accuracy during rapid-fire shooting, allowing for quicker follow-up shots and enhanced control over your firearm. However, there are also disadvantages to consider. Compensators tend to increase noise levels for the shooter and those nearby due to redirected gases escaping through ports or holes in the device.
Additionally, certain designs may slightly reduce bullet velocity because of the shortened barrel length caused by the ported openings on some models. Consider these factors carefully when deciding if a compensator is right for your specific needs and preferences in firearms handling.
A flash hider is a crucial component of many firearms that helps to minimize the visibility of muzzle flash. Muzzle flashes occur when unburned gunpowder particles ignite upon exiting the barrel after firing, creating visible bursts of flames and gases near the muzzle. Flash hiders are designed with specific holes or gaps surrounding their circumference which reduce these bright emissions by scattering and cooling propellant gases before they exit into the open air.
This not only makes it easier for shooters to maintain their vision in low-light conditions but can also conceal their position from potential threats during tactical situations.
Advantages and Disadvantages
A flash hider offers numerous advantages, such as minimizing muzzle flash and reducing visibility during low-light shooting situations. This not only helps conceal your position but also prevents temporary vision impairment caused by the bright fireball effect. However, it has its drawbacks too.
For instance, a flash hider doesn't provide significant recoil reduction or improve follow-up shot accuracy as other muzzle devices might. Additionally, depending on local laws and regulations in your area, certain types of flash hiders may be restricted or outright illegal to possess or install firearms without necessary permissions from authorities.
When to Choose One Over the Other
Choosing the right muzzle device depends on your specific needs and shooting preferences. Here are some scenarios to help you decide between a muzzle brake, compensator, or flash hider:
Speedy target reacquisition: If rapid follow-up shots are crucial for competitive shooting or hunting fast-moving game, a compensator can reduce felt recoil while maintaining better control of multiple rounds.
Recoil management: For those who struggle with heavy recoil from large calibers in long-range precision shooting, turning to an effective muzzle brake is your best bet as it significantly reduces both perceived felt recoil and linear movement.
Hybrid devices combining features of brakes and flash hiders provide middle-ground solutions without compromising too much on either side's benefits, though they may not excel at one particular function over another.
In conclusion, selecting the right muzzle device comes down to understanding what is most important for you in terms of firearm use. Do you value reduced felt impulse kickback when shooting multiple rounds quickly and still retaining accuracy? Or do you value superior resistance from the barrel rising up after a shot and minimal gas flare visibility in dark conditions? Maybe it's a combination of all these things.
You need to know the difference between muzzle brakes, compensators, and flash hiders when shopping for your firearm needs. Muzzle brakes divert pressure from gases exiting a barrel to reduce recoil, while compensators direct gas up or sideways with slots and holes on the top of them in order to control vertical movement resulting from recoil. Flash hiders prevent the visible light associated with shooting a firearm by dispersing hot burning gases outward, which reduces brightness visibility.
Armory Den has an extensive selection that might be just what you're looking for, whatever kind of part you decide works best! Don't forget to check out our site at shop.armoryden.com, where we have all these components as well as many more accessories tailored exactly towards meeting your exact requirements today!