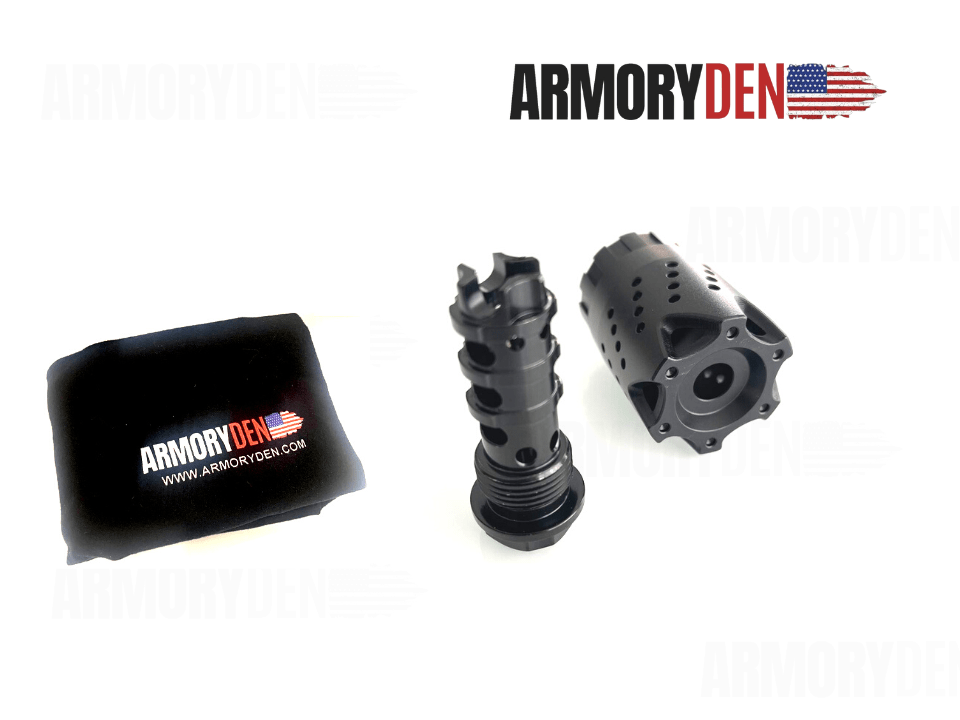 What are the Different Types of AR-15 Muzzle Devices?
You may have heard of AR-15 muzzle devices, but do you know what they actually are and the difference between them? A muzzle device is a firearm accessory that attaches to the end of the barrel.
There are three common types: muzzle brake, compensator, and flash hider. All three provide similar benefits, such as lower recoil or reduced flash signature when firing shots. However, each one works differently from the others.
A muzzle brake redirects gas away from behind the rifle so it doesn't increase felt recoil while shooting, whereas a compensator vents gas sideways, which reduces rising during rapid-fire sessions.
On the other hand, a flash hider covers up any visible flame created when firing high-pressure rounds through an unsuppressed weapon system, keeping everything 'invisible' to our naked eyes.
Different Types of AR-15 Muzzle Devices
Muzzle Brakes
Muzzle brakes are designed with specially located exhaust ports on the muzzle's circumference. These ports are typically angled away from each other to create counter-forces that can counter the gas energy and backward push against the shooter's shoulder area. This force is directed either up, out, or down which provides the necessary stability controls to keep sights aimed where they need to be between shots fired. As a result, re-acquiring the sight picture after each shot is faster and more accurate. It also makes it easier for shooters to make multiple engagements without any distractions from kickback forces or accuracy issues.
As such, a vital role in achieving enhanced reduction levels is found in the variety of makes and models that are offered today to accommodate specific needs and types of calibers. When trying to customize and match the desired outcome and preferences of rifle systems, they're installed using standardized threading options widely available across an array of barrels.
Compensators
Compensators, another popular AR-15 muzzle device, primarily reduce muzzle flip and climb. A compensator is a critical component in enhancing the performance of your firearm, particularly when rapid or successive shots are necessary. Primarily designed to redirect the gases emitted from the muzzle upward upon firing, it mitigates muzzle climb and enhances control over recoil. By minimizing the vertical movement of your AR-15 rifle during shooting sessions, you'll experience improved precision with tighter groupings on target.
This valuable accessory proves especially beneficial for novice shooters who may find handling recoil daunting and seasoned professionals looking for an edge in competition scenarios. The effectiveness of a compensator largely depends on its design features and construction materials. High-quality options typically boast sturdy builds using stainless steel or other robust metals that endure regular heavy use without compromising durability or structural integrity.
When selecting an appropriate compensator for your AR-15, there are several factors to consider. These include intended usage requirements and the stability-control measures gained through the installation of the device.
Flash Hiders
Flash hiders come in different shapes and designs to accommodate varying firearm types for hunters, tactical shooters, or competitive sports enthusiasts alike, ensuring there's something suitable for everyone's unique needs. A couple of common variations include birdcage and three-prong models. Each offers its distinct advantages depending on user preferences or specific scenarios faced out on hunts or ranges.
The birdcage style incorporates a cylindrical shape fitted around vented slots allowing gas from fired bullets to dissipate evenly while limiting flame exposure outside its confines, making it ideal if remaining discreet under pressure matters most (such as in military applications).
Flash hiders are beneficial to not just rifles but shotguns as well. The flash hider adds stabilizing measures to the stocks and shoulders of weapons, which reduces vibrations throughout the body and prevents recoil damage during periods of perpetual use.
Reasons to Upgrade Your Muzzle Device
Whether it's to maximize accuracy, reduce recoil, or change the look of your firearm, there are many benefits that come with upgrading. There are three main types of muzzle devices available: brakes, compensators, and flash hiders.
There are several reasons why one should consider replacing or upgrading the existing recoil management system on an AR-15. These include:
Reduction of felt recoil
Minimizing flash signature in low-light situations
Decreasing barrel rise during rapid-fire mode
Improving accuracy when firing follow-up shots quickly
Customizing the aesthetic look for build preference
Finding an ideal muzzle device that complements both your rifle and ammo is indispensable. When selecting a suitable caliber-specific muzzle brake or compensator, consider factors such as bullet weight and velocity, which directly influence gas pressure at release. Bear in mind that some devices may work well with specific calibers while others might not deliver optimal results under different circumstances.
With these considerations in mind, you can make more informed decisions about choosing the right AR-15 muzzle devices for your setup.
In conclusion, when looking into enhancing your AR-15 experience through managing excess muzzle blast, it is important to invest in a superior quality product. This product should be advanced and able to reduce the recoil force levels caused by escaping gases. By reducing the recoil force levels, shot precision will increase overall.
Upgrading your muzzle device can drastically improve your shooting experience. Armory Den offers several types of excellent muzzle devices that provide more control over the firearm than standard models.
At Armory Den, we offer a range of AR-15 muzzle devices to suit your needs. A flash hider reduces the visible light and noise when shooting, while compensators reduce recoil. Muzzle brakes redirect sound forward, away from the shooter, improving accuracy and reducing felt recoil in some cases as well.
So, you can choose one depending on how much control over firearm discharge each type provides—whether it's reducing or controlling its movement, direction, or both! Ultimately, though, no matter which device you go for, make sure that it fits snugly with all other components after proper installation by an experienced gunsmith for maximum safety, regulatory compliance, as well as reliability and performance benefits.