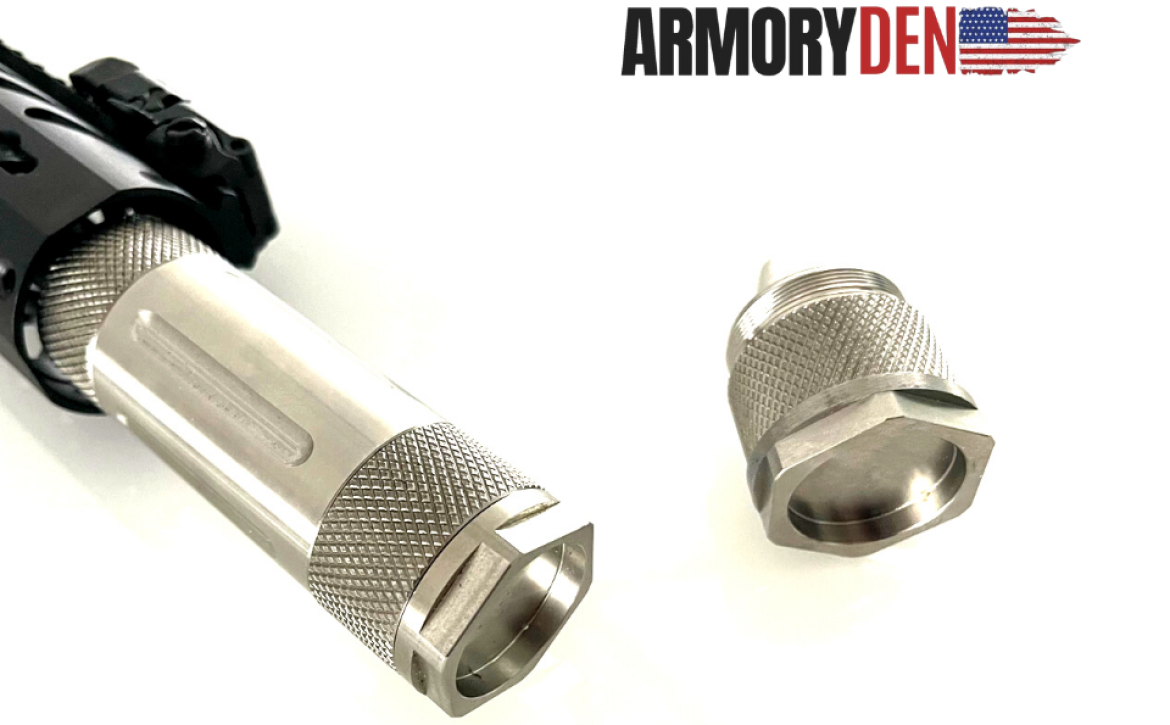 What's The Best AR Solvent Trap?
What's The Best AR Solvent Trap?
We receive many very good questions from our customers. Many of the questions are asked multiple times, such as "What's the best solvent trap for my AR-15?". Due to receiving many of the same questions, we have started a Frequently Asked Questions area that can be found
here
. Armory Den recommends checking this area for any questions you may have prior to sending the question through e-mail or via the form submissions throughout the site.
Considering that many of the questions received relate to asking for a recommendation on the best AR-15 solvent trap, we thought it best to write a blog post with more detail than is available through our FAQs area. When looking into the best AR-15 solvent trap setup, it really does come down to how you would prefer it to be configured: Direct thread or quick connect/quick detach. Sure, picking Aluminum or Titanium is a choice too, but you can go either way on the material side, but it is true that Titanium will always prove to be the best option for an AR Solvent Trap.
Direct Thread Configuration
If you don't mind removing your flash hider to install your solvent trap every time you have a cleaning session, the Direct Thread option may be your best bet. For AR-15s, our most popular direct thread setups are our
10" Aluminum Tube 1.75"OD|1.50"ID with Stainless Steel Cups Kit
, the
7" Aluminum Tube 1.45"OD|1.25"ID with Stainless Steel Cups Kit
and the
9" 7075 Aluminum tube 1.73"OD|1.375"ID D Cell Sized K Cups Kit.
These three kits are very popular, the D Cell Kit is a little heavier but is very popular for AR-15s and sports Stainless Steel K Cups. Due to the pitch on these three kits not being standardized, there exists close to no available quick detach/quick connect or other muzzle device attachments on the market that will adapt to these kits. One must use an AR-15 wrench to remove their flash hider and then install the AR Solvent Trap over the thread, that since removing the flash hider will now be exposed. Each of the kits above come with a 1/2×28" and a 5/8×24" thread protector.
The
Titanium version of the 7" by 1.45"OD|1.25"ID kit
is very popular as well for those that would like to get the absolute best quality by spending an extra $100+. This kit is identical to the 7" Aluminum Tube Kit mentioned above, but the tube is Grade 5 Titanium and the thread protector and end caps are as well. Titanium kits only come with either a 1/2×28" adapter or a 5/8×24" adapter, so be sure to get the 1/2×28" thread protector if an AR-15 is the rifle you would like to use the solvent trap to clean. You can also purchase 1/2×28" and 5/8×24" 1.45"OD|1.25"ID  titanium thread protectors individually if you want to have both thread types.
3-Lug/Trilug Quick Connect Configuration
Many of our customers want a more streamlined approach to using their solvent traps. These individuals do not want to deal with removing their AR Flash hider to install their 1/2×28" AR Solvent Trap. In this case, we recommend either our
1.57"OD Billet Aluminum Adaptive Solvent Trap ™
or our
1.57"OD GR5 Titanium Adaptive Solvent Trap ™
. Again, if you decide to proceed with the Titanium version of our 1.57"OD Adaptive Solvent Trap ™ Kit, you will want to purchase a 1/2×28" thread protector to direct thread. But a more streamline option is available by purchasing the kit with the
TPI Adapter option
or you purchase
the TPI Adapter
separately. This is the first step in setting up a Quick Connect/Quick Detach Configuration. Next, you will want to look at the
AD Trinity Trilug Muzzle Device
. This Muzzle Device will adapt to the 1-3/16×24 TPI|1.1875×24 TPI adapter mentioned above.
Then, you can source the market for a 3-Lug Muzzle Break. The muzzle break would replace your AR-15 Flash Hider and would allow your 1.57"OD Billet Aluminum/Titanium Adaptive Solvent Trap ™ kit using the Trilug Muzzle Device, to quick connect to your AR-15 – This is the best way and the most streamlined AR Solvent Trap setup. This way, you don't have to remove your flash hider every time you want to install the AR Solvent Trap for a cleaning session, just quick connect to your 3-Lug Muzzle Break and you are ready to clean!
It Really Comes Down To Preference
Again, whether you buy aluminum or titanium, a direct thread solvent trap or a solvent trap with standardized TPI Adapter Options for a quick connect setup, is completely up to you and is a preference. There's no one right way or one solvent trap that is the absolute best for all AR-15s.