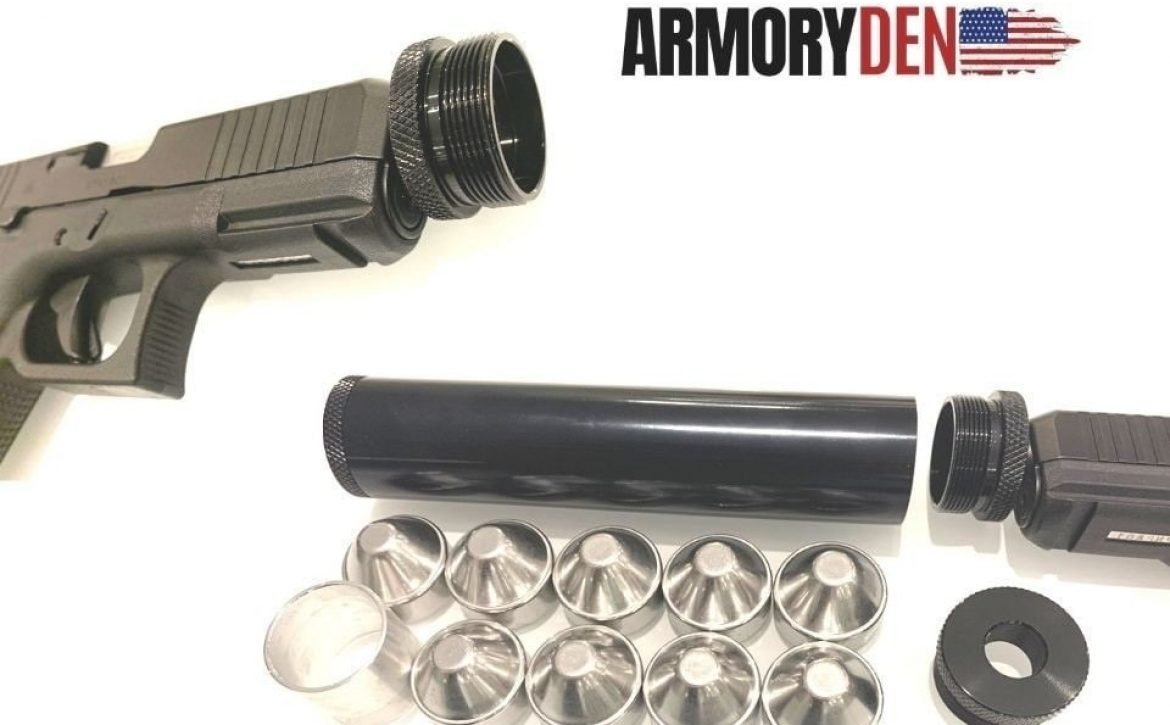 Purchasing Solvent Traps
Adam Carruth
June 19, 2021.
custumer of Armory Den for life. where do i start, well for one thing these people have custumer service covered on a legit level. the best hands down communication with me then any company has ever had. up until my first purchase amazon had that on lock. but Armory Den has them beat. And if your skeptical of the quality of material or machining. one time is all it will take for you to truely trust that every single purchase you make with them will be the best you can buy. The best business and people you will ever spend money with. I am a customer for life and that is a fact! truely greatful for a business that actually cares about the people they do business with. thanks yall god bless you!! Adam Carruth
William Patterson
May 25, 2021.
Solid from website to my hand, top shelf As I shopped for the product, I kept returning to the Den website. Descriptions are clear, lots of good information, very good value. Ordering is simple, terms are straightforward. I had special shipping instructions, followed perfectly. Secure packaging. The trap is well machined, fits tight, and is nicely finished. The hand-feel has heft and is of quality. Extra care at every step. Thanks.
Great experience
They did the right thing! Let me just start with Thank you Armory Den! What exceptional customer service! Their response time to emails, is faster response time then the police department has where I live for 911 calls lol j/k. Seriously, they answered me on Sunday, morning and afternoon. No company does that! Also, I asked about a part I thought came with my order. I was ready to pay for it, nope, they sent them to me for free, and shipped on a Sunday! No one does that! I'm a customer for life! I even canceled an order I had with another company, just so I can buy from ARMORY DEN! My business motto is "always do the right thing l, no matter what" they obviously follow it also!
This company is the real deal I was a little skeptical about ordering honestly. I hadn't heard much about armory den and could only find good reviews lol. But I took a chance and put through an order. Everything arrived as described and is awesome. Be aware that you may receive multiple shipments based on what you order. These guys respond fast and from what i have seen, produce quality products. They have my future business. I've put up similar reviews and given a recommendation on their FB page.
Michael Whitehurst
February 14, 2021.
Great experience. Product can exactly on time, as expected. Very pleased with product. Very well engineered and good quality. Customer service is excellent. Answered all questions quickly and very informative about products. Will definitely be ordering more in the future
Mike Perkins
January 19, 2021.
Great customer service. When the item I ordered was late being delivered by USPS, they stepped up to the plate and made things right. I would recommend this company to anyone who is interested in well made quality products. You guys rock! Mike
Shannon
January 13, 2021.
Very nice quality item and excellent customer service. Prompt responses to questions. Would highly recommend.
Dwight Ramer
December 9, 2020.
Excellent customer service, go the extra mile to make sure you are satisfied as a customer. Would highly recommend the Den for any of your needs of there products,
Great customer service I think of all the online retailers I have dealt with, these guys are truly set up for great customer service. They have gone way out of their way to make this buying experience more than great. Quick response to the needs of customers are rare today. Thank you for doing what other online realtors have just forgot to do. Taking care of the customer.
Can You Buy Solvent Traps?
The short answer to this is yes, you can buy solvent traps in any state, they are not regulated items. Many people think that just because something connects to a firearm, that it automatically becomes a firearm part or part that somehow falls under the ATF/NFA regulatory umbrella or becomes part of the Gun Control Act of 1968.
These devices have become extremely popular in the firearm community, and the demand for these products continue to grow in the industry. If you often clean your firearms, using a solvent trap can be very helpful if you wish to prevent a total mess. Because our company clearly states our intent for the use of our solvent traps on our site, our customers enjoy asking us questions regarding the best products to clean their firearms with. Firearm owners love conversations and talking about their firearms, and cleaning is fun topic!
Solvent traps also help our customers trap and reuse cleaning fluids at a later time, depending on the frequency of their routine maintenance.
Top 5 Things To Know About A Steel Solvent Trap
First and foremost…
The purchase of a solvent trap is 100% legal, without a Form 1. However, there are very important restrictions and regulations you must be aware of prior to purchasing these products. For instance, You cannot alter, modify, or redesign them into a device for muffling, silencing, or diminishing the report of a firearm, without first filing and receiving back from BATFE an approved Form 1. You must always be aware of the restrictions and regulations, especially within the state you reside.
Only after getting the approved Form 1 back can you make any modifications to the product. You will be committing a crime if you make the alterations or modifications prior to obtaining the paid tax stamp. A Felony Alert: Do not make any alterations or modifications to our products, or any solvent trap product or part for that matter, before getting back the approved Form 1.
To learn more, please review our ATF Legal Den and website Terms & Condition.
Attn Online Consumers: Please Use Caution.
When shopping around, you will come across websites that provide links in their blogs that direct you to overseas companies who list low-grade solvent traps, or even worse illegal solvent trap kits. If you click a link that directs you to a page with "spiral looking" solvent traps, these are highly illegal and can lead you to a felony charge once seized at customs.
Don't be fooled with the text, "fuel filter." The law doesn't care what an overseas manufacture calls it, they care about who made it, and who purchased it! Think twice when you are inputting your shipping address, because once you hit submit, you are tied to that illegal product.
Armory Den takes pride in selling legal solvent traps. We do not sell illegal solvent traps or products such as:
Monocore Solvent Traps
Storage Cups w/ Center-Marks (aka 'dimples')
Other indications or parts that are not intended to be used in the cleaning process
Our end caps and storage cups do not include illegal center-marks, our solvent traps are within legal parameters and within known guidelines. Purchasing products overseas from shady suppliers may result in felony charges as your shipping address will be tied to the illegal product once seized at customs.
Solvent traps are devices that can be attached to the threaded muzzle of a firearm in order to capture the fluids that are used to clean your rifle and/or pistol. Cleaning your firearm regularly can help improve performance, and help improve safety and reliability.
Solvent traps have a female threaded end, so that you can attach it to the threaded barrel of a firearm, the male end. Although solvent trap kits have various designs when it comes to aesthetics, they also have mechanical designs. For instance, if you are looking to purchase a steel solvent trap, you should first understand the mechanical design needed for your firearm.
Understanding What's Needed
Once you have an understanding of the product that will be comparable with your firearm and/or other firearm accessories you own, only then should you  choose one based off the aesthetic design. Remember, the main idea is to catch cleaning fluids from the end of the barrel so that you alleviate the mess during bore cleaning processes, etc.
Unlike a AR-15 which comes standard with a threaded barrel, all pistols without a threaded barrel will need to purchase one in order to use this device. Again, all solvent traps come with the threaded end, the female end. This way it can attached and work properly.
A Solvent Trap, Versus Other Similar Looking Products
A solvent trap does not have a hole for a projectile, or a bullet to pass through. Solvent traps are a 'firearm accessory' made for cleaning your firearm, such a bore cleaning processes. Solvent traps are for trapping solvent to make the cleaning process easier and/or more efficient. Catching solvent is the purpose of a solvent trap kit, legally and mechanically. Frequent cleaning can also improve the performance of your firearm, as well as make it more safer and reliable.
Catching solvent is the purpose of a solvent trap kit, legally and mechanically. Frequent cleaning can also improve the performance of your firearm, as well as make it more safer and reliable. Like any products in a home appliance or hardware store, they need to be as intended. They are not devices for muffling, silencing, or diminishing the report of a firearm.
Armory Den sells high-grade solvent traps that are 100% legal. Our products are tested and go through quality control testing prior to delivery. Moreover, our
high-grade products
are sold without center-marks (dimples) as they are made for cleaning purposes only. Between the sales from both our customers and our dealers (members of our Dealer Den), our volume allows us to offer the most competitive prices on the market!
Armory Den is a U.S. company that carries the best quality solvent traps, firearms cleaning kits, accessories and parts. We are proud of our quality control, with our research team constantly updating the best and lowest prices in the industry.