Top 5 Things To Know About A Steel Solvent Trap
Solvent Trap Market: The Bad Eggs
When shopping around for a solvent trap, you will come across websites that provide links in their blogs that direct you to overseas companies who list low-grade solvent traps with diluted materials where threads can easily stripe. You also might come cross illegal products that are labeled as solvent trap kits. Be wary of links and where they lead you, such as to third party links directing you to questionable companies or products. Don't be fooled with products labeled as "fuel filters" or "monocores".
Always think twice prior to placing your order on an overseas website, because once you submit the order your shipping address or PO Box will be tied to that illegal product. Do NOT purchase from overseas counterfeiters as it may result in felony charges when seized at customs, followed by a letter in the mail from the ATF. Then you have another situation on your hands. If you're looking to purchase a solvent trap solution which requires parts to thread together and to attach to a muzzle, you want to go with higher grade products to reduce wear and tear overtime. 
Armory Den takes pride in selling legal solvent trap cleaning kits which can also double as dry storage solutions, with some unique differences. Our goal is to cultivate a positive and fun experience around solvent traps, like it should be. We do not sell questionable solvent traps, monocores, or solvent trap products with index marks. Some websites may post product images where index marks are not apparant and still ship center-marked (or indexed) items anyway. This is especially true with overseas companies who claim to be based US based companies.
In the context of piping (because we sell solvent traps) an index mark and a lathe mark refer to different types of markings:
Indexing Definition: Indexing by definition is to

indicate

 or 

signal, meaning additional work is done to adjust products through indexation.  
Our solvent traps are sold without index marks because we sell our products for their intended use which is to trap solvent and debris effectively and efficiently during firearms cleaning; and we sell them for dry storage solutions. Both of which do NOT require any modification in order to use as intended. We encourage all of our visitors to review the product guides on each respective product page to learn more about each product.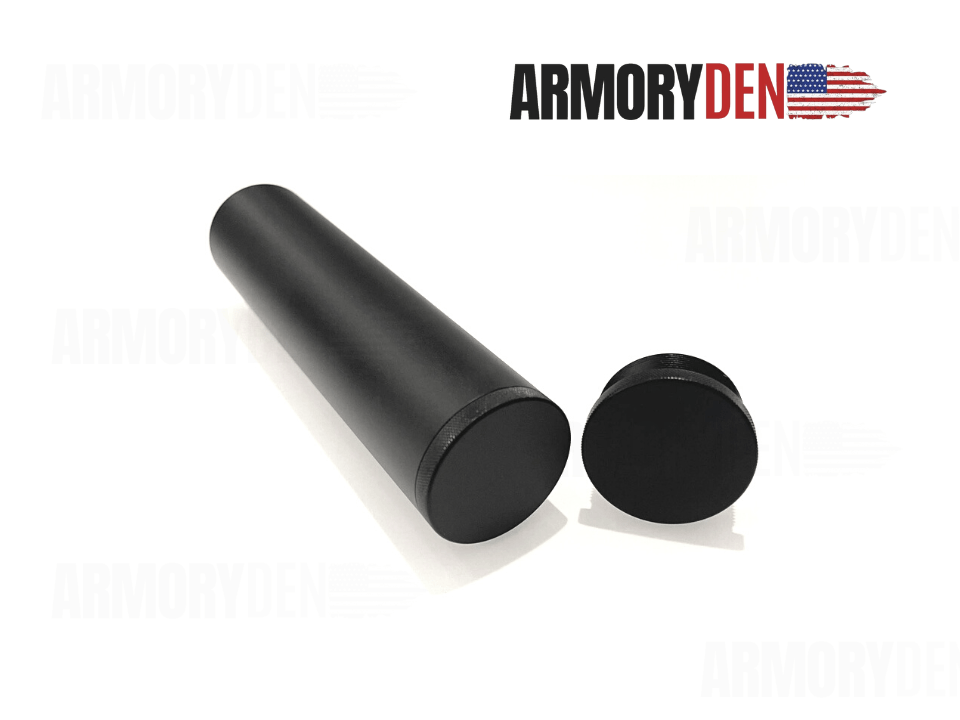 MissionMan
February 13, 2022.
Armory Den = HELL YEA! 🙂 Finally a company who doesn't rip people off. I searched forever for a trap kit that matches industry design and option. Ran into tons of scam sites until now. I bought the 304 Steel Adaptive Trap (10" inch) and that was on a Friday. That same night or the next day they already had USPS label from Florida and it shipped out that same day! Armory Den is the best site out of all the knock off scams or just plain fraudulent sites claiming to sell traps. Everything from their shipping to the transparency of sells via Stripe payment, keeps reputation in the front seat. Thank you whoever runs Armory Den. You are doing so many people favors. Your prices are cheapest along with design and materials offered. Its China that makes knock offs and Armory Den DONT PRODUCE OR SELL THAT GARBAGE. (P.S. stay away from Solvent Traps Direct).
Frankie
December 17, 2021.
Amazing! Absolutely thrilled with the level of customer service. Anytime I had a question they respond very quickly and always answer my questions completely. I love their packaging. While it may be somewhat difficult to get to their products through all the packaging, I really appreciate that they take the time to properly wrap their products. I feel like this attention to detail would protect my order if the delivery person were to leave it where it could get rained on or left in the weather. The packaging is amazing, and I will continue to return as a customer.
Mike S.
December 11, 2021.
Outstanding on all fronts Great company! I am 110% satisfied with my experience. The ordering process was easy and secure. The package arrived 3 days early by USPS. The product was extremely well-packaged: outer bubble envelope, inner bubble wrap, a box, and the individual pieces were separated and secured within holes in foam material. The trap itself is very well constructed as advertised. I'm glad I paid the extra $$ for a high quality product rather than risk with a random internet company just out for sales. Also customer service responds within hours and is extremely responsive—they have actual humans interacting with you! Will use again. Thx!
Adam Carruth
June 19, 2021.
custumer of Armory Den for life. where do i start, well for one thing these people have custumer service covered on a legit level. the best hands down communication with me then any company has ever had. up until my first purchase amazon had that on lock. but Armory Den has them beat. And if your skeptical of the quality of material or machining. one time is all it will take for you to truely trust that every single purchase you make with them will be the best you can buy. The best business and people you will ever spend money with. I am a customer for life and that is a fact! truely greatful for a business that actually cares about the people they do business with. thanks yall god bless you!! Adam Carruth
William Patterson
May 25, 2021.
Solid from website to my hand, top shelf As I shopped for the product, I kept returning to the Den website. Descriptions are clear, lots of good information, very good value. Ordering is simple, terms are straightforward. I had special shipping instructions, followed perfectly. Secure packaging. The trap is well machined, fits tight, and is nicely finished. The hand-feel has heft and is of quality. Extra care at every step. Thanks.
Great experience Great experience
They did the right thing! Let me just start with Thank you Armory Den! What exceptional customer service! Their response time to emails, is faster response time then the police department has where I live for 911 calls lol j/k. Seriously, they answered me on Sunday, morning and afternoon. No company does that! Also, I asked about a part I thought came with my order. I was ready to pay for it, nope, they sent them to me for free, and shipped on a Sunday! No one does that! I'm a customer for life! I even canceled an order I had with another company, just so I can buy from ARMORY DEN! My business motto is "always do the right thing l, no matter what" they obviously follow it also!
This company is the real deal I was a little skeptical about ordering honestly. I hadn't heard much about armory den and could only find good reviews lol. But I took a chance and put through an order. Everything arrived as described and is awesome. Be aware that you may receive multiple shipments based on what you order. These guys respond fast and from what i have seen, produce quality products. They have my future business. I've put up similar reviews and given a recommendation on their FB page.
Michael Whitehurst
February 14, 2021.
Great experience Great experience. Product can exactly on time, as expected. Very pleased with product. Very well engineered and good quality. Customer service is excellent. Answered all questions quickly and very informative about products. Will definitely be ordering more in the future
A
solvent trap is a "firearm accessory". As a firearm accessory, they can be attached to the end of the barrel with our thread protector. S
olvent traps are effective cleaning accessories to trap cleaning solvents, lubricators, fluids, and other debris that can be harmful to your skin and potentially harmful to the environment. Solvent traps make the cleaning process more efficient and allow you to recycle and dispose of solvent without making a complete mess, and they can double as a dry storage solution.
These devices have become extremely popular in the firearm community, and the demand for these products continue to grow in the industry. If you often clean your firearms, using a solvent trap can be very helpful if you wish to prevent a total mess. Because our company clearly states our intent for the use of our solvent traps on our site, our customers enjoy asking questions regarding the best products to clean their firearms with. Firearm owners love conversations and talking about their firearms, and cleaning is a fun topic! feel free to share new dry storages uses with us as well. We'd love to hear your feedback!
Solvent traps also help our customers trap and recycle solvent and cleaning fluids at a later time, depending on the frequency of their routine maintenance.
Solvent traps are devices that can be attached to the threaded muzzle of a firearm in order to capture the fluids that are used to clean your rifle or pistol. Cleaning your firearm regularly can help improve performance, and help improve safety and reliability.
Solvent traps have a female threaded end allowing users to attach the end cap to one end of the tube and our thread protector to the opposite end. Solvent trap kits generally consist of aluminum and titanium, both offered on Armory Den. These materials are ideal for firearms cleaning as they thread on and off a metal barrel in order to function as a solvent and debri trapping solution for firearms.
Stronger materials also reduce wear and tear on threads which increase product longevity, as oppsed to softer materials which will be more prone to thread damage or less lived short life. If solvent traps were made of plastic, the threads would quickly wear or strip when threading it onto a metal barrel. Common metals for firearm accessories, such as solvent traps include 7075 aluminum and titanium. Like titanium, carbon steel and stainess steel are stronger metals that could be used for firearms cleaning for the benefits of product longevity.
Armory Den's aluminum solvent traps are made from 7075 aluminum – a more durable aluminum. This model is a more affordable solution for consumers on a tight budget. Cleaning your firearm helps improves safety, reliability and overall performance of a firearm. Maximizing efficiency and effective in any manual job provides more incentive to perform regular maintenance, and we feel that affordable options should be available to those in this situation.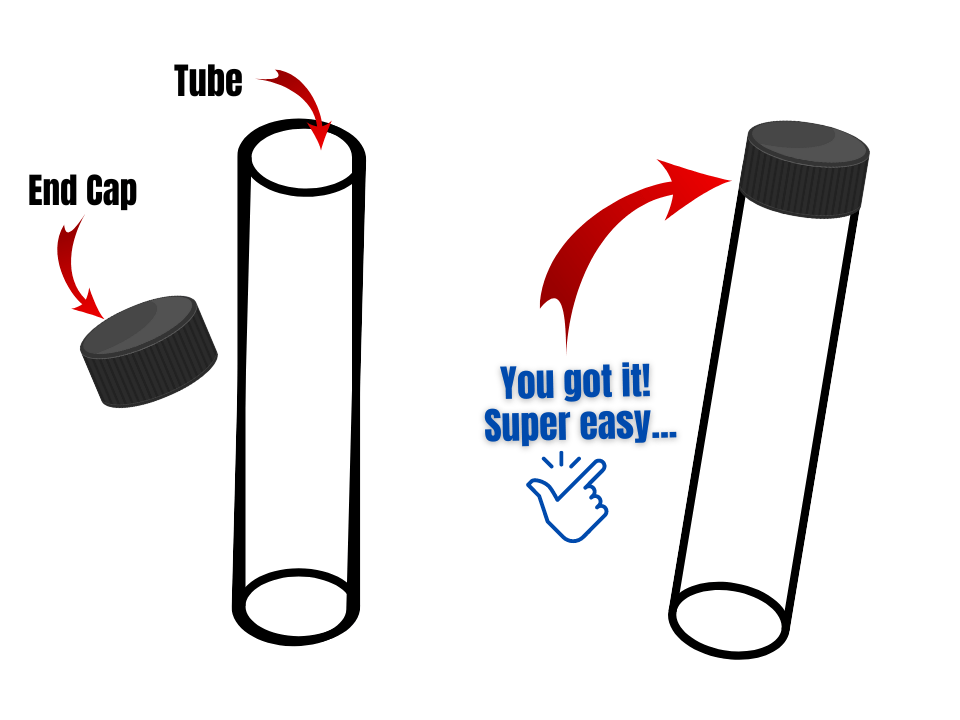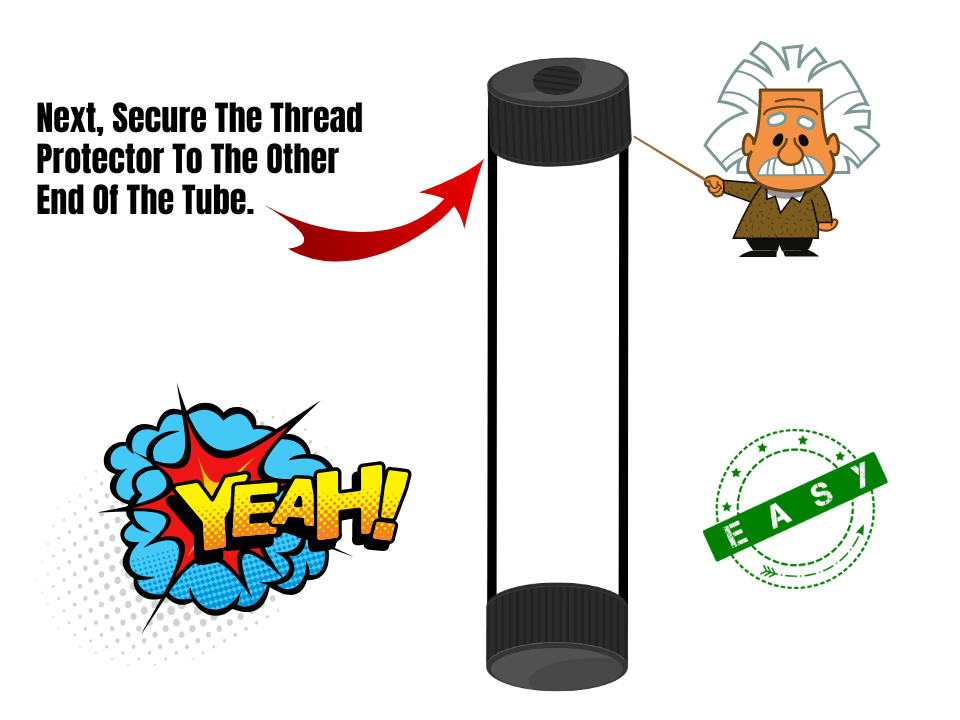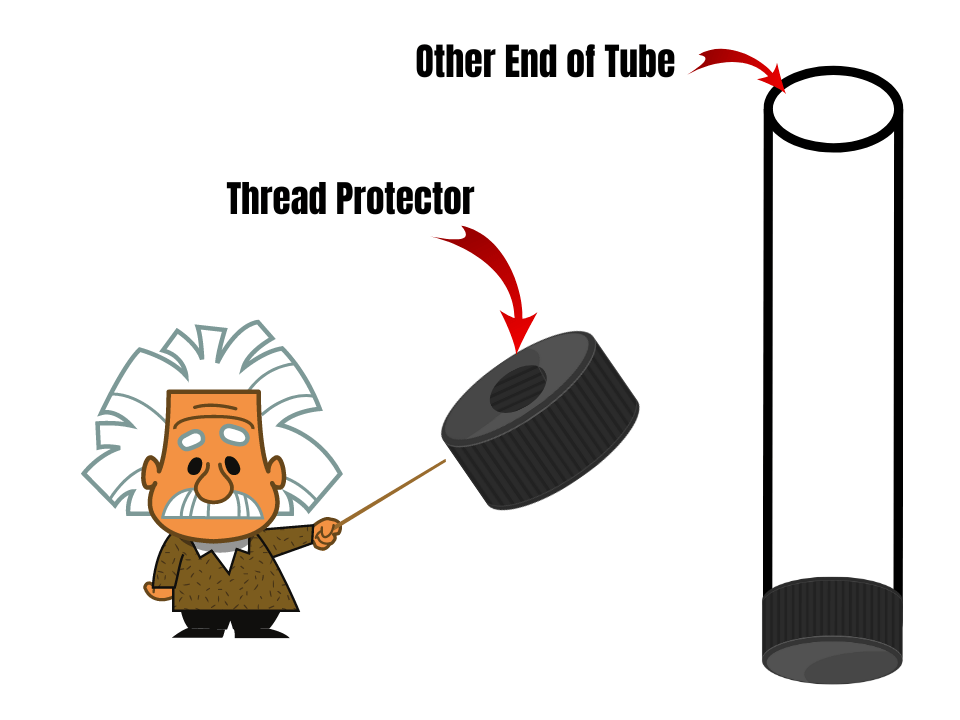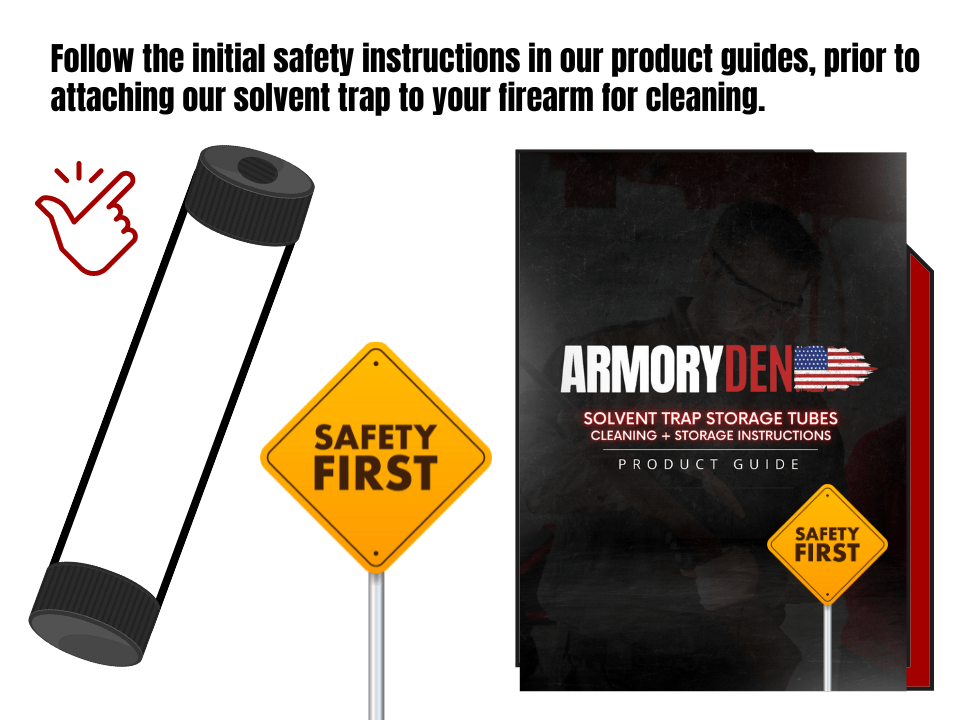 Understanding What's Needed For Cleaning
Once you have an understanding of the product that will be compatible with your firearm and/or other firearm accessories you own, only then should you choose one based off the preference. For example, we offer both a 1/2×28″ or 5/8×24″ thread size option. If you are purchasing a solvent trap solution for an application with these common size thread types then you will have options to choose from. For firearm cleaning the main go is to catch cleaning oils and debri from the end of your barrel so that you alleviate the mess during bore cleaning processes. We have tube, end cap and accessories which can be used for dry storage solutions too.
Unlike a AR-15 which comes standard with a threaded barrel, all pistols without a threaded barrel will need to purchase one in order to use this product. Again, all solvent traps come with the threaded end, the female end. This way it can attached and work properly.
Travel Storage and Dry Storage! (Chart Below)
We understand that many firearm owners enjoy outdoor activities like camping, hiking, and other excursions. They often appreciate gear that serves multiple purposes and can be compactly stored. So, we figured it would be a great idea to outline all the useful items on a chart below that can be stored in our smallest 6″ tube model. This way, the chart can be used as a benchmark. Conveniently, our solvent trap or storage tubes can double for travel storage. They can also be used for dry storage with an additional end cap.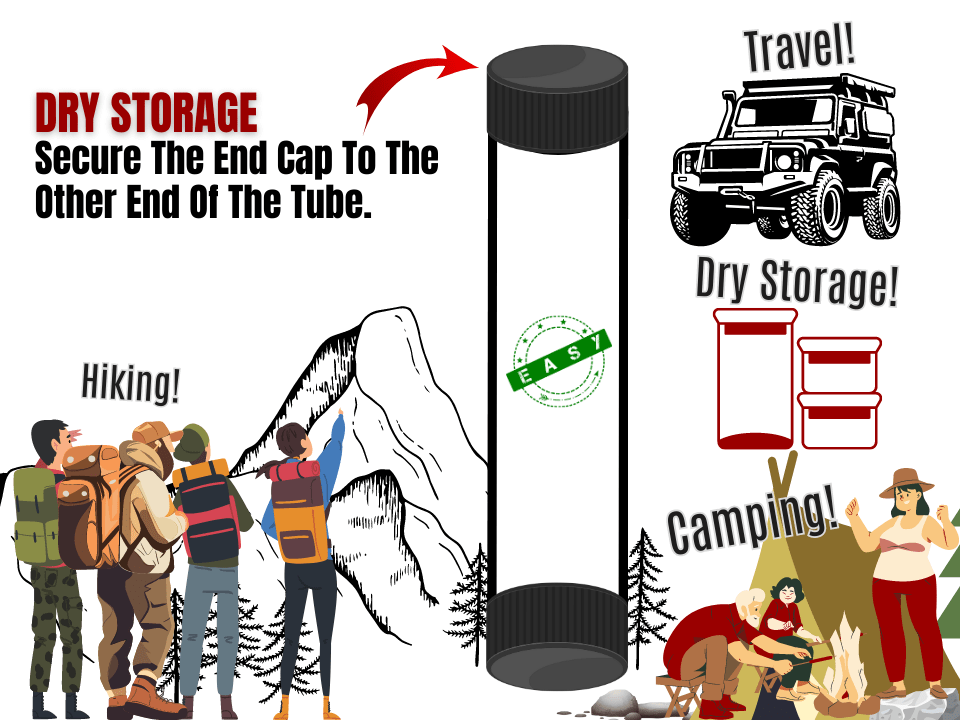 Because solvent traps are tubes used by firearms owners for cleaning, we figured we would create a product that caters to the needs for both firearm-related accessories and outdoor essentials. Getting the value of two items for one is always appealing when interest align with versatile gear!
Here's a suggested chart that lists items for camping, hiking, and outdoor excursions, as well as items for dry storage when using 2 end caps:
Camping, Hiking and Outdoor Excursions
| Item Category | Camping/Hiking/Outdoor Excursions |
| --- | --- |
| Camp Fire | Waterproof Matches, Lighter |
| First Aid | Bandages, Antiseptic Wipes, Pain Relievers |
| Food | Trail Mix, Energy Bars, Instant Meals |
| Navigation | Compass, Map, GPS Device |
| Hydration | Water Purification Tablets, Collapsible Bottle |
| Emergency Shelter | Space Blanket, Emergency Bivvy |
| Communication | Whistle, Signal Mirror, Note Pad |
| Illumination | Headlamp, Glow Sticks |
| Tools | Multi-tool, Pocket Knife |
| Personal Care | Hand Sanitizer, Tissue, Sunscreen |
| Survival Gear | Paracord, Fishing Line, Mini Sewing Kit |
Dry Storage with 2 End Caps
| Item Category | Dry Storage with End Caps |
| --- | --- |
| Camp Fire | Fire Starter, Tinder |
| First Aid | Medical Supplies, Prescription Meds |
| Food | Dry Snacks, Dehydrated Food |
| Navigation | Spare Batteries, Small Tools |
| Hydration | Water Storage Tablets, Filter |
| Emergency Shelter | Shelter Material, Emergency Blanket |
| Communication | Important Documents, Small Tools |
| Illumination | Spare Batteries, Mini Flashlight |
| Tools | Small Repair Tools, Spare Parts |
| Personal Care | Essential Toiletries, Personal Items |
| Survival Gear | Survival Items, Essential Gear |
*Keep in mind that the actual number of items above that can be stored will depend on their sizes and shapes. The size of the tube your purchase will also be a factor. If you choose a kit without purchasing an additional end cap and you plan to use it for travel storage, make sure the items you wish to store are larger than the thread pitch size, or ensure your items are stored in a manner where they will not fall out of the tube during travel.  
The dimensions we provided in the 'Descriptions' tab should help you estimate the capacity of the storage kit accurately. Remember that when sealing both ends of the tube with end caps, you will want to ensure a secure and airtight closure to prevent dust, moisture, or air from getting inside
Feel free to customize this list based on the type of outdoor activities you anticipate, and any specific gear you may want to highlight!
A Solvent Trap, Versus Other Similar Looking Products
Armory Den sells solvent traps and storage tubes which are intended to trap solvent during firearms cleaning, and they can be used for travel storage or dry storage. Although our products may look similiar to items such as filters, mufflers and even barrel shrouds, they are not.
Firearm enthusiasts and outdoor enthusiasts do often overlap, as many firearm owners enjoy activities such as hunting, camping, hiking, and other outdoor adventures. Armory Den wanted to combine the needs and interests of firearm owners with outdoor enthusiasts to provide a product that offers practicality and versatility.
A solvent trap has a name that specifically describes its purpose. Solvent traps are a firearm accessory made for cleaning your firearm, such a bore cleaning processes. Solvent traps are for trapping solvent to make the cleaning process easier and more efficient. Catching solvent is the purpose of a solvent trap kit, legally and mechanically, and they are extremely effective in doing so. Frequent cleaning can also improve the performance of your firearm, as well as make it more safer and reliable.
Like any product in a home appliance or hardware store, our products do not cause any harm when used as intended. Our solvent traps are accessories for cleaning firearms or can be used for as travel storage or dry storage needs. They are logical solutions which are sold for legal purposes. All responsible firearm owners looking for effective cleaning and storage solution are welcome at Armory Den!
If you are looking to purchase a solvent trap legally for
routine cleaning, to improve firearm safety, reliability and overall performance – Then we are the company for you!
Feel free to browse our den for products and review our product guides for more information.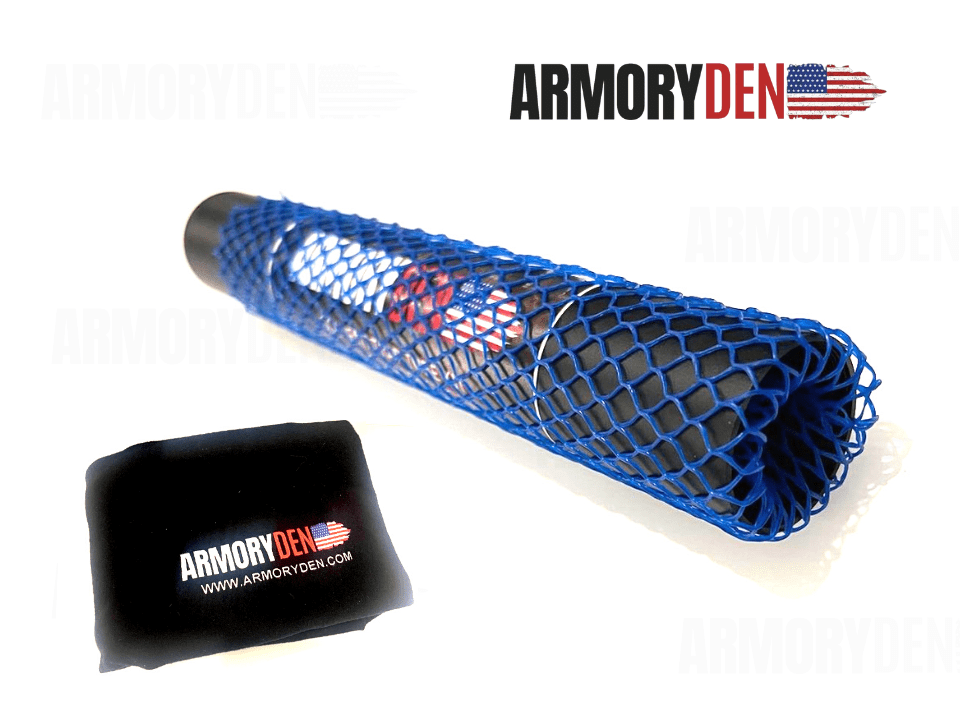 Solvent Trap and Storage Tube Kits:
For cleaning, the solvent trap tube is connected to the thread protector on one end which is then connected to threaded muzzle of the firearm prior to cleaning. The purpose of this tube is to contain solvent and debris during cleaning. Cleaning solvents often include chemicals that may be harmful if absorbed through the skin. During the cleaning process, the solvent trap is intended to collect and "trap" within it, preventing potential harmful solvents from touching the users skin.
Solvent traps are tubes just like storage tubes, which make them a great solution for travel storage. They can also be used for dry storage by purchasing an additional end cap to seal both ends to prevent dirt, dusk and moisture from getting inside. See our travel storage charts above! Please review our product guides for more information.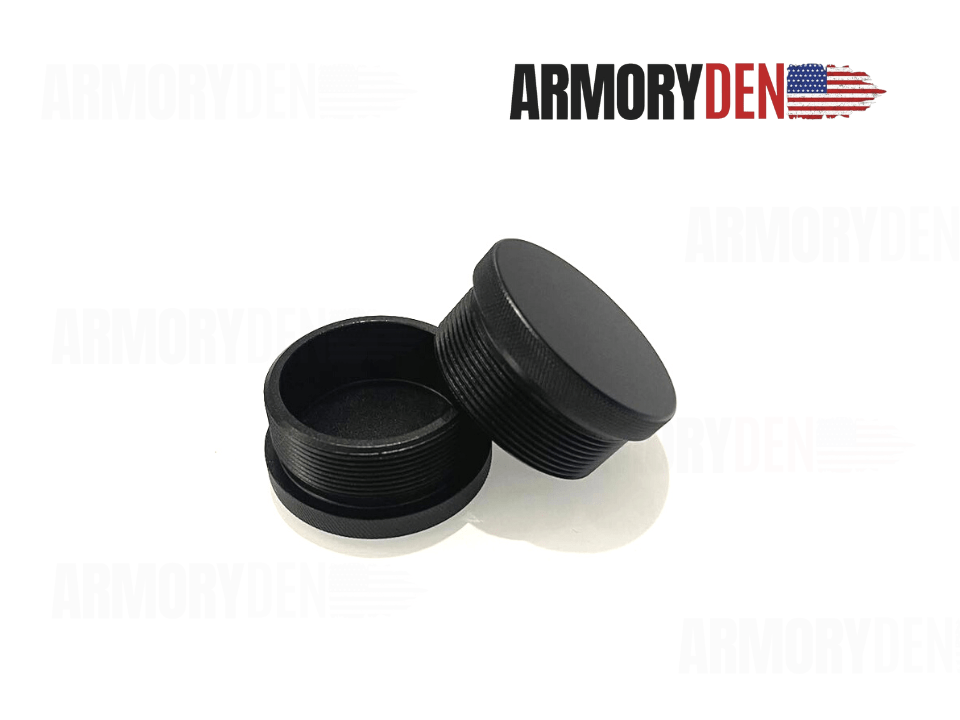 End caps are used to seal one end of the tube for firearms cleaning and they can be used as travel storage solutions with the included parts. For cleaning, they serve the function of sealing the solvent trap tube to ensure that all of cleaning liquids, oil lubricants, solvents and other debris are caught and trapped inside the tube. If an additional end cap is purchased, you can use the tube as a dry storage solution by sealing both ends of the tube to prevent moisture, dirt and other particles from getting inside. Solvent trap end caps are generally constructed with material, such as titanium, stainless steel or aluminum. Metal materials are ideal for cleaning and storage to reduce wear and tear overtime from the constant threading of parts. These materials also help with product longevity as they attached to firearm barrels for cleaning which are typically made from carbon steel or stainless steel. Armory Den's aluminum end caps are manufactured from 7075 Aluminum, a stronger type of aluminum that is less expensive than titanium. Routine firearm
maintenance i
mproves the saftey, realibility and overall performance and allowing you to dispose of used solvent and debri safely. For this reason, offering an  affordable product is ideal so those on a budget can benefit from these advantages.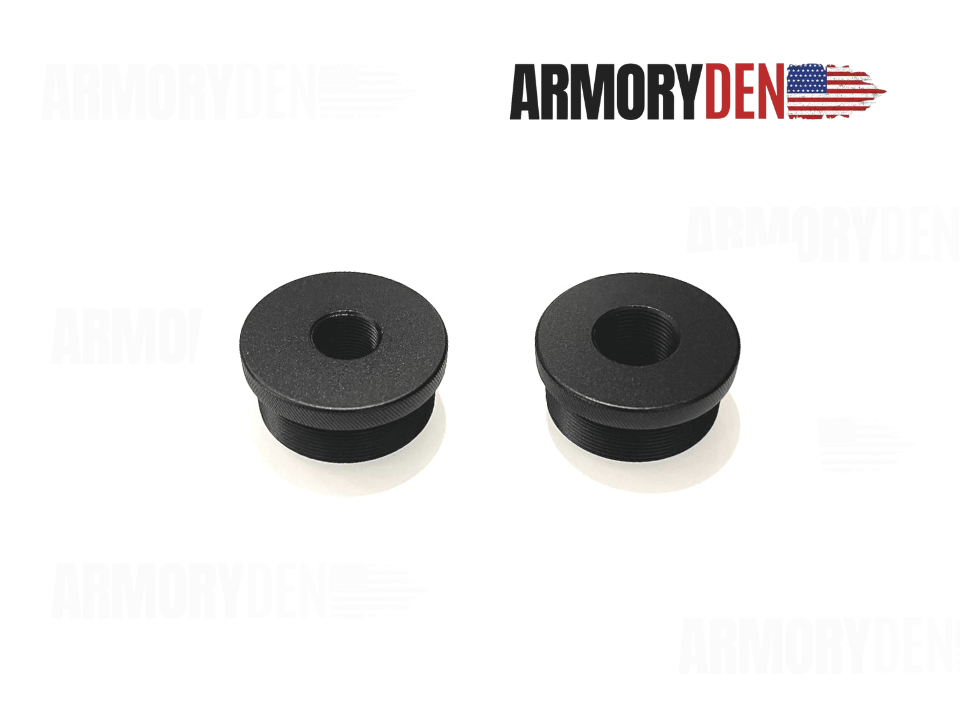 The thread protector included with our solvent trap and storage kits are secured to the muzzle end of a firearm for cleaning after the assembly of your solvent trap tube. Depending on the sort of firearm you intend to clean, you want to be equipped with the correct thread protector to match your barrel thread. – i.e. 1 / 2 x 28″ being used for 9mm, .22LR, 5.56 NATO caliber firearms and 5/8×28″ being used to clean larger .30 Cal Firearms. Armory Den's thread protectors are identical in material as the end cap and to the respective solvent trap they are installed on as they attach to metal barrels. For firearm owners who have love for the outdoors, the tube, end cap and thread protector can be used for travel storage. However, you will need an additional end cap to create a dry storage solution as mentioned above and outlined in our
product guides
.
These are the four fundamental elements of a solvent trap kit and storage solution.
Solvent traps are intended to be used for firearms cleaning, but they also make great storage solutions for forward-thinking preppers and those who want to embrace the outdoors. Please visit our product pages to view our product guides and for additional information on cleaning and storage benefits!
Armory Den is America's #1 supplier of high-grade solvent trap parts and kits. Routine cleaning and maintenance are important for maintaining the safety, dependability, and overall performance of your firearm. To view our entire inventory of premium quality solvent trap products, click 
here
.
Never Buy Knock Off Solvent Trap Parts
There are many suppliers of solvent trap parts and kits on the market, but not all are created equal. It's important to never buy knock-off Solvent Traps as mentioned by
Josuha Prince law firm (Prince Law Offices, P.C.)
. You should only purchase from reputable sources to ensure that you're getting a solvent trap intended for cleaning and quality parts that will work as intended and provide the benefits of longevity. Armory Den puts alot of time into ensuring our products are understood with detailed product pages and product guides. We strive to maintain our reputation as a top solvent trap store. Our products are packed and delivered with care.
Beware of cheap knock-offs made with inferior materials where threads can strip and parts can break easily or worse, cause harm to your firearm or barrel.
Everyone wants to save money. Some items may be low-quality knock-offs made with diluted materials, which is a safe method to saving money. In reality, if you invest in low-quality solvent trap parts, you may put yourself at risk from a legal standpoint and if chemicals are not contained during cleaning it can be a hazard to your skin. Beware of clones that use lower grade metals that are advertised as higher quality metals, very low-quality finish that wears easily on a single use, and cross-threading and thread mismatches that cause corrosion or leaks.
Let's look at a few reasons why you should avoid knock-off solvent trap components at all costs.
Obviously, as with many low-cost replicas, the reason they are so inexpensive is that the manufacturer most likely cut corners in terms of materials. Many counterfeit solvent trap parts, on the other hand, are composed of lower-quality metals. This will mean your investment will be short-lived as cheaper materials may not hold up to constant threading and cross threading may occur.
Solvent traps thread to a metal barrel, so you want to go with more durable solution so you are not having to spend more money on a new product or replacement parts.
Regular cleaning can improve the performance and security of your firearm. One of the advantages of cleaning a firearm with a high-quality solvent trap is that it prevents the liquid from leaking out and coming into contact with your skin. While many cleaning solutions on the market contain harmful and toxic compounds that, while excellent for gun cleaning, may be hazardous if not handled correctly. Using a high-quality solvent trap helps to reduce the possibility of harm.
On the other hand, if knock-off solvent trap parts are used, there is the risk of leaks and exposing users to dangerous chemicals if the solvent is not contained. This can happen if there is cross-threading which is when thread grinding occurs with a thread protector or end cap. Obviously, this defeats the entire purpose of obtaining a solvent trap where constant threading occurs.
The strongest materials for solvent trap parts for longevity and reliability is stainless steel and titanium. They provide superior strength such as resistance to corrosion and stronger threads for product longevity. These products are suitable for the avid firearm owners who enjoy cleaning their firearms frequently or clean multiple firearms in one sitting. If you are still looking for a more feasible solution that still gets the job done, you may consider our aluminum models. These cleaning kits are made from 7075 aluminum, a stronger aluminum to reduce wear and tear on threads overtime. This will allowing you to upkeep a more reliable and safe firearm without the burden of paying more for a more durable model like titanium. If you prefer a lighter option or are a veteran with arthristis, they might be a perfect option for you.
There are strict regulations with regard to the ownership and use of a firearm. Solvent traps and durable dry storage solutions for travel and transport are not covered by the Gun Control Act of 1968, which regulates firearm components and weapons.
Some online knockoff retailers are unaware, but others simply don't care and will sell low-quality fakes just to increase their revenue and bottom line – the only person who is at risk is you!
We aren't the only ones who think so. Don't take our word for it. Take it from the NY man who was visited at his home by U.S. Customs and Border Patrol agents after they seized a package he'd ordered containing imitation parts imported from overseas. Despite his pleas of ignorance, authorities searched the man's house, and he's now facing multiple charges. (as we've read)
To avoid all of these hazards, stick with reputable solvent trap components from a US-based source, such as Armory Den. We take pride in selling legal solvent trap parts that are designed and manufactured within legal parameters and known guidelines.
We only use top-grade components, so you may rest assured that our items are safe and efficient for their intended purpose. Best of all, our high-grade solvent trap parts are priced at an affordable rate, eliminating the need to risk buying knock-offs to save money.
It's important to be aware of the risks before buying: There is no distributor channel for Armory Den, thus if you see similar items on other websites, they are surely clones or replicas!
To view 
our broad selection of stainless steel and titanium solvent trap parts that meet industry standards
Click here
.
Armory Den sells high-grade solvent traps that are 100% legal. Our products are tested and go through quality control testing prior to delivery. Moreover, our
high-grade products
are sold without indexing as they are for firearm cleaning purposes and dry storage solutions.
Armory Den is a U.S. company that carries the best quality solvent traps, firearms cleaning kits, accessories and parts. We are proud of our quality control, with our research team constantly updating the best and lowest prices in the industry.
Content on this website may be outdated, so please follow all NFA laws and rules, federal regulations, and regulations in the state which you reside. The info below is a cautionary notice to inform visitors. However, if you want to learn more about our products please review our product guides on each respective product pages which includes additional information. If you are looking to purchase a solvent trap for firearms cleaning or want to use them for dry storage, then you are at the right place! 
The purchase of a solvent trap is 100% legal, without a Form 1. However, there are important restrictions and regulations to be aware. For instance, you cannot alter, modify, or redesign them into a device for muffling, silencing, or diminishing the report of a firearm, without first filing and receiving back from BATFE an approved Form 1.
Only after getting the approved Form 1 back can you make any modifications to the product
. You will be committing a crime if you make the alterations or modifications prior to obtaining the paid tax stamp. Do not make any alterations or modifications to our products, or any solvent trap product or part for that matter, before getting back the approved Form 1.
Modification of a solvent trap parts without an approved tax stamp could be considered a felony. 
Please review our ATF Legal Den and website terms and conditions.
Please follow all NFA laws and federal regulations, as well as state and local laws within the states you reside. Please purchase our products if you are looking for a firearms cleaning solution or interested in utilizing them for dry storage purposes, or both. 
DISCLAIMER: Information and videos contained on this site is added on a regular basis. Due to the nature of the information posted, it becomes outdated rapidly. Users are therefore cautioned to independently verify the correctness of information contained on the website that may have become outdated. The info on our website is not legal advice and legal advice may only be provided by a properly licensed attorney.This blog post is not legal advice. The information provided is for informational purposes only. Any information posted on our website is to inform our customers due our industry, and also appease companies we do business with, such as those who insure us.
Read More