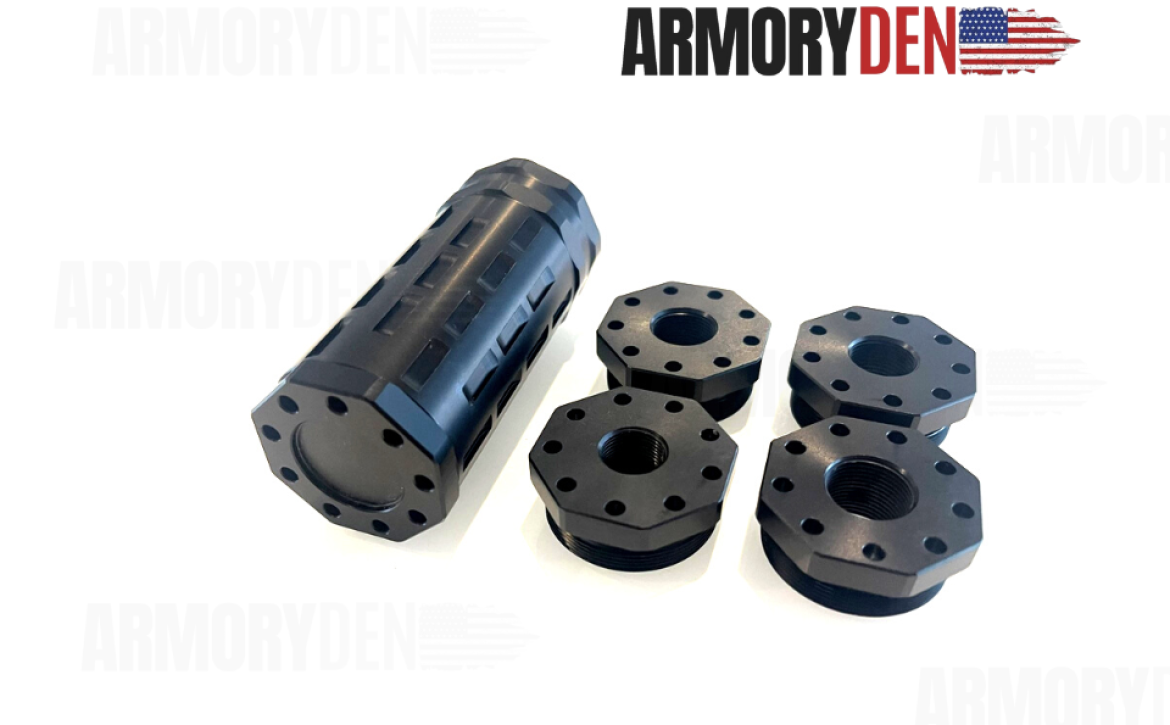 The AD Radial-8 Adaptive Solvent Trap
It Might Be Your Favorite Solvent Trap…
If you've visited Armory Den before, you know we offer a variety of solvent trap solutions, and new releases will become available soon. After handling several solvent trap kits offered in our line-up, the
AD Radial-8 Adaptive Solvent Trap™
kit may be one of the best kits we've released thus far. There is no other solvent trap kit on the market that compares.
Its proven difficult for other companies to replicate and counterfeiters don't even try.
This kit is manufactured with 7075 Aircraft Grade Aluminum and weighs in at 9.9oz. when fully assembled for transport. In its shortest configuration, the Radial-8 solvent trap kit is only 3.5oz.
Armory Den's Adaptive Solvent Trap Kit lineup and is mechanically identical, touting a modular framework that allows for the user to configure their preferred cleaning setup.
Adaptive dry storage cups can be used with end caps to create storage compartments and are ultra-light. However, you will need to purchase additional end caps for each adaptive dry strorage if this is your goal. a different design than traditional cone style storage cups as traditional style storage cups seperate the interior of the tubes for storing essential items, or using them as quick use, discard and recycle option during cleaning. We call this the one cup method.
The adaptive dry storage cup, thread protector, end cap, and base of the adaptive solvent trap tube has an octagonal exterior. This allows easier tightening and untightening of the threads. Tight threads are important so there is no leakage. For now, rubberized tension wrenches or other tools can be used; eventually we will release a rubberized or resin coated octagonal wrench for this model.
MissionMan
February 13, 2022.
Armory Den = HELL YEA! 🙂 Finally a company who doesn't rip people off. I searched forever for a trap kit that matches industry design and option. Ran into tons of scam sites until now. I bought the 304 Steel Adaptive Trap (10" inch) and that was on a Friday. That same night or the next day they already had USPS label from Florida and it shipped out that same day! Armory Den is the best site out of all the knock off scams or just plain fraudulent sites claiming to sell traps. Everything from their shipping to the transparency of sells via Stripe payment, keeps reputation in the front seat. Thank you whoever runs Armory Den. You are doing so many people favors. Your prices are cheapest along with design and materials offered. Its China that makes knock offs and Armory Den DONT PRODUCE OR SELL THAT GARBAGE. (P.S. stay away from Solvent Traps Direct).
Frankie
December 17, 2021.
Amazing! Absolutely thrilled with the level of customer service. Anytime I had a question they respond very quickly and always answer my questions completely. I love their packaging. While it may be somewhat difficult to get to their products through all the packaging, I really appreciate that they take the time to properly wrap their products. I feel like this attention to detail would protect my order if the delivery person were to leave it where it could get rained on or left in the weather. The packaging is amazing, and I will continue to return as a customer.
Mike S.
December 11, 2021.
Outstanding on all fronts Great company! I am 110% satisfied with my experience. The ordering process was easy and secure. The package arrived 3 days early by USPS. The product was extremely well-packaged: outer bubble envelope, inner bubble wrap, a box, and the individual pieces were separated and secured within holes in foam material. The trap itself is very well constructed as advertised. I'm glad I paid the extra $$ for a high quality product rather than risk with a random internet company just out for sales. Also customer service responds within hours and is extremely responsive—they have actual humans interacting with you! Will use again. Thx!
Adam Carruth
June 19, 2021.
custumer of Armory Den for life. where do i start, well for one thing these people have custumer service covered on a legit level. the best hands down communication with me then any company has ever had. up until my first purchase amazon had that on lock. but Armory Den has them beat. And if your skeptical of the quality of material or machining. one time is all it will take for you to truely trust that every single purchase you make with them will be the best you can buy. The best business and people you will ever spend money with. I am a customer for life and that is a fact! truely greatful for a business that actually cares about the people they do business with. thanks yall god bless you!! Adam Carruth
William Patterson
May 25, 2021.
Solid from website to my hand, top shelf As I shopped for the product, I kept returning to the Den website. Descriptions are clear, lots of good information, very good value. Ordering is simple, terms are straightforward. I had special shipping instructions, followed perfectly. Secure packaging. The trap is well machined, fits tight, and is nicely finished. The hand-feel has heft and is of quality. Extra care at every step. Thanks.
Great experience Great experience
They did the right thing! Let me just start with Thank you Armory Den! What exceptional customer service! Their response time to emails, is faster response time then the police department has where I live for 911 calls lol j/k. Seriously, they answered me on Sunday, morning and afternoon. No company does that! Also, I asked about a part I thought came with my order. I was ready to pay for it, nope, they sent them to me for free, and shipped on a Sunday! No one does that! I'm a customer for life! I even canceled an order I had with another company, just so I can buy from ARMORY DEN! My business motto is "always do the right thing l, no matter what" they obviously follow it also!
This company is the real deal I was a little skeptical about ordering honestly. I hadn't heard much about armory den and could only find good reviews lol. But I took a chance and put through an order. Everything arrived as described and is awesome. Be aware that you may receive multiple shipments based on what you order. These guys respond fast and from what i have seen, produce quality products. They have my future business. I've put up similar reviews and given a recommendation on their FB page.
Michael Whitehurst
February 14, 2021.
Great experience Great experience. Product can exactly on time, as expected. Very pleased with product. Very well engineered and good quality. Customer service is excellent. Answered all questions quickly and very informative about products. Will definitely be ordering more in the future
We Listen to Customer Feedback!
Customer's that have done business with Armory Den, know that we invest in our staff, infrastructure, and value not only our customers, but their feedback as well. Our chief cornerstone value is customer service, and we take pride in all feedback provided, and our staff speaks with upper management to take action on customer feedback, if possible. A great example of Armory Den's propensity to act on customer feedback, is evidenced in the thread protectors included in our AD Radial-8 Adaptive Solvent Trap Kit.
Customers that purchase multiple solvent trap thread protectors had issues identifying the TPI of each mount. Generally, it is easy to identify the most common a 1/2×28" and 5/8×24" thread protector size. However, when placing the 1/2×28" and 5/8×24" beside the
9/16×24"
or
.578×28"
, it proves difficult to know what size is what.
In response to this feedback, we had our product development team include imprints of the thread size on the internal side of the AD-Radial-8 thread protectors, including the 5/8×24" and 1/2×28" thread protectors which are included with each kit. The rarer thread protectors are sold separately.
Industry Standard Thread Pitch and Configurability 
We pride ourselves on keeping up to date on market demand and what our customers actually want. Armory Den is not new to firearms, and our owners and operators each have at least a decade of experience in the industry, from firearms training, to licensed dealer experience, and more, so we only create and stock items we know the people want and that we would personally purchase for ourselves!
The Radial-8 Solvent Trap kit has a standard thread pitch of 1.375-24 TPI. Through our research and customer feedback, we found that some customers do not want to deal with direct threading their solvent traps to their firearms. This is because some firearms require tools and time to remove muzzles devices or other items they own in order to thread the solvent trap on for cleaning.
To take configurability to the next level, we have decided to include our
1.375-24 TPI Male to 1.1875 TPI Female adapter
in with this the AD adial-8 kits! This adapter converts the solvent trap kit into another industry standard thread pitch of 1.1875-24 TPI for further compatibility!
This allows this solvent trap kit to adapt to some of Armory Den's muzzle devices for streamlined cleaning, and adapt to many other third-party devices sold by other companies.