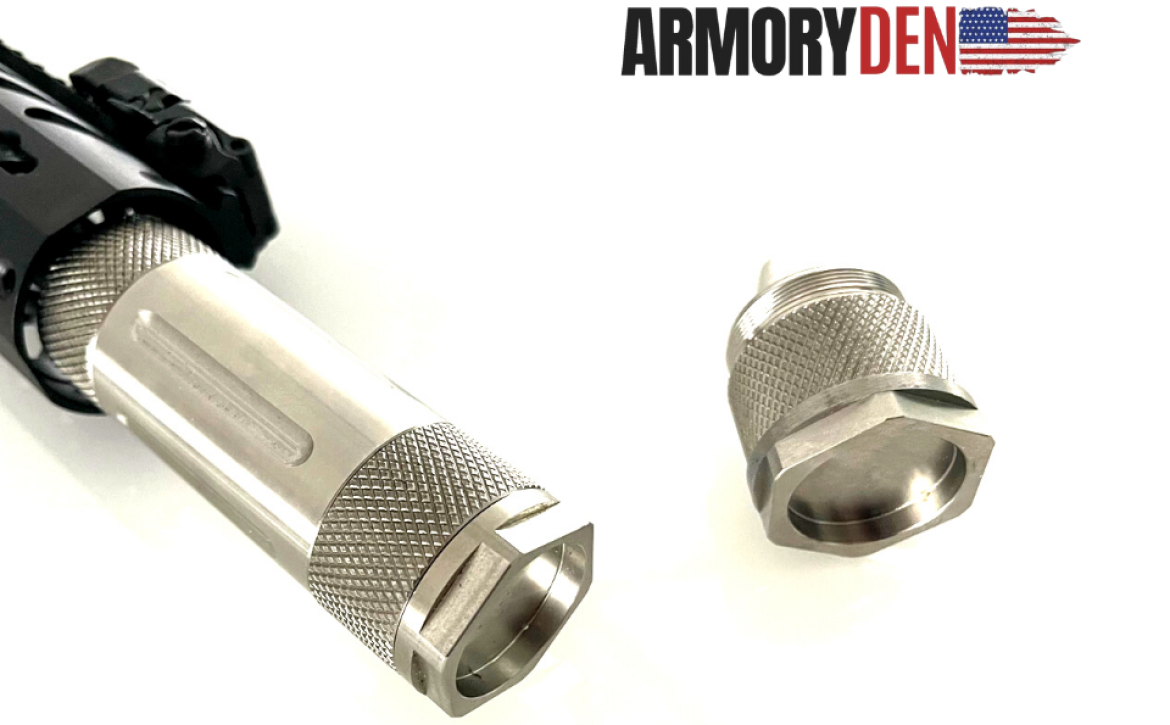 Why are More Firearm Owners Taking Advantage of the GR5 Titanium Adaptive Solvent Trap (AST) Kit?
Many people realize that the GR5 titanium is the best in the market. The following are some of the reasons consumers are turning to this design of solvent trap:
Guaranteed customer satisfaction
T
he Grade 5 titanium solvent trap boasts of 5-star customer reviews published on different reputable sites like Trust Pilot or Gun Broker. This reflects the ability of the manufacturer to give customers only the best solvent traps. Additionally, the company offers top-notch customer service.
Armory Den has one goal: to exceed all expectations of its customers. Unlike other customers that charge exorbitant prices for inferior products, Armory Den gives its customers the best solvent traps at affordable prices.
Fast, Free Shipping Nationwide
Based in the US, Armory Den is a wholesale supplier. The company has east coast and west coast facilities to satisfy customers from all parts of the country. It also prides itself in den deliveries and provides free shipping to customers and businesses, including wholesale partners.
According to the company, they consistently satisfy their deliveries even under challenging circumstances such as natural disasters. Both individuals and businesses should contact the company through their official website. There is a special wholesale solution form to submit for those who are willing to be wholesale partners and resell the products.
The company maintains a friendly customer service team to handle general inquiries. A representative from the company responds to every question in real-time.
The Best Solvent Trap Kit
Armory Den could be the right place to visit for firearm owners looking for the best solvent trap. With their Grade 5 titanium solvent trap, customers get value for money. Most importantly, the Grade 5 Titanium solvent trap kit is a favorite model for the following reasons:
Titanium offers superior and superb properties as a material for solvent traps.
The company designed the Grade 5 Titanium solvent trap with a surface that gets easily scratched or discolored with time.
Titanium is easy to clean and doesn't quickly get distorted
Titanium has a gravity of 4.5. It's generally lightweight, and this makes it portable while imposing less structural burden.
A solvent trap is a firearm cleaning solution. It has no hole for a projectile or a bullet to pass through. The idea behind a solvent trap is to collect the solvent during a firearm cleaning process. This helps users avoid spillage and allow them to recycle the cleaning material for future use.
The legal and mechanical purpose of a solvent trap is to catch the solvent during a cleaning process. A firearm that undergoes regular cleaning performs better, is safer, and is more reliable. Firearm owners must use solvent traps as intended. As their name suggests, they're mainly meant to trap solvent. The Grade 5 Titanium solvent trap from Armory Den is 100% legal to purchase and own.
Buying unlawful solvent traps, or modifying the products for any other purpose, is against the law and can attract felony charges. Armory Den sells solvent traps that are intended for cleaning firearms and no other purpose. People looking to purchase solvent traps legally for a routine firearm cleaning should contact the company to place their orders through the official website.
Titanium solvent trap kits offer the best firearm cleaning solutions and allow firearm owners to get creative with their routine cleaning. Armory Den offers affordable but high-grade solvent trap solutions.
One of the company's most popular products is the Grade 5 titanium solvent trap, which many firearm owners highly recommend.
So, browse our Den today.