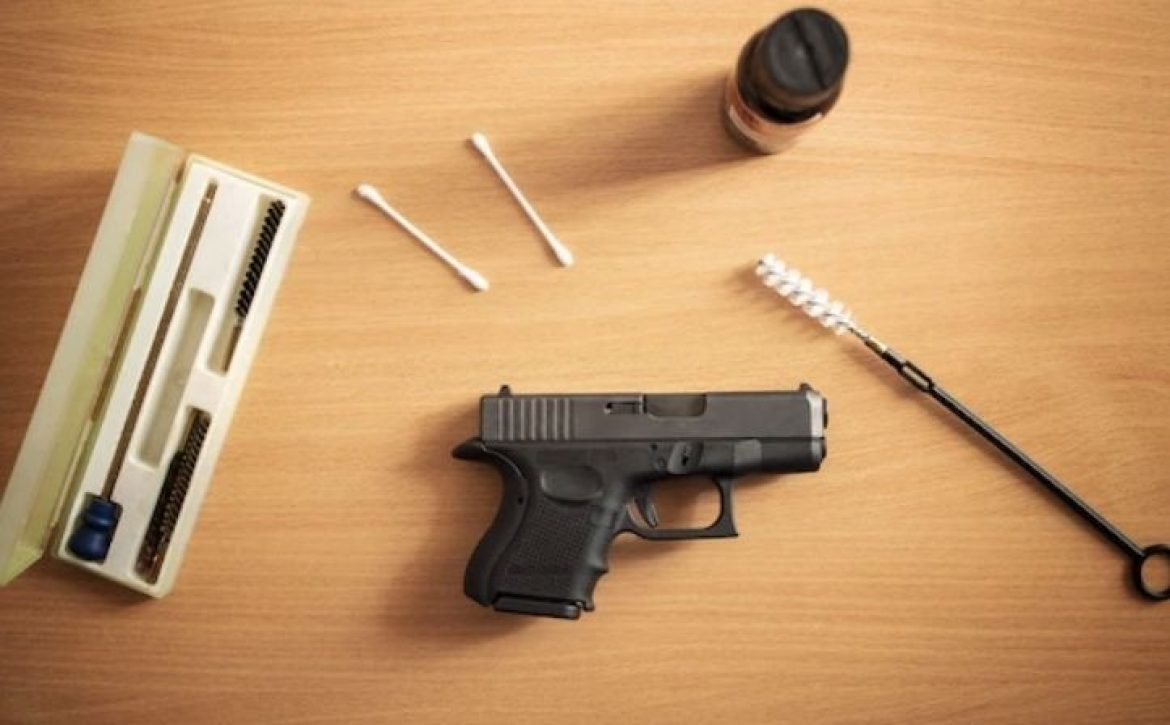 Top 5 Gun Cleaning Brushes in 2022
Every responsible firearm owner must clean their pieces regularly to ensure proper functionality and longevity. The only way to do a thorough and efficient cleaning job is to use a good cleaning brush.
There are many good cleaning brushes on the market to choose from, so it can be pretty difficult to decide. To save you the time and stress of browsing through the endless collection on the internet, we've carefully researched the best firearm cleaning brushes and picked the five best of the best.
Otis Technology Blue Nylon All Purpose Gun Cleaning Brush
Motanar 10-Pack Double-Ended All Purpose Gun Cleaning Brush
SE Double Ended Gun Cleaning Brush Set
EAmber Gun Cleaning Brushes
Boao Double-Ended Gun Cleaning Brushes
1. Otis Technology Blue Nylon All-Purpose Gun Cleaning Brush
Otis Technology is a big name in the firearm maintenance market, so you can count on its products to deliver excellent results. The Blue Nylon All-Purpose Cleaning Brush is suitable for all surface types, whether wooden, plastic, or metallic.
This brush features nylon bristles at both ends: a big 3-row end and a small single-row end. The larger bristles allow for large surface scrubbing, while the smaller bristles on the opposite end enable precision cleaning, allowing you access to the narrow areas of your firearm.
What's more interesting to like about this brush? It's hard and gentle simultaneously. The nylon bristles do not pull out easily. They are firm enough to clean up carbon residue but be gentle not to scratch your firearm finish.
2. Motanar Double-Ended All-Purpose Gun Cleaning Brush
Motanar Double-Ended Gun Cleaning Brush is another brush with bristles at both ends. This type of design is perfect for cleaning both large and hard-to-reach surfaces.
This brush is available in a 10-pack kit. Inside the kit, you'll find brushes whose bristles are made of three types of materials: brass, steel, and nylon. The soft nylon and brass brushes are suitable for cleaning all firearms without hitting their coating and polish. But if you need to do a harder cleaning on your firearm, the steel brush set takes care of it perfectly.
Despite its excellent quality, Motanar Gun Cleaning Brush is available at a low price. You'll love it because it's worth every single dime on its price tag.
3. SE Double-Ended Gun Cleaning Brush Set
The SE Double-Ended Gun Cleaning Brush Set cleans off the toughest debris and grime from your firearms with little effort. It comes with an exclusive design that gives every other brand a good run for their money. We're talking about a sturdy plastic handle that boosts its durability and bristle attachment at both ends of the handle.
The 3-row end removes dirt and carbon building from the large areas of your firearm. Thanks to its 7-inch plastic handle and single-row bristles on the other end, you can easily reach into the deepest part of your firearm to clean the tight spaces.
Another interesting aspect of its design is its slender build and perfect dimensions. It doesn't only improve its aesthetics but feels exciting when in use.
4. EAmber Gun Cleaning Brushes
Enjoy effortless cleaning with this pack of 3 double-ended brushes. The three brushes are made of different materials: nylon, brass, and steel. The nylon and brass brushes are ideal for cleaning off mild dirt and fouling, while the hard steel brushes work best for hard-caked carbon.
Thanks to its soft handle area, cleaning with this brush doesn't feel laborious. Inside the kit, you'll also find steel and plastic picks. The steel picks are tough and have a spiky end that fits into different parts of the firearm. The same goes for the plastic picks, but they're more suitable for simple cleaning to protect your firearm finishes from scratches.
5. Boao Double-Ended Gun Cleaning Brushes
This all-purpose cleaning brush is available in a 20-pack kit. All the brushes in the kit have plastic handles and high-grade nylon material, making them highly durable and long-lasting. Each brush has 3-row bristles at one end and a single-row bristle at the other end.
This design encourages cleaning on all fronts, whether you're cleaning off dirt from the body of the firearm or removing carbon buildups from tighter spaces.
Moreso, the double-ended cleaning brushes are convenient to use because of their soft plastic handles. They also feature grooves at the wide ends which encourages more flexibility for your cleaning work.
Improve Your Firearm Maintenance With Solvent Traps
A good cleaning brush is only one of the different tools you'd need during your cleaning routine. Devices like solvent traps are important too. They help keep the cleaning area less messy since the lubricants or gun cleaning solvent are trapped inside the solvent trap cups. You can even store and reuse the trapped lubricant or solvent at a later time.
A solvent trap often consists of trap cups, a solvent trap tube, thread adapters, and a sealed end cap. When assembled, each of these parts plays a unique role in clearing up the unwanted buildup in your firearm. For example, the solvent trap cup captures the cleaning fluid while the solvent trap tube holds the cup in place. The function of the sealed end cap is to seal and prevent the cleaning fluid from leaking.
These tools are not harmful in any way. They are absolutely legal to own. There's no paperwork required before you can purchase one. If you'd like to know more about these tools, you can find all the information you need from Armory Den.
So these are some of the best cleaning brushes for firearm maintenance in the market today. You can find the most suitable one for your firearm with the information above.
Armory Den
specializes in different types of gun cleaning solutions. Mainly solvent trap kits, muzzle extension devices, and other high-quality gun cleaning accessories. Check out our product page. We offer a variety of solvent trap kits. These kits are all made up of high-quality materials like aircraft-grade aluminum, titanium, and stainless steel.
References:
https://www.findthisbest.com/best-gun-brushes
https://armoryden.com/contact-us/
https://armoryden.com/5-things-you-need-to-know-about-solvent-traps/