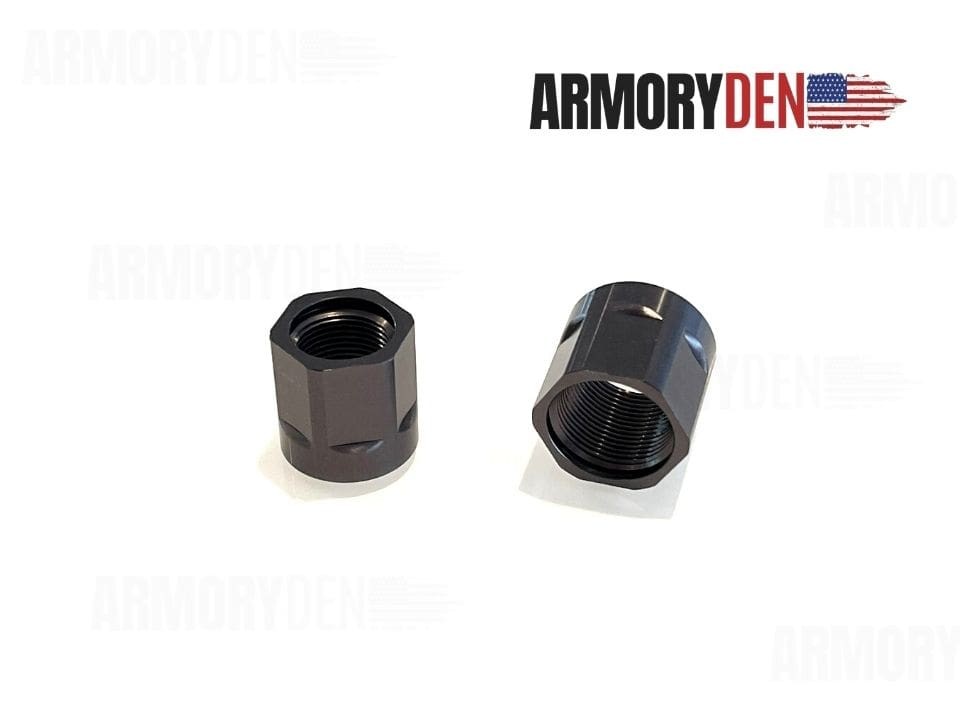 All You Need to Know About Thread Protectors
Thread protectors are the best option for shielding threaded barrels from damage. They come in various materials and sizes, ranging from plastics, to steel and high-grade aluminum alloy, to suit every need. Even so, not all manufacturers produce high-quality thread protectors, and thus, it is best to be well-informed about this firearm accessory before getting to the market to buy. Today, we provide you with every information you need about thread protectors to help you make an informed choice.
What is a Barrel Thread Protector?
A barrel thread protector is a firearm accessory mounted onto the threaded barrel to protect it when exposed to other objects or elements. Although few manufacturers produce firearms with threads and protectors in factories, most thread protectors are purchased on the aftermarket, so buyers must ensure they do not buy something cheap or of low quality.
Generally, thread protectors consist of steel materials, which are often more protective than plastic or polymers. Even so, the best thread protectors on the market today consist of aluminum alloys. The light weight and durable nature of aluminum alloy, combined with the ability for various anodization colors to hold and provide a protective anticorrosive layer, make aluminum alloy thread protectors one of the best options.
There are dozens of durable thread protector styles to choose from, including fluted, knurled, thin-grooved, oval fluted, long-grooved, hexagonal, and flat matte, to name but a few. The issue is, there are so many on Amazon, E-bay and many other similar channels that are of low quality, so it is best to purchase them from a reputable firearm accessory company.
Why You Need a Barrel Thread Protector
Barrels usually have delicate threading, which gets damaged when other elements rub or bang against the threading. It mostly happens when transporting, storing, and using the firearm without attaching the muzzle brake.
You need a barrel thread protector to shield the threading against all exposures, damage, corrosion, and contaminant inversion. It also protects the barrel threads from mechanical breakage while ensuring that the center lines remain aligned even when you replace the muzzle device.
How to Choose the Best Firearm Barrel Thread Protector
Look out for the following factors when selecting your barrel thread protector.
Material Quality
Manufacturers use different materials when designing their thread protectors, including plastic, metals, steel, and aluminum alloys. Some materials are high quality, while others are inferior materials that cannot withstand natural effects from the elements, such as propellant gases emitted through firearm barrels.
For instance, thread protectors made of plastic are not strong enough and may not give you the long-lasting service you need. On the other hand, those machined from high-quality steel and aluminum alloys are robust and offer maximum protection to the threaded barrel. Always opt for premium materials and never compromise on quality to save a few coins.
Firearm Barrel Thread Size
Every firearm barrel has a specific thread size, which you should determine before choosing a thread protector. No matter how close different firearms may seem to relate, their barrel thread protectors always differ. If it is hard for you to tell your firearm barrel thread size, go through your firearm documentation or consult the manufacturer.
And again, not all firearms have threaded barrels. You can check for spiraled grooves at the end of the barrel surface to determine if your barrel is threaded or not. If you see the threads, the barrel is threaded. But if its surface is smooth, it's not. Thus, you may not need a thread protector.
Additional Uses
You might want to consider buying a thread protector with multiple practical applications. Apart from shielding threaded barrels, some thread protectors help cover specific muzzle brake types and other firearm extensions. Investing in such products would be a perfect way to protect your firearm when modifying it.
The Best Barrel Thread Protector Options
Be on the lookout for the following thread protectors while shopping. They are the best options on the market, machined from high-quality build materials.
Thin-Grooved Thread Protector – The thread protector is available for threaded barrels of sizes; 1/2×28″ and .578×28″ and consists of aluminum alloy material. It's silver in color.
Flat Matte Black Thread Protector – The product thread options are 1/2×28″ or .578×28. It's black and has an aluminum finish.
Hexagonal Thread Protector – Its color is dark grey with an aluminum finish. The product sizes are 1/2×28″ and .578x 28″.
Knurled Thread Protector – The knurled thread protector sizes are 1/2×28″ or .578×28′,' and it's silver with an aluminum alloy finish.
Oval Fluted Thread Protector – Oval fluted is silver with aluminum material. Its thread options are 1/2×28″ and .578×28″.
Easy Grip Thread Protector – Easy grip comes in 1/2×28″, .578×28″. Its color is black, and the build material is aluminum.
Fluted Thread Protector – The fluted option has a gold color, and it's developed from high-grade aluminum alloy. This product includes 1/2×28″ and .578×28″ sizes.
Long-Grooved Thread Protector – The thread protector specifications include its aluminum alloy build material, black color, and thread options for 1/2×28 or .578×28.
How to Fix a Loose Barrel Thread Protector
Most firearm owners have had to deal with loose or falling-off thread protectors at some point. The good thing is that you can fix the issue yourself without worrying about anything. One of the best options is to buy a rubber O-ring that fits your barrel and screw it tightly on the barrel before attaching the thread protector. O-rings come in various sizes; you should ensure you buy the right one.
Using the Polytetrafluoroethylene (PTFE) thread seal tape and Teflon tape also go a long way in fixing loose barrel thread protectors. Even so, your thread protector material matters, and it's always best to get high-grade thread protectors.
Threaded barrels can be damaged when using, transporting, or storing your firearm. Luckily, you can avoid unnecessary expenses and maintain the integrity of your threaded barrel by protecting it with a thread protector. While you can always find thread protectors of different materials, buy those machined from high-quality materials. The ones that stand out in durability consist of aluminum alloys. They are incredibly robust yet lightweight. Armory Den got some of the best barrel thread protectors at a reasonable price. Don't hesitate to check them out.