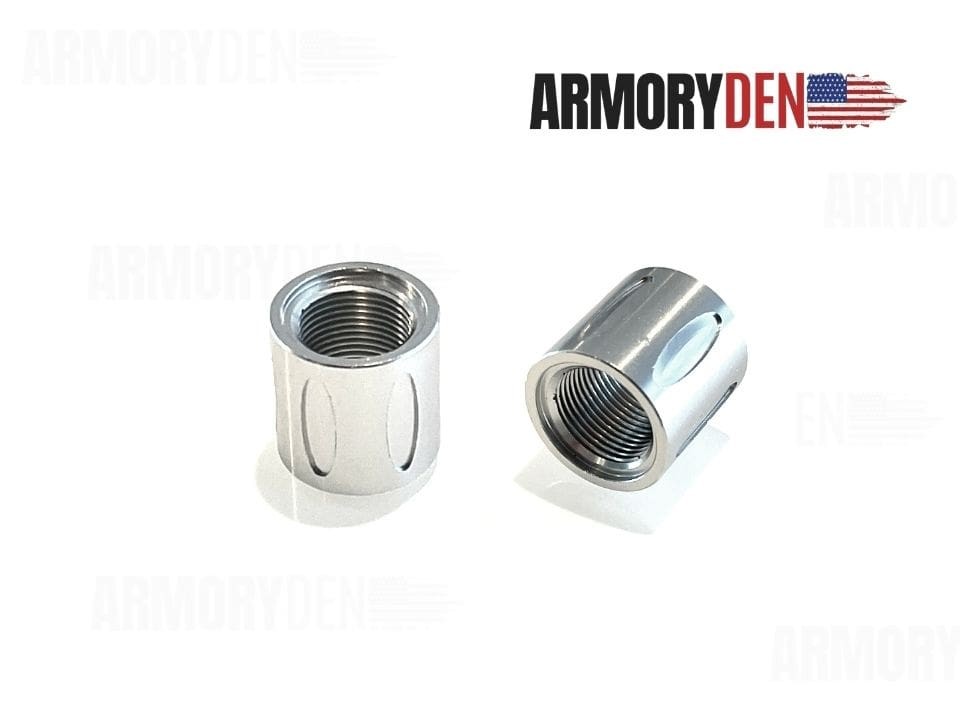 Armory Den's Top 5 Selections in 1/2×28 Thread Protectors
Firearms are dangerous tools, no doubt, but it's still important to remember that they have delicate parts that need protection. These delicate parts can be scratched or damaged during the use, transportation, or storage of the firearm, hence the need for adequate protection.
One delicate part that needs adequate protection is the threaded barrel of a firearm. Sometimes, this threaded barrel is usually protected by the attachment of muzzle adapters or flash devices. However, when such devices are unavailable, the need for a thread protector becomes even more paramount.
Here, we'll look at the top 5 selections in Armory Den's 1/2×28 thread protectors and the various features that distinguish each of the different thread protectors. But before we get into that, here's an overview of Armory Den's thread protector to get you up to speed.
Overview of Armory Den's Thread Protectors
What is a thread protector?
A thread protector is a device that is used to protect the threaded barrel of a firearm from damage during transportation or storage. The impending damage in question could be anything from:
Scratches
Dents
Corrosion
Exposure to the elements
Why do you need a thread protector?
Firearms are tools with versatile applications, which include hunting and self-defense. To keep your firearm responsive and in good condition, it's important to take proper care of it and all of its parts.
While cleaning and oiling your firearm properly are good firearm maintenance techniques; the process is not complete if your firearm is subject to damage during transportation or storage. A commonly damaged part are barrel threads, which shows the importance of never leaving them exposed to the environment and its elements! That's where thread protectors come in.
Armory Den offers a variety of thread protectors made from high-grade aluminum alloy, capable of withstanding any external impact or damage while keeping the threaded barrel safe. Our thread protectors come in either the
.578 x 28″ for American threaded 45 caliber firearms.
Or 1/2 x 28 "suitable for firearms such as 556, 22LR, and other firearms using a 1/2×28 threaded barrel.
Regardless of the thread size category, your firearm falls into, we offer various designs of firearm thread protectors for both the thread sizes mentioned above.
Our Top 5 Selections in 1/2x28 Thread Protectors
Flat Matte Black Thread Protector
The Flat Matte Black Thread Protector is one of the choicest products among our top collection of thread protectors. This accessory features an outer flat-like design and an internal chamfer within the device, making it easy to install and remove them from the threaded barrel of your firearm.
They are designed to allow a little clearance for an O-ring, if possible, to keep them from unscrewing when used during operations. The thread protector also has a matte black finish with rectangular sides that enable easy grip and workability.
Thin-Grooved Thread Protector
If you need a premium tool that can stand the test of time, then the Thin-Grooved Thread Protector should be your first choice. As its name implies, this thread protector features a set of thin spiral grooves that perfectly fit onto the threaded barrel of firearms.
It also has a set of shallow vertical dents machined into the body, giving it great handling ergonomics over long periods. Moreover, its design allows it to maintain neutral equilibrium when displaced and extra stability when attached to firearms.
Hexagonal Thread Protector
Nothing defines stability and sturdiness like the Hexagonal Thread Protector. This outstanding thread protector features an outer hexagonal design for solid human grip and a circular internal groove for proper machine grip.
It also has a set of elegant dents on its outer end that allows for easy fastening and dismantling without additional effort from the user. While its thick hexagonal design gives it a sturdy appearance that ensures extra protection from external forces during transport and storage.
Furthermore, the Hexagonal Thread Protector also has a dark gray color that easily blends with your firearm without giving off a conspicuous look.
Knurled Thread Protector
When professionals need a thread protector to protect the threaded barrels of their firearm, the Knurled Thread Protector is called upon. The Knurled Thread Protector has an ergonomic design with a mesh-like design fitted on its exterior for easy grip and handling.
Like most premium thread protectors, this device has a material thickness that provides adequate protection to the threaded barrel. While its finely machined integral groove ensures that it fits perfectly to the end of a threaded barrel.
Armory Den offers this protector in silver color for users and professionals that want to add a bit of color collage to their firearms.
Fluted Thread Protector
While most users prefer their firearms with darker colors, others usually prefer firearms with custom outlooks and gold finishing. Even though gold is a durable finishing material, the threaded barrel still needs protection.
Enter Fluted Thread Protector, a lightweight, durable thread protector designed with high-grade aluminum alloy and a custom gold finish to match the custom outlook on gold firearms.
This high-end thread protector has a set of double impressions around the body to allow for easy handling. While its sturdy design and internal thickness protect the expensive barrels of custom firearms from any harm or damage that might occur during transport or storage of the firearm.
Apart from the thread protectors listed above, Armory den also features several other premium thread protectors with various designs and colors, all available at the DEN shop. While these thread protectors perform a magnificent job of protecting the threaded end of your firearm, it's important to remember that they are available in either .578×28″ or 1/2×28″ thread pitch.
So why purchase from us? At Armory Den, we are dedicated to ensuring that your firearm stays clean and is protected from any damage or harm that might come to it. We have a host of cutting-edge firearm cleaning kits and thread protectors available at your disposal. We are constantly working to produce state-of-the-art firearm maintenance accessories that can withstand the test of time while providing maximum utility.
Nonetheless, if you have any questions about firearm thread protectors or need expert advice on selecting a thread protector for your firearm, please don't hesitate to contact us.