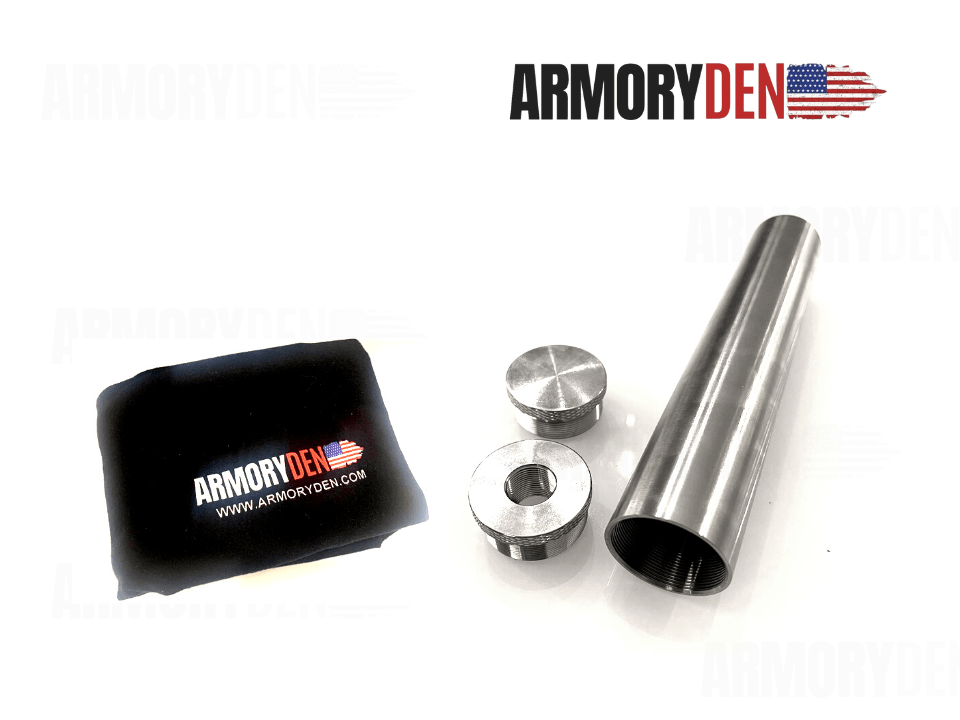 Titanium Solvent Trap vs. Stainless Steel Solvent Trap – Which is the Best Choice?
Choosing between a titanium solvent trap and a stainless steel solvent trap is preferential. You want something reliable and durable when it comes to wear and tear on threads, especially if you are threading it onto a metal barrel. Titanium is lighter and more durable material than stainless steel, and both have corrosion-resistant properties; in essense titatnium is a stronger material so threads last longer before requiring replacement.
On the other hand, stainless steel provides superior durability with anti-corrosive properties, but this material is heavier. Both materials are good if material degregation is concern after prolonged exposure to chemicals like solvents or oil and threading on and off a metal barrel. Regardless, each material has its unique advantages and are common solutions for firearms cleaning as they attach to a metal barrel., so consider what is right for your needs!
Titanium Solvent Trap Kits Vs. Stainless Steel Traps: Benefits
Titanium solvent trap kits provide numerous advantages to gun enthusiasts: they're lightweight and corrosion-resistant due to their protective oxide layer, and may be more comfortable using during bore cleaning as titanium is lighter than stainless steel. Despite being harder to machine than steel or aluminum alloy materials, titanium is still highly revered among firearms owners who prioritize preference over cost savings.
In contrast, stainless steel solvent traps offer their own set of benefits. They provide excellent resistance to corrosion and rusting due to the presence of chromium in their composition. Moreover, these durable devices are budget-friendly without compromising on quality. Both models are more resistant to scratches than our aluminum solutions.
Easy maintenance and efficiency is what makes them popular choice for firearm enthusiasts who require solvent trap kits as a feasible and obvious solution to routine maintenace.
When comparing the costs of titanium and stainless steel solvent traps, there are a few factors to consider. Titanium options are more expensive upfront due to material in nature and the benefits of thread longevity and superior corrosion resistance. Titanium end caps and thread protectors are more durable than stainless steel and aluminum, which will prolong the products life rather than faster wear and tear from constant threading. This may save you money in the long run.
On the other hand, stainless steel traps provide an affordable alternative while offering decent durability for general use. Weighing both choices helps ensure smart investment decisions regarding your firearm cleaning needs, and literally as stainless steel is heavier.
If you travel often and want a cost-effective option that is lightweight for at-home firearms cleaning and dry storage during transport, then our aluminum solvent trap solution might be a better fit. Although an additional end cap is needed for this product to double as a dry storage for your travels, the material is less expensive.
Durability & Maintenance Considerations
When it comes to durability for avid firearm cleaning, titanium solvent traps excel due to their high resistance to corrosion and wear. A elevate your firearm cleaning game and enjoy the benefits of longevity with titanium, even with constant threading. Put your mind at ease knowing you invested in a longer-lived product than their stainless steel counterparts.
For other firearm maintenance considerations, both materials require minimal upkeep; however, cleaning titanium traps is often easier since they resist most chemicals used for gun care and are lighter during use. Ultimately, though, assess your needs alongside these factors when determining the ideal choice between a titanium or stainless steel solvent trap for your firearm's maintenance regimen.
Ultimately, though, assess your needs alongside these factors when determining the ideal choice between a titanium or stainless steel solvent trap for your firearm's maintenance regimen.
In making your final decision, consider factors such as frequency of use, weight, wear and tear on threads or even product longevity overall. If you clean your firearms often and price is no concern, go with titanium. If you want a more feasible option and weight is not a concern, you may consider stainless steel. Maybe you travel or go on trips often and you want to use it to store essential items, you can go with either or. Especially if you dont want aluminum and the budget permits.
These factors and preferences can help you decide between titanium or stainless steel solvent traps. By weighing these aspects against your specific needs and preferences, you can confidently choose the ideal firarm cleaning accessory. Investing in a suitable product means you get personal value out of the purchase as you get the disired outcome, and longer-lasting satisfaction overall.
When deciding between a titanium solvent trap or a stainless steel trap, it's important to consider your preferences and needs as mentioned above. If you're looking for something lightweight, titanium may be the way to go. On the other hand, stainless steel will likely be heavier, it offers the advantage of feasibility, while still benefiting from corrosion resistance, durability, and strength.
Ultimately, Armory Den encourages customers to review our product pages for more information on our solvent traps. This will also you to identify which option will be the best fit. This information may help you find the a solvent trap solution, and we have the best titanium products available on our site. From ease of installation to maximum efficiency, there's no doubt that any product you choose on our site will work for your cleaning and dry storage needs, so why not get the best?