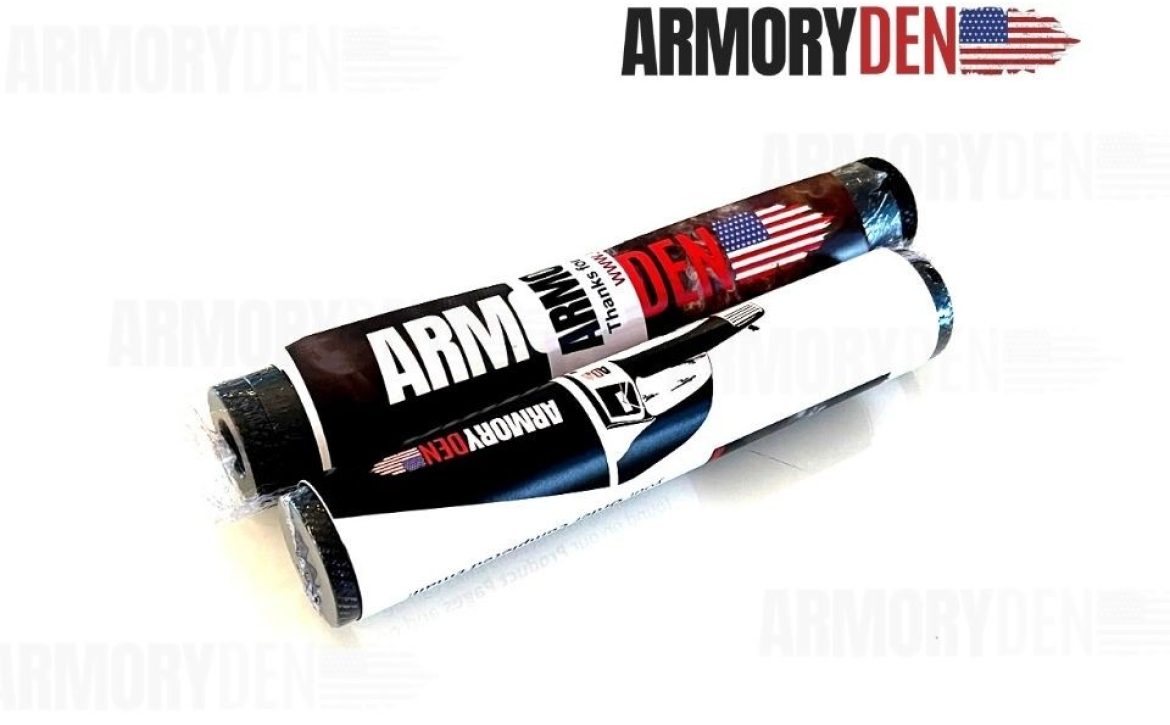 Common Firearms That Use 6″ Solvent Traps
One of the most important responsibilities of owning a firearm is keeping it clean and well-maintained. By staying on top of routine maintenance, your firearm will continue to operate at peak performance for many years to come. A solvent trap is a highly effective tool that can help keep your firearm clean without worrying about dealing with messy and harmful chemical cleaning solvent. The solvent trap attaches to the end of the barrel and keeps the cleaning solution safely contained, preventing leaks.
6" Solvent Traps - The Most Popular Product
One of our most popular products here at Armory Den is our 6″ solvent trap. It is easy to use and constructed of only the highest quality materials for optimal performance. More importantly, like all of our products, our 6″ solvent traps are 100% legal to purchase and own, as long as they are used as intended and not modified or altered in any way.
6″ solvent traps can technically be used for just about any firearm, provided that the thread pitch of the thread protector (i.e., the part that screws onto the barrel) matches. Customers' that have a need for cleaning a .22LR firearm tend to gravitate towards the smaller diameter 6″ models but as long as your purchase a solvent traps with a thread size that matches your barrel, the solvent trap will attach to the barrel for cleaning.
That being said, the most common thread pitches by caliber include the 1/2×28″ for 9mm, .22LR, and AR-15 5.56 caliber (also referred to as .223 caliber); the 5/8×24″ thread pitch, which adapts to the catch-all calibers known as 30 calibers or 30 cal (e.g., 308, 6.5 Creedmoor, and 300 Blackout); the .578×28′ thread pitch, which is ideal for 45ACP calibers; and the 9/16×24″, which is most commonly used for 40 calibers or 40S&W.
Our 6″ solvent traps come in either a 1/2×28″ or 5/8×28″ thread pitch. You may have firearm made by Larue, Daniel Defense and Noveske (very expensive higher end), Spikes Tactical, and the mid-tier Springfield Saint Lines, but if the thread size matches then it should thread onto your barrel seamless for firearms cleaning. There are also several other models, such as Delton, Radical Firearms, and even Smith & Wesson. The same rule of thumb applies – make sure the thread protector matches the size of your barrel.
6″ solvent traps are also quite popular amongst owners of .22LR handguns and rifles, such as the Walther P22 handgun and Ruger 10/22 rifle. Additionally, this size solvent trap works well for cleaning 9mm handguns. These include such popular models as the Glock 19, Glock Model 45, Glock 17, FNX 9mm, HK VP9, Sig P239, and various other models and brands.
One of the reasons why our 6″ solvent traps are such a hot seller is because they provide a quality solution at a very reasonable price point. This is due in part because of the volume of products we sell. As a result, our customers enjoy affordable prices without having to sacrifice quality and craftsmanship. And, as always, our customers want peace of mind knowing that, like all of our firearm cleaning products, our 6″ solvent traps are manufactured within legal parameters and designed to comply with known guidelines.
If you are the proud owner of an AR-15, 9mm handgun, or .22LR pistol or rifle and looking for a lighter option like our 6″ solvent trap to safely keep your firearm clean and well-maintained without having to break the bank, then learn more about our high-quality products or to purchase yours today,
click here
.