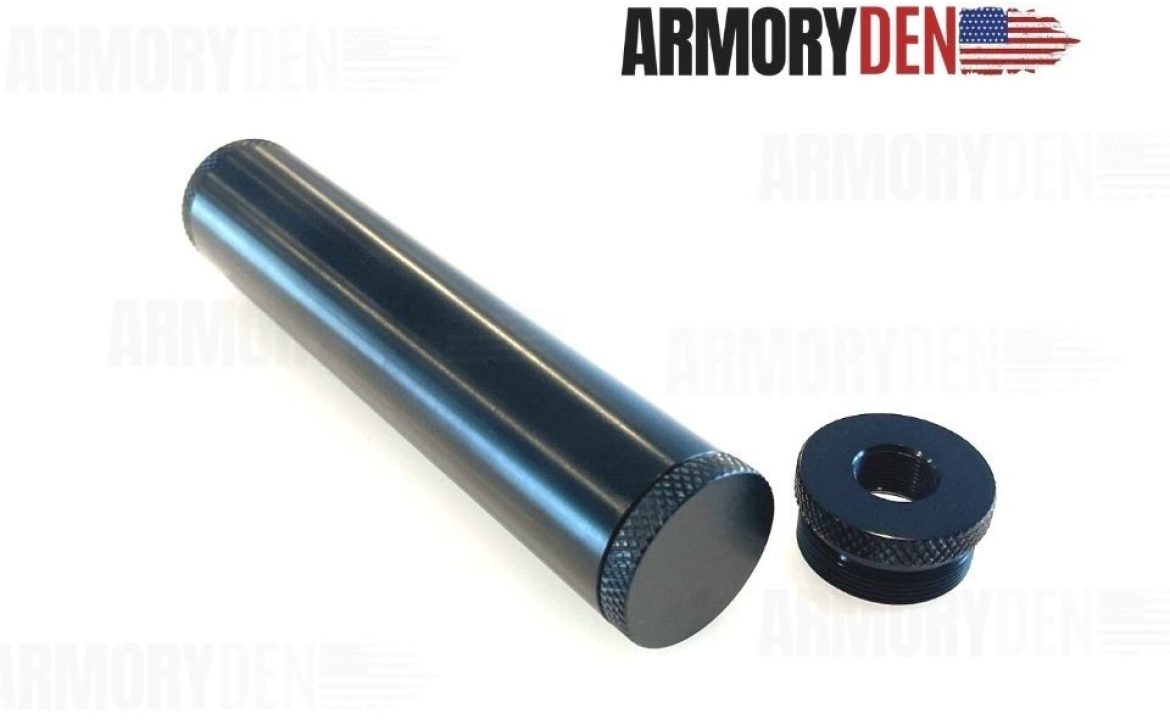 Why is the 7×1.45 OD 6061 T6 Aluminum Solvent Trap Kit a Top Seller?
When it comes to choosing a solvent trap kit, there is no shortage of available options on the market. Of course, as with any consumer product, not all solvent trap kits are created equal. One of the most compelling signs of a quality product is its popularity amongst firearms enthusiasts. Armory Den's 7×1.45 OD 6061 T6 Aluminum Solvent Trap Kit has quickly become a top seller and continues to be one of our most popular products. Here are several reasons why.
Because the 7×1.45 OD 6061 T6 Aluminum Solvent Trap Kit is made using a high-quality grade of aluminum, it offers superior durability without unnecessary extra weight. At just 9.4 ounces, this solvent trap is incredibly easy to use and handle during the cleaning process. It is important to note that the sealed end caps and thread protectors are made of 7075 Aircraft Grade Aluminum – This is because 7075 Aluminum is best used where there is a constant threading to and from the firearm for cleaning, or in removing the sealed end cap for solvent disposal.
Why spend an arm and a leg on a solvent trap kit when you don't have to? Because 6061 T6 aluminum can be easily machined and welded, the cost to construct these kits is dramatically reduced. As a result, that savings is passed along to the customer in a more affordable option.
Our 7×1.45 OD 6061 T6 Aluminum Solvent Trap Kit is also a big hit amongst those looking for an option that isn't too long or too short and is not too wide nor too narrow. With a 1.45" outer diameter, a length of 7 inches, and a thread pitch of M34x1.35, this kit provides a perfect size and overall weight balance.
Again, one of the biggest reasons our customers love our 7×1.45 OD 6061 T6 Aluminum Solvent Trap Kit is because of its remarkable durability. The grade of aluminum used is highly resistant to corrosion. The kit also includes 7075 Aircraft Aluminum thread protectors and sealed end caps, which help reduce wear and tear on the threads.
The aluminum spacer locks everything into place for a flawless fit with absolutely zero rattling. Spacers are included with select solvent trap tubes to provide room to collect solvent. They also help to prevent damage during shipping and future transport. Furthermore, the spacer keeps the solvent trap parts snug inside the tube.
Don't let the economical price fool you. This solvent trap kit features a type III (hard-coat) anodized finish, most commonly used for military applications. Additionally, all-aluminum thread protectors and sealed end caps are constructed of 7075 Aircraft Aluminum and are also type III (hard coat) anodized. You won't find a better product elsewhere.
If you are in the market for a solvent trap kit and are looking for a quality product that won't break the bank, you've come to the right place. Armory Den's 7×1.45 OD 6061 T6 Aluminum Solvent Trap Kit checks off all the boxes, offering lightweight and balance, durability, versatility, and affordability. For these reasons and more, this solvent trap kit has quickly climbed the ranks to become one of our hottest sellers.
Get yours today by clicking here.