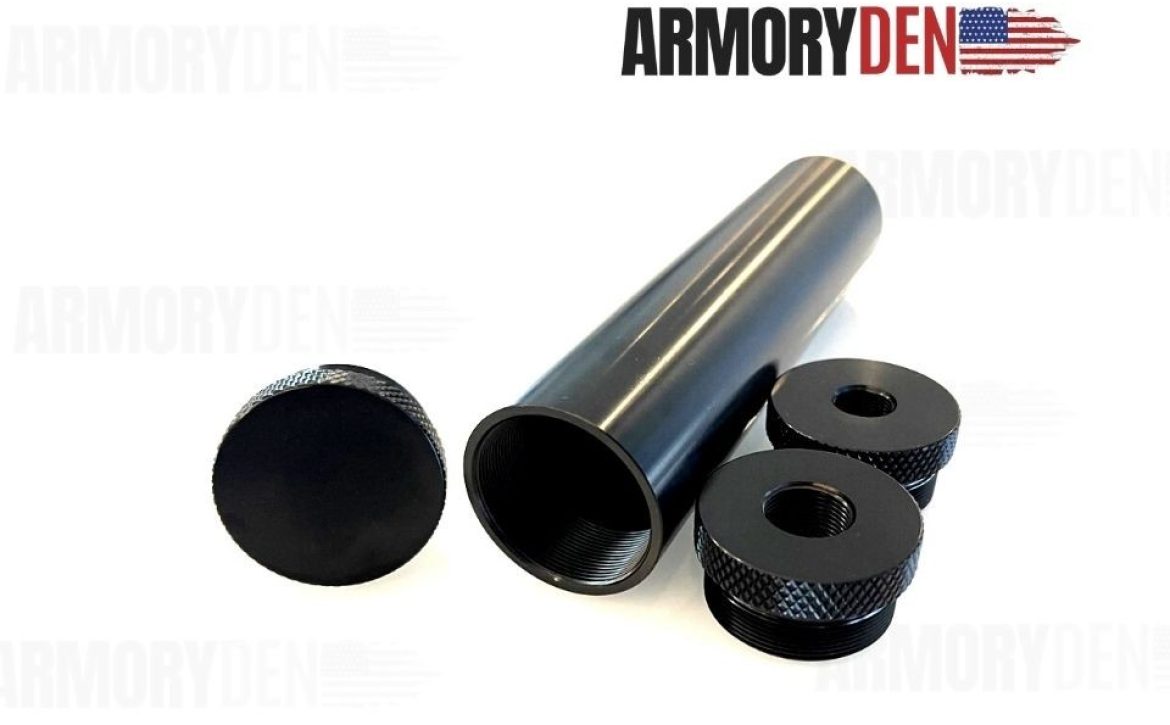 D Cell Solvent Trap vs. the C Cell Solvent Trap
A solvent trap is a cleaning accessory for firearms that traps the solvent and saves you from an unnecessary and potentially harmful. Solvent traps have become well-known in the firearm community, and their demand is growing.
Solvent traps are attached to the end of the firearm that catches the fluids from cleaning. Regular cleaning can maintain the integrity of your firearm and avoid troubles.
The Importance of Firearm Cleaning
Firearms can be damaged by corrosion, rust, and buildup. Even the simple friction of the parts can damage it eventually. When you clean regularly, you can prevent the buildup, corrosion, and rust. Buildup consists of the particles that are deposited inside the firearm every time it is discharged. Buildup can reduce accuracy and increase misfires. The more often a firearm is used, the faster the buildup will be.
Moisture are not friendly to firearms. Corrosion happens when firearms are stored right after use. There is corrosive ammunition that can react to the firearm metal and cause rusting.
Another factor that can damage a firearm through time is the small moving parts inside that grind against each other, so the more you use, the more they wear out faster.
These things that cause firearm damage can be prevented and delayed with regular maintenance and using the right cleaning tools.
What you Need to Know About Solvent Trap Cups
Solvent trap cups, better known as storage cups, are solely for cleaning, storage, and safety. Insert the cup to trap the solvent and then you can remove it from the firearm and pour the solvent for subsequent use or disposal. You can also filter the solvent after cleaning to remove any debris.
If you go on regular firearm maintenance, you are familiar that the cleaning session can give an awful smell, aside from the possible mess if you do not use a solvent trap.
D Cell Solvent Trap vs. the C Cell Solvent Trap
If you are new to using solvent traps, there are different classifications that you have to be familiar with. Solvent traps can be classified according to their dimensions that are represented as cells. To determine the kind of solvent trap for your firearm, you need to know the different cells.
For starters, C cell solvent traps have smaller dimensions than the D cell solvent traps.
The D label refers to the diameter wherein a D Cell solvent trap has a 1.5″ outer diameter and 1.18″ inner diameter.
On the other hand, the C cell has a 1.23″ outside diameter and an inside diameter of 1.03."
Solvent trap tubes come in various sizes based on cell sizes. Make sure to choose the one that fits your firearm.
Another essential part of the solvent trap is the end cap. It works by catching solvent and other cleaning by-products during the cleaning process. When choosing an end up, it has to be compatible with your firearm to prevent a mess.
D cell solvent traps have thread protector to include 1/2 X 28 and 5/8 X 24, and the C cell has a thread protector size of 1/2 X 28.
Take note that a C cell accessory is only compatible with a C cell solvent trap kit. Make sure to pick one that is compatible with your firearm.
Advantages Of Having A Solvent Trap
A solvent trap is easy to use and makes your cleaning session a breeze. This way, you can eliminate foul smells and possible spills. Cleaning solvents are also harmful to the environment and pose a health risk if it comes in contact with your skin or when inhaled.
The good thing about solvent trap kits is that they are very affordable that goes a long way. You can recycle the solution trapped in the cup and lengthen the lifespan of your firearm.
How to use your C Cell or D Cell Solvent Trap
1.
Check the item
When you have your C cell or D cell solvent trap for the first time, inspect all the necessary parts such as the round tube, sealed end cap, storage cups, and end cups.
2. Item assembly
To start putting the solvent trap together, lock one side of the round tube that fits the end of the firearm and then slide the K cups into the tube and lock the other end using the sealed end cup.
3. Attach the solvent trap to the firearm
Simply attach the solvent trap to the end of the firearm and secure it with the correct thread protector.
4. Start cleaning
Once your C cell or D cell solvent trap is secured on the firearm, you are now ready to clean. Pour the solvent in, and brush and clean every spot you can reach. No matter how much you push, everything will go to the solvent trap.
What's the Best Material for Solvent Traps?
Initially, solvent traps were made of aluminum. While it is considered to be strong, stainless steel and titanium are much stronger and more durable. They are also anti-corrosive, so your solvent kit is not easily damaged. They also do not get discolored as time goes by.
How To Choose a Solvent Trap?
A solvent trap is a critical accessory among firearm enthusiasts. When looking around for the best solvent trap, you can base it on aesthetics such as design, material, and color. If you prefer to use it as it is, the standard build is the right fit for you. Also, consider the budget that you have before making a purchase. If you own several firearms, pick something sturdier that can be used several times without getting damaged easily.
Armory Den only sells high-quality solvent traps, and you can be assured they are 100% legit. They are serious about maintaining quality control, and their price is the most competitive in the market.
As you shop around, there may be shady websites that sell low-grade solvent traps, or they may even be illegal that will get you in trouble with the law. Armory Den sticks with selling only legal solvent traps without the need for a Form 1 because it is intended for cleaning only.