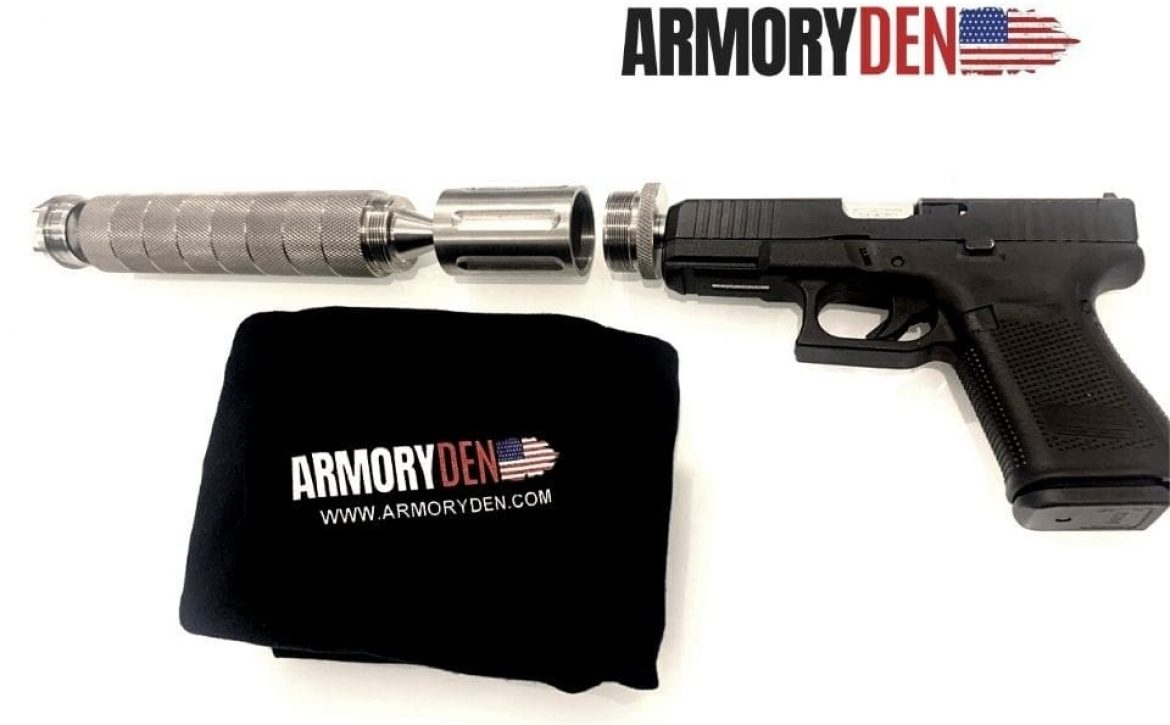 Adaptive Solvent Traps vs. A Monocore Solvent Trap
MissionMan
February 13, 2022.
Armory Den = HELL YEA! 🙂 Finally a company who doesn't rip people off. I searched forever for a trap kit that matches industry design and option. Ran into tons of scam sites until now. I bought the 304 Steel Adaptive Trap (10" inch) and that was on a Friday. That same night or the next day they already had USPS label from Florida and it shipped out that same day! Armory Den is the best site out of all the knock off scams or just plain fraudulent sites claiming to sell traps. Everything from their shipping to the transparency of sells via Stripe payment, keeps reputation in the front seat. Thank you whoever runs Armory Den. You are doing so many people favors. Your prices are cheapest along with design and materials offered. Its China that makes knock offs and Armory Den DONT PRODUCE OR SELL THAT GARBAGE. (P.S. stay away from Solvent Traps Direct).
Frankie
December 17, 2021.
Amazing! Absolutely thrilled with the level of customer service. Anytime I had a question they respond very quickly and always answer my questions completely. I love their packaging. While it may be somewhat difficult to get to their products through all the packaging, I really appreciate that they take the time to properly wrap their products. I feel like this attention to detail would protect my order if the delivery person were to leave it where it could get rained on or left in the weather. The packaging is amazing, and I will continue to return as a customer.
Mike S.
December 11, 2021.
Outstanding on all fronts Great company! I am 110% satisfied with my experience. The ordering process was easy and secure. The package arrived 3 days early by USPS. The product was extremely well-packaged: outer bubble envelope, inner bubble wrap, a box, and the individual pieces were separated and secured within holes in foam material. The trap itself is very well constructed as advertised. I'm glad I paid the extra $$ for a high quality product rather than risk with a random internet company just out for sales. Also customer service responds within hours and is extremely responsive—they have actual humans interacting with you! Will use again. Thx!
Adam Carruth
June 19, 2021.
custumer of Armory Den for life. where do i start, well for one thing these people have custumer service covered on a legit level. the best hands down communication with me then any company has ever had. up until my first purchase amazon had that on lock. but Armory Den has them beat. And if your skeptical of the quality of material or machining. one time is all it will take for you to truely trust that every single purchase you make with them will be the best you can buy. The best business and people you will ever spend money with. I am a customer for life and that is a fact! truely greatful for a business that actually cares about the people they do business with. thanks yall god bless you!! Adam Carruth
William Patterson
May 25, 2021.
Solid from website to my hand, top shelf As I shopped for the product, I kept returning to the Den website. Descriptions are clear, lots of good information, very good value. Ordering is simple, terms are straightforward. I had special shipping instructions, followed perfectly. Secure packaging. The trap is well machined, fits tight, and is nicely finished. The hand-feel has heft and is of quality. Extra care at every step. Thanks.
Great experience Great experience
They did the right thing! Let me just start with Thank you Armory Den! What exceptional customer service! Their response time to emails, is faster response time then the police department has where I live for 911 calls lol j/k. Seriously, they answered me on Sunday, morning and afternoon. No company does that! Also, I asked about a part I thought came with my order. I was ready to pay for it, nope, they sent them to me for free, and shipped on a Sunday! No one does that! I'm a customer for life! I even canceled an order I had with another company, just so I can buy from ARMORY DEN! My business motto is "always do the right thing l, no matter what" they obviously follow it also!
This company is the real deal I was a little skeptical about ordering honestly. I hadn't heard much about armory den and could only find good reviews lol. But I took a chance and put through an order. Everything arrived as described and is awesome. Be aware that you may receive multiple shipments based on what you order. These guys respond fast and from what i have seen, produce quality products. They have my future business. I've put up similar reviews and given a recommendation on their FB page.
Michael Whitehurst
February 14, 2021.
Great experience Great experience. Product can exactly on time, as expected. Very pleased with product. Very well engineered and good quality. Customer service is excellent. Answered all questions quickly and very informative about products. Will definitely be ordering more in the future
You might be shopping around for a solvent trap, a useful and effective firearm cleaning accessory. However, there are certain precautions you should take before doing so. For instance, you should be beware of online companies who do not "specialize" in solvent traps, and those who reference links in their blogs directing visitors (like you) to overseas companies who sell illegal items, not intended for cleaning, transport, and/or storage.
Overseas companies list both
illegal
and
low-grade solvent traps.
Purchasing illegal solvent traps can result in a felony charge as the product is tied to your shipping address upon purchase. Armory Den only sells solvent traps for their intended use, which is to trap solvent. If you are looking to purchase a solvent trap legally for
routine cleaning, to improve firearm safety, reliability and overall performance – Then we are the company for you!
This is why if you are serious about purchasing a firearm accessory to make your cleaning process more efficient, you should choose Armory Den. You don't want to spend your hard earned money on a solvent trap for the purpose of cleaning and find out your order was seized or illegally purchased.  

What's a Monocore Solvent Trap?
It's important to share a few things on solvent trap cleaning solutions so you don't end up purchasing an illegal product manufactured for other, potentially illicit purposes. A monocore solvent trap is illegal and can result in a criminal offence when purchased because it has a hole in the center, and throughout the cylinder. Monocore products are the 'spiral looking' solvent traps that you should avoid if looking for a reliable cleaning accessory for your firearm cleaning process.
Again, we recommend refraining from purchasing these items or you might find yourself with an unexpected visit from the ATF, who will confiscate the item(s) on arrival. This is assuming that the monocore solvent trap even makes it past customs. If your order is seized by customs, they will redirect them to the ATF and eventually the Field Office nearest your zip code, as it is the ATF's jurisdiction – Shortly after, you will receive a letter and/or a visit from a Special Agent within the Crime Enforcement Division, not from Industry Operations!
According to a spokeswoman with the ATF, the purchase of a solvent trap is not illegal. However, if a solvent trap is constructed or has parts that the ATF deems are "intended" to make the device function as a suppressor (or silencer), it must be identified as such, and it must be appropriately regulated.
This is not Armory Den's market, but it's still important to educate our visitors to create awareness, as some companies sell them for other intended purposes, or buy them to use them for something else rather than their intended use, which is to trap solvent during bore cleaning. If you purchase a product from a home improvement store or local hardware store, you should use those products as intended. The same applies for those who purchase from our site.
What To Know About Adaptive Solvent Traps, Opposed To An Illegal Monocore Solvent Trap.
Illegal Solvent Trap And Intent
Do not be fooled with verbiage that Chinese companies use when they list their illegal products, such as 'fuel filter' or 'fuel cleaning system'. Once the customer inputs their shipping address and submits their order, you are tied to that product through a digital trail.
Unfortunately, there isn't a list of what the ATF/NFA defines as a legal vs. illegal solvent trap, interpretations can be made based on 'constructive intent'. The ATF works with their NFA FATD "Firearms & Technology Division" counterparts to analyze individual parts, as well as the overall design of solvent traps to determine if they should be deemed unregistered suppressors, which are essentially illegal firearms parts.
Where it gets even more confusing is that some companies sell solvent traps with holes bored through the center and have a valve on the outside of the solvent trap, effectively this type of kit is made to filter the solvent and drain it for reuse. Therefore, the intent and instructed purpose is for trapping solvent, so the ATF would have a tough time deeming that type of product as anything illicit even though it has characteristics that may be deemed illicit if marketed differently by another company.
Legal Solvent Traps For Cleaning
Using the ATF/NFA interpretations, it is very easy to conclude that monocore solvent traps are illegal unregistered suppressors from a 'constructive intent' point-of-view, because they have a hole through the middle of the 'Monocore' or 'Single Core' cylinder. Even though foreign websites (like China) sell a majority of monocore solvent traps with a sealed end cap, you are still purchasing an item that will most likely be seized and deemed an illegal unregistered NFA item, due to the intent of the hole bored through the entire monocore.
Even though foreign websites (prominently in China) sell a majority of monocore solvent traps with a sealed end cap, you are still purchasing an item that will most likely be seized and deemed an illegal unregistered NFA item, due to the intent of the hole bored through the entire monocore.
One of the stances of the ATF/NFA that makes a solvent trap a 'firearm accessory', opposed to being an 'unregistered suppressor' is that a bullet cannot pass through the solvent trap. Monocore Solvent Traps sold in China have a hole through the entire cylinder, making it easy for a bullet to pass through it and penetrate the end cap.
Foreign Companies Are Not Bound By US Law 
It is very important to note that Chinese companies are not bound by American laws, and it has been rumored that many of the Chinese suppliers include an end cap opener with their monocore solvent traps. This item screws on the end of the monocore in place of the sealed end cap and effectively "opens" the only sealed off passageway, providing a clear opening at the end of the monocore solvent trap, thus unambiguously converting it into an unregistered suppressor, for all intents and purposes.
Constructive Intent & Importing Illegal Traps
Even if Chinese companies do not provide these 'openers,' the simple fact that they sell solvent traps with center-marks on their end caps(commonly referred to as dimples), combined with a monocore that resembles monocores on serialized suppressors which are sold by Gemtech, YHM, and others.
Monocore's are viewed as 'unregistered suppressors' and they are not legal to import into the United States. With the ATF/NFA, it comes down to 'Constructive Intent'. If solvent traps are being sold with center markings or holes drilled through the cylinder, monocores or end caps, then they are essentially being sold as 'unregistered suppressors' in the eyes of the ATF. We provide cleaning guides that show customers how to clean their firearms and use solvent traps for their sole intent – to trap solvent. They work great and make clean up safe and very efficient.
The intended use of monocores, when analyzed relative to the consumer base, sellers content, and/or marketing strategy, is what the regulators consider. Most that are selling monocore solvent traps are obviously targeting the underground suppressor market. These legalities should scare the average person away from purchasing these monocore solvent traps, but surprisingly many Americans continue to buys these from shady companies and loose money from having it seized or paying court fines due to being charged with a felony.
If the legal issues involved with exporting monocore solvent traps from China isn't a concern to you, the inferior 6061 T6 aluminum with very poor finishes should dissuade you from wanting to put them on anything more than an airsoft gun.
Foreign Companies Are Not Bound By US Law 
It is very important to note that Chinese companies are not bound by American laws, and it has been rumored that many of them include an end cap opener. This item replaces the end cap and provides a clear opening at the end of the monocore solvent trap, rendering it into a suppressor for all intents and purposes.
Armory Den does not, and will never sell illegal products such as: Monocore Solvent Traps or Storage Cups with Center-marks . Although our company specializes in cleaning, we still need to abide by regulations so our customers can continue to purchase for cleaning and improve the safety, reliability or overall performance of their firearms.
Our end caps and storage cups do not include illegal center-marks as they are made for trapping solvent and cleaning purposes ONLY! Purchasing products overseas primarily results in felony charges as your shipping address will be tied to the illegal product once seized at customs.
Armory Den sells parts and products for solvent traps. Solvent traps are a "firearm accessory". As a firearm accessory, they can be attached to the end of the barrel and with an adapter, as a cleaning accessory. Thus, they are not considered as anything other than an accessory because a bullet, or projectile, cannot pass through the tube without modification. If you view our cleaning instructions, our solvent traps and parts all have specific uses for trapping solvent, cleaning efficiency, storage, storage during transport, convenience, and more! 
Only after getting the approved Form 1 back can you make any modifications to the product. A crime is committed if you make the alterations before obtaining the tax stamp. Do not make any alteration or modifications to our products before getting the approved Form 1 back.
Solvent traps can be purchased legally without a Form 1. However, you cannot alter, modify, or redesign them into a device for muffling, silencing, or diminishing the report of a firearm without first filing and receiving back from BATFE an approved Form 1 – Please be aware of the restrictions and regulations.
DISCLAIMER: This blog post is not legal advice. The information provided is for informational purposes only. Any information posted on our website is to inform our customers due our industry, and also appease companies we do business with, such as those who insure us. Legal advice may only be provided by a properly licensed attorney.