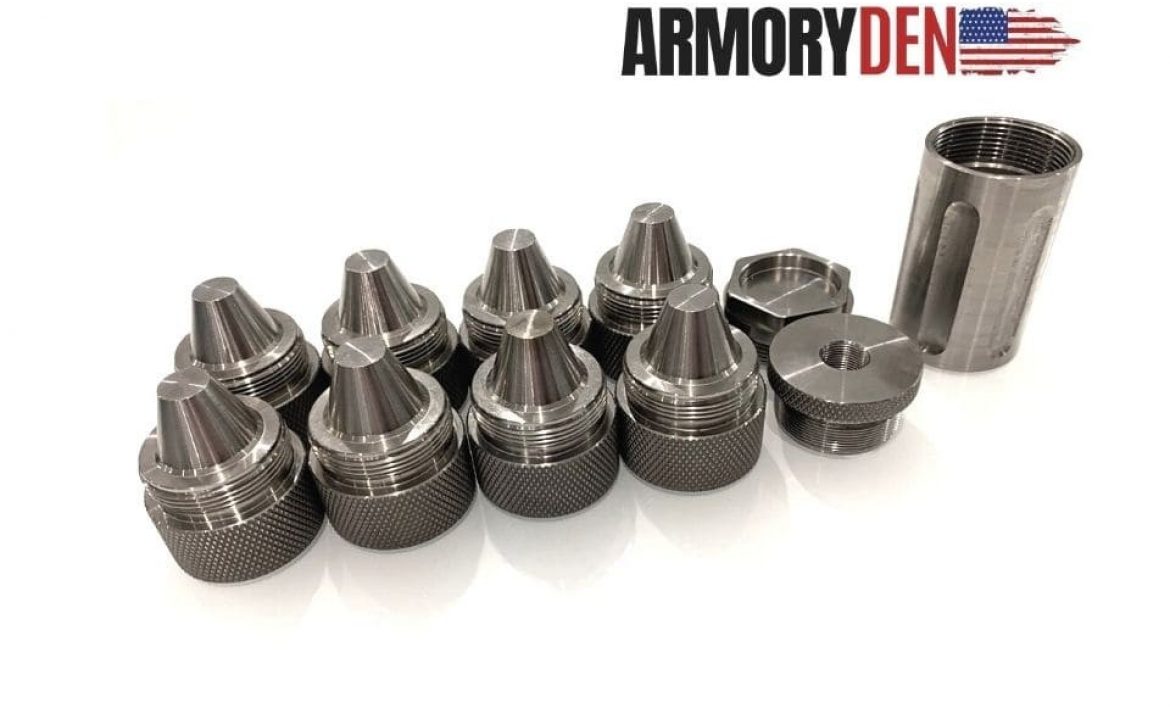 Are Solvent Trap Cups Necessary?
Many people question the purposes of solvent trap cups, the proper referencing being dry storage cups. There is so much information out there so we help to provide some information that might help. There are countless dry storage products sold online, and we sell them as assessories that can be used inside our solvent traps for storage. So naturally, it's easy to refer these products as a solvent trap cup, plus it is a bit easier to say.
Armory Den can't speak for other solvent trap companies and have no interest into doing so. What we can do is give you a run down on the purposes our solvent trap cups serve, which we hope to shed some light on the benefits of owning a solvent trap which can be used for both cleaning or dry storage.
What Are Solvent Trap Cups?
Armory Den's solvent trap cups, or Dry Storage Cups to be correct, have three different styles: Dry storage cups, Adaptive Dry Storage Cups and Dry Storage Cups (K style). One thing you will notice on every one of our storage cup designs is they are not indexed. Our dry storage cups may differ in design, but are similar in that regard. Keep in mind, if you are looking to purchase a solvent for either cleaning or dry storage then there is no reason to index them.
Armory Den sells solvent traps as a firearm cleaning accessory and they make for a great dry storage solution! If you really think about it, it's just a tube. We would never make a recommendation related to modifying our products, nor do we sell our solvent trap products with the intention of them serving any purposes than as you see on our website.
Why Are Solvent Trap Cups Muti-use Items?
Dry Storage cups can separate the interior space for storing items inside that are of importance or essential to you. These can also be placed into larger storage containers for organization or storage during transport. There is not only one 'right way' to use our dry storage cups when it comes to using them as an accessory for storage or cleaning.
A dry storage cup can also be used a 'primary catcher' during firearm cleaning to keep the end cap in a drier state for reuse when cleaning more than one firearm. Seal the tube with your end cap and drop a dry storage cup (well side-up) in the tube letting it slide to the bottom until it is rested onto the end cap. Once your thread protector is fastened to the other end, safely thread it to your barrel.
After cleaning is complete, make sure the end cap is facing the ground prior to removal. Once the end cap is removed, the storage cup will be rested in an upright position so you can discard the used dry storage cup safely into a bin or bag to wash later so you can reduce. Then thread your solvent trap on the next firearm you are going to clean and repeat the process.
A dry storage cup can also be used a filtering by following the same instructions above, but a bit differently. instead of placing the storage cup well-side up, you drop it in the tube well-side down letting it slide to the bottom until it hits the end cap. Once your thread protector is fastened to the other end, safely thread it to your barrel. During cleaning the debri can rest of top while the solvent filters to the end cap. The debri is seperated from the solvent and the solvent can be reused with the debri being discarded.
There is no wrong way to a dry storage cup for cleaning or dry storage!
Some use dry storage cups for prepper storage using them to place medications or ear plugs in during trips in the woods or mountains. Our quality solvent traps are air tight when closed and sealed keeping moisture out of the tube, and when creating storage compartments inside the tube.
Many visitors ask why our solvent traps are made of stronger and relatively more expensive grade 5 titanium, while other solvent traps in our den are made of 6061 T6 and/or 7075 aircraft grade aluminum. Additionally, some of our dry storage cups are made of 304 stainless steel, while our modular solvent trap cups and tubes are made of either grade 5 titanium, stainless steel or 7075 type III hard coat anodized aluminum.
One of the main reasons for this is the different firearm caliber strengths. When transporting firearms with solvent traps already screwed onto the barrel of your firearm or even storing them in your home with the proper solvent trap installed, you add an extra layer of protection or safety.
Remember, if a round is discharged accidentally with a solvent trap installed, the bullet will have a lot of trouble piercing through dry storage cups and the sealed end cap. If firearms are higher powered, such as .308, 7.62×39, 300 Blackout or even a 5.56 NATO/.223 – it would in theory, be more safer to go with a titanium solvent trap with stainless steel dry storage cups.