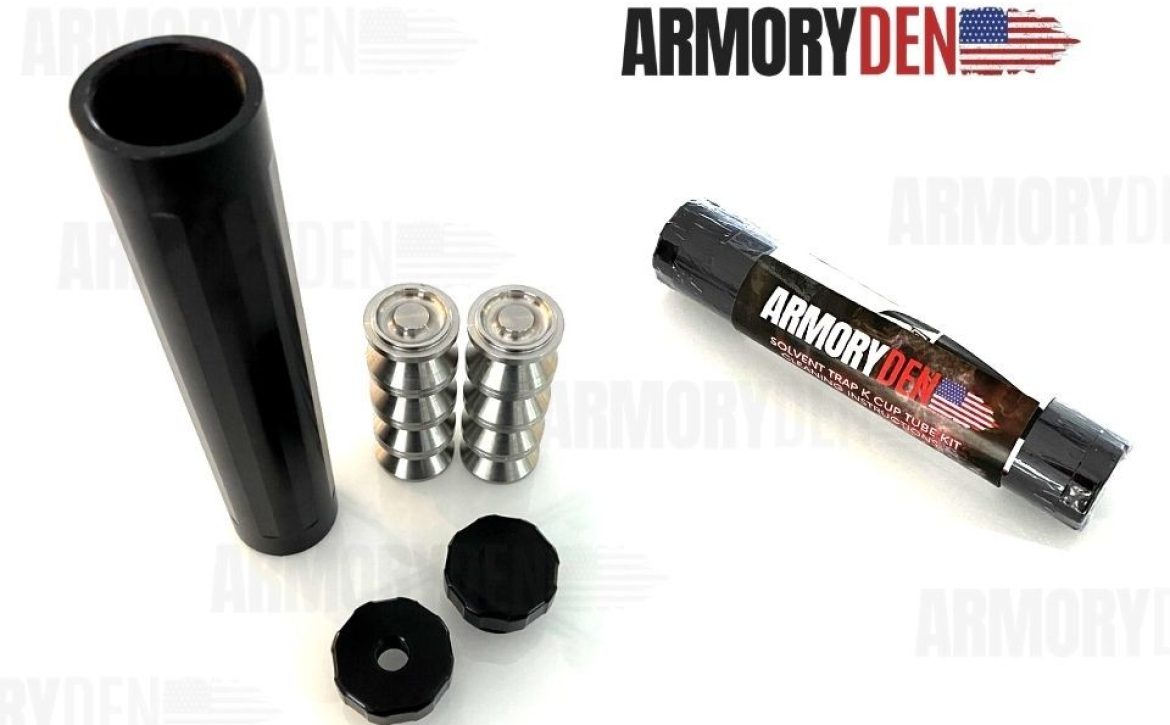 A Comparison Between the NEW 9″ Aircraft 7075 Aluminum Solvent Trap (1.375-24 TPI) and the 9″ Aircraft 7075 Aluminum (M36x1.25 TPI) Solvent Trap Kit
Armory Den has a new version of a popular solvent trap kit.  We will compare how they are similar and equally different in several ways.  The latest model released is the
9″ Aircraft

7075 Aluminum (1.375-24 TPI) Solvent Trap Kit
. The other solvent trap is an older model, the
9″ Aircraft 7075 Aluminum (M36x1.25 TPI) Solvent Trap Kit
.
These two are some of the best on the market and are constructed from superior 7075 aircraft aluminum. Since they are almost identical, it could prove challenging for buyers to decide between them. Below is a detailed comparison of these two solvent trap kits with a list of the similarities and differences to help you make a much more effortless buying decision.
These solvent trap kits share similarities in a number of ways, including:
Both solvent trap cleaning kits are constructed from high-grade 7075 aircraft aluminum to ensure durability. Moreover, they have a military-grade Type 3 Hard Anodized finish to enhance their strength.
Both solvent traps are 9″ long. Originally, they were 7″ long, which was adjusted to accommodate the K-stackable cups well. Additionally, they include a 1/2×28″ and 5/8×24″ thread protector.
Both cleaning kits have a groove design. It makes handling the solvent traps during cleaning easier. Moreover, the grooves reduce the chances of accidentally dropping anything, subsequently minimizing the level of damage.
These kits come with stackable K storage cups. Each K-style cup has a lip at its bottom part, which tightly seals the trap during transport. The stackable cups can also function as solvent trays, and you could use them as storage compartments while on the road.
The main differences between these two kits are notable in their:
The 9″ (1.375-24 TPI) Solvent trap has an Inner Diameter of 1.355″ (D-Cell) and a 1.656″ Outer Diameter. In contrast, the older version has an Inner Diameter of 1.375″ (D-Cell) and a 1.73″ Outer Diameter.
The new model weighs 26.5 oz, which is 4.4 oz lighter than the 9″ (M36x1.25 TPI) solvent trap kit's 30.9 oz.
Internal and External Thread
The 9″ (1.375-24 TPI) solvent trap has an Internal Thread of 1.1875-24 TPI and an External Thread of 1.375-24 TPI, whereas the old solvent trap has an Internal Thread of M36x1.25 and an External Thread of M36x1.25. With the exception of the 1.45″ OD Aluminum and Titanium Tube Kits that adapt to an M34x1.25 to 1.1875-24 TPI standardization adapter offered by Armory Den – All of Armory Den's metrically threaded solvent trap kits are "Direct Thread Only" and do not offer adaptability for quick attach/detach devices used for streamlined cleaning.
The new solvent trap is compatible with a Thread Pitch of 1.1875-24 TPI. On the other hand, the old one is compatible with Direct Thread only.
The old cleaning kit has two alternatives; the 9″ Aircraft Aluminum Solvent Trap (1.375-24″) and 10″ Aluminum 1.75″ OD Solvent Trap Kit. In contrast, the new model only has one, the 10″ Aluminum 1.75″ OD Solvent Trap Kit.
Firearms That are Compatible with the 9″ Aircraft 7075 Aluminum Solvent Trap (1.375-24 TPI) and 9″ Aircraft 7075 Aluminum (M36x1.25 TPI) Solvent Trap Kit
Whether you're a seasoned firearm user or a novice, choosing the right firearm that you can work with either or both of these solvent trap kits might be confusing. Below are some options that can work for you.
Pistol options here include:
After Market Barrels

.22 | 1/2×28
9mm | 1/2×28

Beretta
CZ
FNH
Ruger
Smith & Wesson
Styler Arms
9mm | 1/2×28
Pistol Caliber Carbines | Sub Firearms
The common pistol caliber carbine options here include:
CMMG
CZ
Kel Tec
MP5 Variants
Sugar
Quarter Circle 10
The rifle options to consider are:
Common Thread Pitches by Caliber

5.56 | 1/2×28
.22 | 1/2×28

Common Thread Pitches for AR's
CMMG
CZ 
FNH

FN 15  | 1/2×28
SCAR 16 | 1/2×28

H&K
IWI
Ruger
Settling for either of these solvent traps comes with an in-depth analysis of both their benefits and shortcomings.
Although these solvent trap kits have some differences, they share several benefits. First, both are made from Aluminum for extra durability, thus extending their lifespan. Other than that, they are currently selling at discounted prices, meaning that you will enjoy excellent quality products at competitive price points.
Another advantage of these kits is that they come with stackable K-style cups. The storage cups are unique to them, and they make maintenance more efficient, as mentioned earlier in this article. Furthermore, they are multi-purpose, thus giving you value for your buck.
Lastly, both cleaning kits can be attached to a wide selection of firearms.
Like everything else, the solvent traps in this article have their cons. In this case, the downside is that their parts are incompatible with the 7″ AD-EX Aluminum Solvent Trap.
Which Solvent Trap Kit is Better?
The primary difference between the 9″ (1.375-24 TPI) cleaning kit and 9″ (M36x1.25 TPI) solvent trap is their internal and external diameter and thread. They also differ in weight. Other than that, these solvent traps are almost identical in functionality.
After looking at the characteristics of these two and their pros and cons, a fair conclusion is that both are great solvent traps. You are assured of high performance and durability regardless of whichever of the two you pick, compared to buying a low-grade 1 2 x 28 fuel filter. 
A high-quality solvent trap kit is essential when cleaning your firearm, which is why it is even more necessary to avoid the 1 2×28 fuel filter. The two traps discussed above are among the best and provide an excellent solution for every maintenance process. If you still have some pressing questions, you can contact our team at
Armory Den
, and they will assist where they can.
Armory Den is one of the leading suppliers of high-grade solvent trap kits and has been selling them for years.