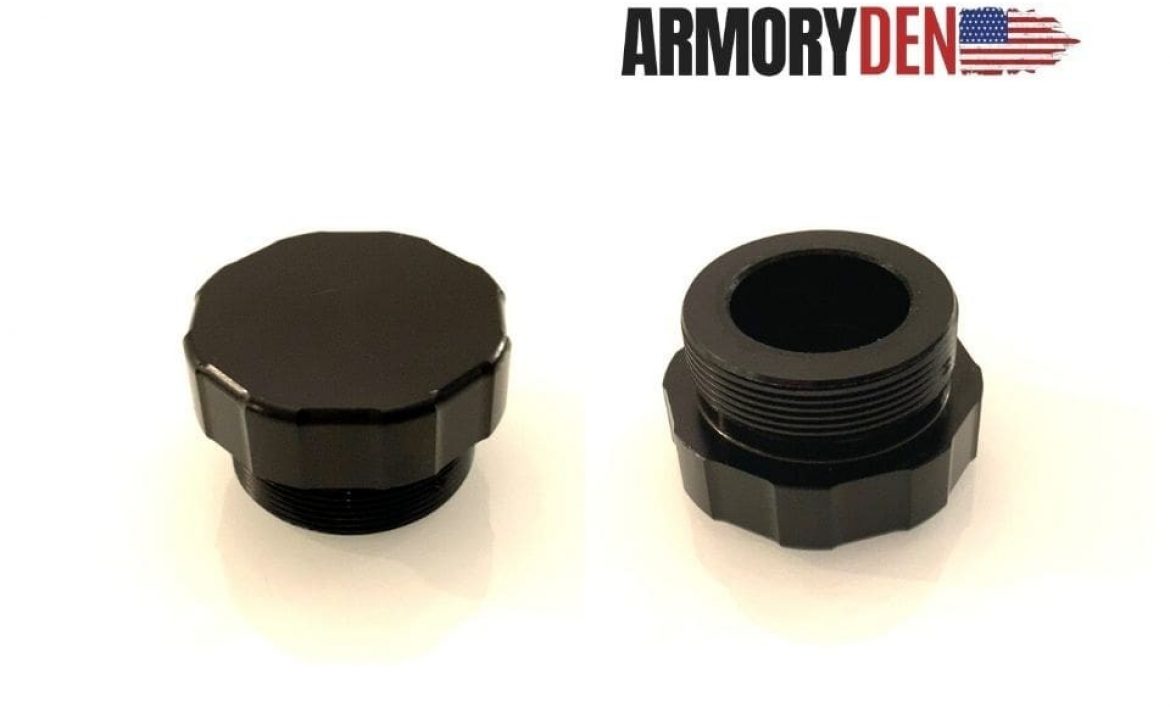 8 Reasons Why Sealed End Cap Threads Should be High Quality
The purpose of a sealed end cap for a solvent trap is to ensure that all cleaning solvent, as well as any debris that becomes dislodged during the firearm cleaning process, remains safely and securely contained within the trap tube. This is essential, both in terms of user safety as well as proper firearm maintenance.
The end cap seals your solvent trap to collect solvent or chemical solutions. To do this, the end cap depends on precisely cut threads that allow it to form a tight seal yet allow it to be frequently removed for cleaning.
Of course, as with any consumer firearm accessory, not all sealed end caps on the market today are created equal. So, let's consider 8 reasons why sealed end cap threads should be high quality and at the top of your list when considering what solvent trap you should choose.
Cheap, low-quality end caps can easily deform at the slightest pressure, such as when you take the cap on or off, making it impossible to match the threads up again. This effectively ruins the end cap and, in turn, makes the entire solvent trap useless. This is particularly common with low-quality aluminum caps due to the soft metal.
Steel is a durable metal that can take a beating and resist issues such as deforming. This is what your firearm itself is made from, after all. Unfortunately, this metal's one weakness is rusting, and with low-quality threading, moisture can easily make it in between the threads, causing rust build-up. This can make it extremely difficult to get the cap off next time you need to and potentially even cause leaks.
Speaking of leaks, rust is undoubtedly not the only cause of this serious issue. Low-quality threads may never be able to form tight seals, allowing the solvent to escape the trap. Given that the whole point of a solvent trap is to avoid making a mess, this is a severe problem.
Metal is pretty durable and flexible under most conditions, but with low-quality treatments, your seemingly solid solvent trap may be prone to breaking. No part of this is more at risk than your end cap's threads. Low-quality threads can easily snap under pressure, particularly when cross-threading occurs again, putting your solvent trap out of commission.
Achieving a tight seal on your end cap is critical to ensure the fluid stays right where it is supposed to. Unfortunately, with low-quality threads often it is impossible to get things tight, and in extreme cases, the cap may even come off under a bit of pressure, making a real mess.
The solvent used to adequately clean a firearm contain a variety of different chemicals. These chemicals must be strong enough to help dissolve or loosen fouling materials from the interior of the firearm. As a result, they can be pretty toxic and dangerous to any user who comes into contact with them. One of the main benefits of a solvent trap is that it contains the cleaning material and prevents it from leaking out and potentially causing harm.
Sealed end caps play a pivotal role in ensuring that solvent traps are effective in protecting the user. To achieve this, the material used to construct the end caps must be of high quality. Otherwise, it could break down and/or not produce an air-tight seal. This increases the chances of the user being exposed to harsh chemicals that could be hazardous to their health.
Again, the primary purpose of a sealed end cap is to ensure that all cleaning solvent and any dislodged debris remain safely and securely contained within the solvent trap tube. This protects the user and allows for the safe and proper disposal of the solvent once the cleaning process is complete.
End caps constructed of poor quality or diluted materials are simply not as effective in doing what they're designed to do. An inadequate seal defeats the purpose of using a solvent trap in the first place, as it allows for potential leakage. Furthermore, inferior quality end caps are far more susceptible to increased wear and tear, which means they'll break down sooner and have to be replaced more often.
In order to be legal, solvent traps must be used solely for their intended purpose, which is to clean a firearm. Any sort of modifications, alterations, or redesigns of solvent traps without an approved Form 1 from BATFE can, and most likely will, result in serious legal repercussions. This includes the possibility of felony charges.
One thing in particular that the ATF looks for when assessing the legality of a solvent trap is whether or not the sealed end cap features a dimple or other center mark. Rightly or wrongly, this mark is widely viewed as a sign of intent to alter or modify. Lower quality end caps – especially those purchased from overseas – often feature these center marks, even when the description claims they do not.
High-quality threads for your end cap may not be the first thing that comes to mind when you think about what to look for in a solvent trap, but maybe it should be. A well-sealed and durable end cap is crucial to ensuring your investment lasts and does what it is supposed to.
The good news is, Armory Den sells only the highest quality solvent traps, which are 100% legal. All of our products go through extensive quality control testing prior to delivery. Moreover, our high-grade sealed end caps are sold without any illegal center-marks. And thanks to our sales volume, we are able to offer the most competitive prices on the market.
Don't take chances with lower-quality or knock-off end seals. Browse our wide selection 
here
to get started today.