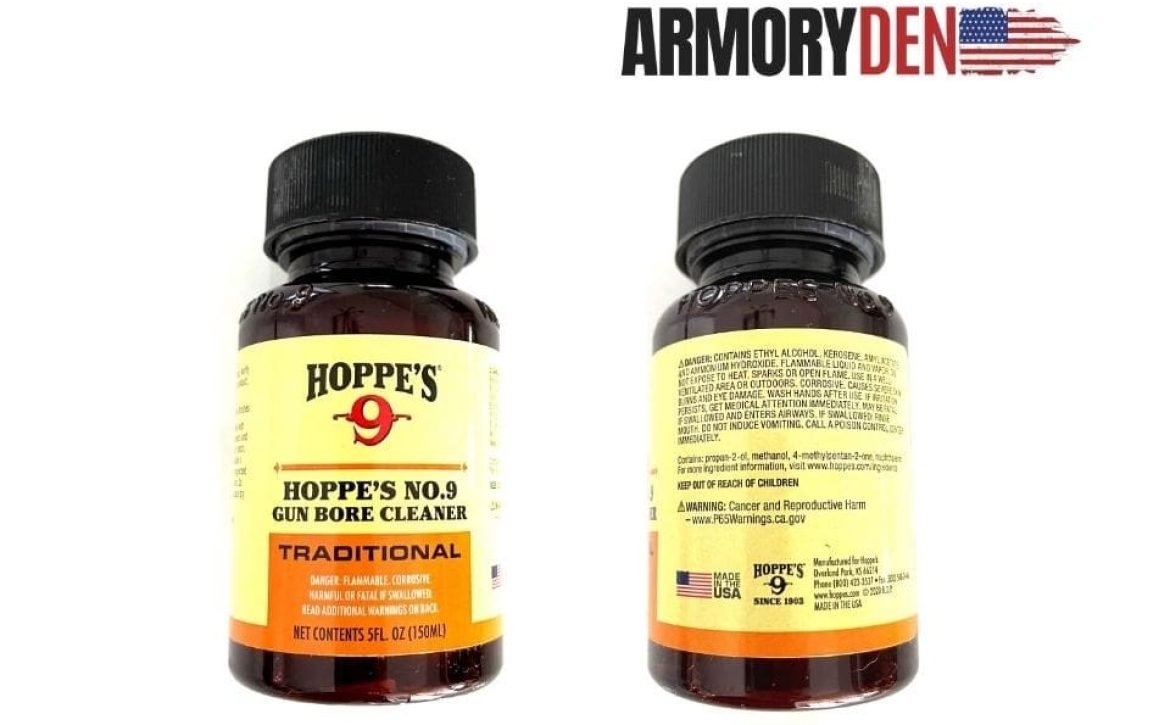 Top 5 Firearm Cleaning Solvents That You Must Buy
Using your firearm exposes it to dust, abrasive debris, and lead, which affect its accuracy, safety, and lifespan. Most firearm cleaning kits and
solvent trap kits
don't come with cleaning solvents. So, if you haven't found the best firearm cleaning solvent yet, we have taken the liberty to compile the top five firearm cleaning solvents to help you out.
What is a Firearm Cleaning Solvent?
A firearm cleaning solvent is a chemical used to clean the firearm without damaging it. You can buy different types of firearm cleaning solvents like liquid solvents, aerosol solvents, and foaming solvents. A good firearm cleaning solvent should have a high solvent power and should not be corrosive to your firearm.
When choosing a cleaning solvent, it is essential to consider whether it is compatible with your firearm, the solvent type that will work best, and its cost.
Here are five firearm cleaning solvents that we have compiled for you:
1. Hoppe's No. 9 Bore Cleaner
We swear by
Hoppe's No.9 Bore Cleaner
. You can use it to effectively remove the powder, lead, and metal fouling from your firearm. This firearm cleaning solvent has a high viscosity, giving it a free-flowing property that allows the solvent to penetrate deep in the bore of your firearm where thick cleaners can't reach. It also leaves a rust-preventative cover behind.
The No.9 Bore Cleaner solvent is very easy to use and has a childproof bottle cap for extra safety.
The cleaning solvent comes in a 16 oz. bottle, which will last long because you only need a small amount when cleaning. It is also very affordable.
Using our quality solvent trap kits that catch the chemicals, you can prevent the toxins from getting into the environment.
2. Ballistol Multi-Purpose Aerosol Can Lubricant Cleaner Protectant
This is the firearm cleaning solvent for you if you like eco-friendly products.
The Ballistol Multi-Purpose Aerosol Can Lubricant Cleaner Protectant can clean firearms, knives, locks, and more. It cleans and lubricates efficiently because the aerosol spray can slip into the cracks and crevices of your firearm without a problem.
This firearm cleaning solvent is also lightweight, making it ideal for traveling. It is non-sticky, water-soluble, and biodegradable, making it good for you and the environment. Its alkaline nature also helps break down sweat and skin oils on your firearm, which helps it last longer.
The only downside to this product is its strong smell. You want to use it in an open space with free-flowing air.
3. Break-Free CLP-2 Cleaner Lubricant Preservative
This is another all-in-one firearm cleaning solvent that will penetrate and spread into the nooks and crannies of your firearm to undercut contaminants and lift residue to where you can easily clean.
Break-Free's unique boundary film protects metal surfaces from moisture and other impurities, while corrosion inhibitors prevent rust formation. The long-lasting lubricant protects the firearm surface from picking up abrasive substances that can cause wear and contamination.
In severe situations, such as cold, heat, dust, and high humidity, its specially formulated synthetic oils will not lose viscosity, dry up, or stiffen up, keeping your gear in good shape for months.
This cleaning solvent has been proven to serve its purpose effectively in extreme temperatures ranging between -65°F to 475°F and even after saltwater immersion.
The Break-Free CLP-2 cleaner comes in a small 4 oz. aerosol can that you can take anywhere with you and is also budget-friendly. This cleaning solvent is most suitable for military use to prevent the adhesion of dust and impurities that cause premature failure in firearms.
4. Otis Technology Foaming Bore Cleaner
The Otis Technology Foaming Bore Cleaner is an excellent firearm cleaning solvent that relies on expanding foam to get into the crevices of your firearm and clean it up. It saves you much hard work trying to reach every crack in your firearm to clean it.
The product is very easy to use. Spray the foam in the breech and let the foam work up to fill the bore. Allow the foam to break down before removing it with an Otis Breech-to-Muzzle cleaning kit or our quality Armory Den's solvent trap kit. We recommend leaving it for 15minutes to an hour tops, depending on how dirty your firearm is.
The foaming bore cleaner isn't ammonia-based. So, it won't stink up your house with a toxic chemical odor. Once you are done using it, it is essential to follow up with a lubricant and protectant to avoid rusting and corrosion on your firearm.
The Otis Foaming Bore Cleaner comes in a tiny 3 oz bottle with a nozzle to help you apply the foam precisely.
The CLP by Sage & Braker is a proprietary blend of technical-grade bio-based chemical ingredients and aerospace synthetics that are meant to be stable in storage and deliver consistent performance in use.
This highly penetrating firearm cleaning solvent penetrates every surface on a micro level to clear carbon, lead, and copper fouling deeply.
Unlike standard firearm cleaning solvents and oils, the CLP by Sage & Braker is bio-based and entirely non-hazardous for you and the environment. It incorporates citrus, pine, and palm oils, which are high-performance, oxygenated bio-based chemicals that clean and remove carbon and sulfates organically in no time.
The CLP by Sage & Braker is more than a firearm cleaning solvent. It coats and protects your firearm's bore and moving parts and prevents rusting and corrosion. It also facilitates heat dissipation resulting in lower weapon operating temperatures. The anti-static solution lowers adhesion and prevents carbon and impurities from clumping onto your firearms while it's in use.
Using firearm cleaning solvents is the best way to take proper care of your firearm and prevent corrosion or premature failure. Some cleaning solvents are made for specific firearms, so it's best to pick the one suitable for you. Our premium Armory Den's solvent trap kits are suitable for use with any type of firearm cleaning solvent and will keep your firearm in pristine condition.
Sources
https://www.pagespersonalcleaning.net/best-gun-cleaners-solvent-oil/
https://www.huntinghoop.com/best-gun-cleaning-solvent/
https://guncleaninghq.com/best-gun-cleaning-solvent/
https://sageandbraker.com/blogs/news/sage-braker-clp-technical-overview-for-gun-  cleaning-and-maintenance
https://otistec.com/blog/introducing-the-new-otis-foaming-bore-cleaner/
https://armoryden.com/5-things-you-need-to-know-about-solvent-traps/
Notice: Please be advised that this article is for information purposes only and Armory Den, Inc., Armory Den, and/or Armoryden.com, does not accept liability for any negligence, injury, death or other personal or environmental consequences that occur from the sourced and unsourced information in this article.