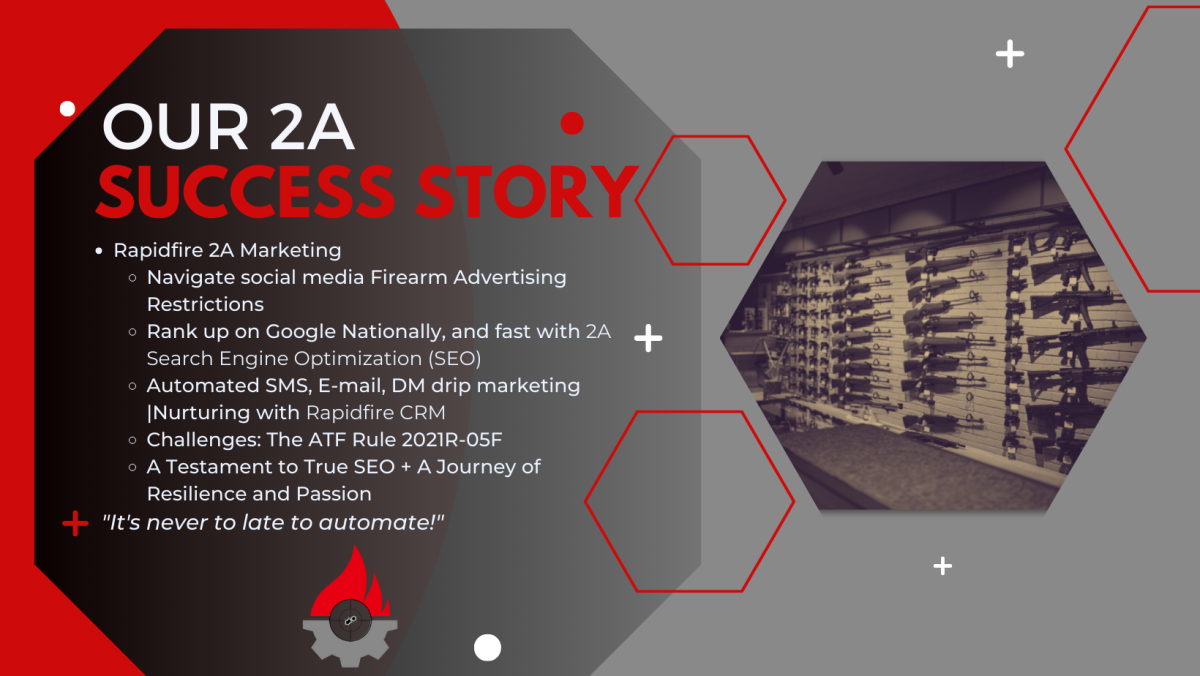 From Enthusiast to Entrepreneur: Our Firearm Cleaning Accessory Success Story
A Journey Defined by Passion and Innovation
At Armory Den, Inc., our journey began in September 2020, fueled by a shared passion for firearms and a desire to create truly exceptional firearm cleaning assessories that could be used as reliable storage solutions. As firearm enthusiasts, we understood the unique challenges and opportunities in the firearm industry, especially concerning firearm marketing. Our story is one of dedication, innovation, and an unwavering commitment to excellence in the firearm cleaning accessory and storage space.
Rapidfire 2A Marketing: A Trusted Partner
Rapidfire 2A Marketing, a renowned firearms marketing agency, has been our trusted partner since the inception of Armory Den. Their mission aligns perfectly with ours – to provide comprehensive and accessible guidance for firearm marketing endeavors. With their expertise in creative and strategic online 2A marketing services, Rapidfire 2A Marketing empowered us to navigate the complex world of firearm marketing while adhering to industry-specific requirements.
Navigating Unique Challenges: Understanding Firearm Advertising Restrictions
Our journey, much like that of any firearms-related business, was not without its unique challenges. One of the most significant hurdles we faced was navigating firearm advertising restrictions. The restrictions on firearm ads  forced us to think creatively and strategically. We realized that there was a niche market in solvent trap cleaning kits, and Rapidfire 2A Marketing helped us unlock its potential.
Swift Success with Gun SEO and Automated Drip Marketing
Our collaboration with Rapidfire 2A Marketing yielded exceptional results. Unlike traditional SEO campaigns that can take months to bear fruit, we saw a surge in sales within a few short months. By October, our sales ranged from 4 to 7 per month, a number that rapidly climbed to an average of 10 in November, coinciding with the holiday season. The success of our firearm marketing campaigns, driven by Rapidfire 2A Marketing's expertise in 2A SEO and automated drip marketing, was evident.
Dominating the Rankings: SEO Magic
One of the highlights of our journey was our ability to dominate the rankings. Through strategic 2A SEO, we achieved remarkable success. Rapidfire 2A Marketing's proficiency in keyword selection, content creation, website optimization, and other critical marketing services played a pivotal role in our achievements. Armory Den secured top positions (ranging from 1 to 3) for numerous high-volume key terms. This success led to a substantial increase in sales, which eventually allowed us to discontinue listings on gun finder websites such as Gunbroker auctions.
Challenges: The ATF Rule 2021R-05F
The year 2022 brought unforeseen challenges with the implementation of ATF Rule 2021r-05f. This regulation extended regulatory control over firearm-related products, and its impact was far-reaching. Although we firmly believe that our products are and always have been legal, we made the difficult decision to suspend operations in July 2022 due to the evolving regulatory landscape. As the famous qoute goes, "As you sow, so shall you reap. Karma has a way of finding its path back to those who wield power unjustly. The universe has a ledger, and fairness will eventually have its say." 
Enduring Success: A Testament to True SEO
The most impressive aspect of our journey is the enduring success we've achieved. Even after suspending operations for over a year and three months, Armory Den still maintains its position among the top three for high-volume key terms. This outcome underscores the authenticity and effectiveness of Rapidfire 2A Marketing's "true" Gun SEO or 2A SEO programs.
Conclusion: A Journey of Resilience and Passion
Our journey, from enthusiasts to entrepreneurs, reflects resilience and unwavering passion. It exemplifies the power of strategic marketing and our dedication to upholding the values of the 2A Amendment. In the face of regulatory challenges, Armory Den, Inc. remains a shining example of what's possible in the world of firearms marketing and the pursuit of one's dreams. We invite you to learn how Rapidfire 2A Marketing can help your firearm marketing business, just as it has helped us. We started with a budget level National 2A SEO | Gun SEO Plan and eventually throttled up to the highest keyterm premium National 2A SEO Plan and the ROI was phenomenal! Not to mentioned, we received Rapidfire CRM all-in-one automated drip marketing CRM free when we signed up for our original 2A SEO Plan.
Book a Free Demo Call today and embark on your own journey of success.