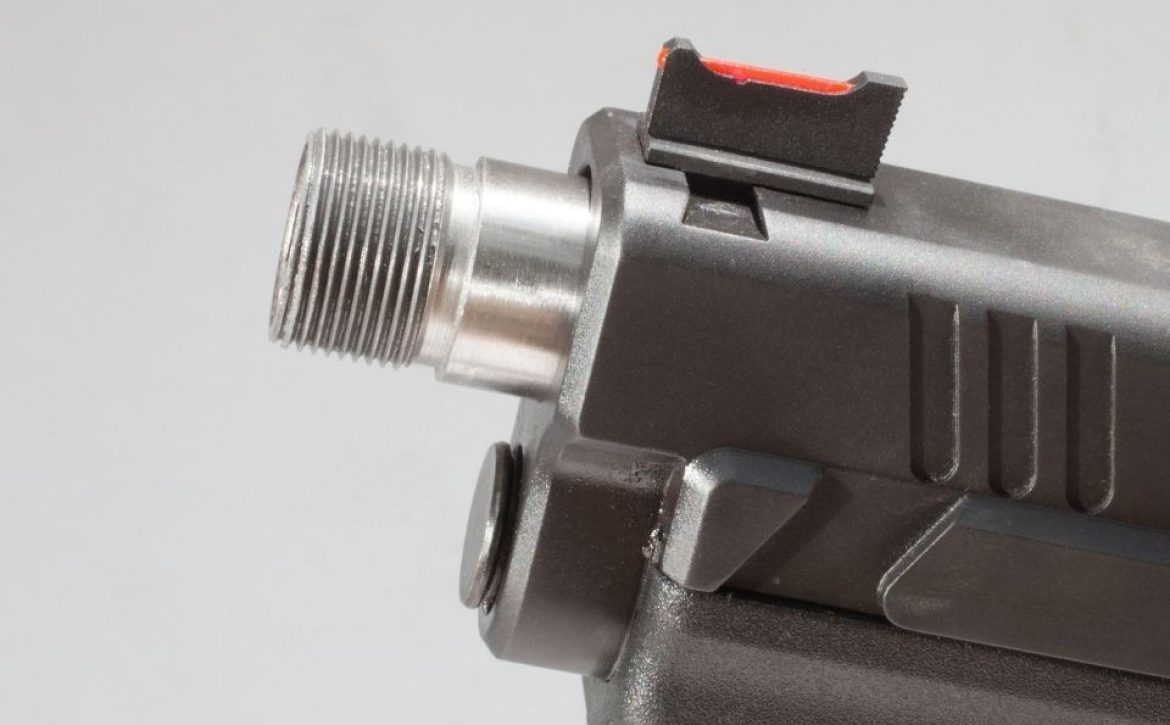 Can You Tell What Thread Pitches are Attached to an AR-15 Barrel?
Currently, there are two known standard thread pitches for an AR-15 barrel:
1. 1/2×28, for a standard mainstream (M4) AR-15 /5.56 NATO and .223 
2. 5/8×24 for other builds or purchased AR-15s in 300 Blackout caliber.
The AR thread pitch attached to an AR-15 barrel is one of the most commonly asked questions. The thing is, if you're not sure about the exact thread pitches that match your barrel, you might need to try out a few of them to figure that out. There are many thread pitches that are likely to match perfectly with your AR barrel; some of them include 5.56 – 1/2×28 threads, 50 Beowulf – 49/64×20, .223 – 1/2×28 threads, .308 – 5/8×24 threads, 7.62×51 – 5/8×24, .224 Valkyrie – 1/2×28, 6.5 Creedmoor – 5/8×24, 6.8 SPC – 5/8×24, and .450 bushmaster – 11/16×24. But most of the time, some of them like .300 blackout – 5/8×24, 6.5 Grendel – 5/8×24, 9mm – 1/2×36, 7.62×39 – 5/8×24, and .458 Socom – 5/8×32 are a good fit.
How to Tell What Thread Pitches are Attached to an AR-15 Barrel
Before you can wrap your hands around which of the thread pitches works on an AR-15 barrel, you must understand their production process. Some manufacturers of these thread pitches intentionally make oddball thread pitches for these barrels. They do this because they believe it will end up having many pre-done muzzle brakes (which eventually help it fit). By doing this, users won't have to spend more money trying to reprogram it. So, you must constantly check the manufacturers of each thread pitch; it has a lot to do with how well each thread pitch matches your barrel. 
If you believe that you're using 1/2×36 barrels and don't want to spend money, you can easily test it with the 5.56/.223 firearm that comes with a muzzle brake or flash hider having 1/2×28 threads. When testing the barrel, start by threading it on; it takes around 1.5 turns before finally getting stuck. If it worked out this way, then you must have 1/2×36 threads. But in a situation where it goes beyond that, it must have been 1/2×28 threads.
Some AR-15 Firearms and Their Thread Pitches
1. Bushmaster Modular AR-15 Firearms
The Bushmaster Modular AR-15 firearm is semi-automatic and among the XM-15 series. It is produced by Bushmaster Firearms International and has other variants like the Bushmaster XM15-E2S, Patrolman series, and the Carbon 15 line. With a firing range of 600 yards, it works with a 1/2×28 thread pitch and has proved its relevance in military campaigns like the 2014-17 Iraqi military campaign.
Also called the Model 2T, it was built specifically for military purposes and is often seen in use by SWAT teams and soldiers all over the world. Like the Bushmaster Modular AR-15 Rifle, the Model 2T is an AR-15 rifle and uses a 1/2×28 thread pitch.
This is a Tactical Precision Firearm that has the capability to successfully dispense 30 rounds when it's DPMS 2 Stage trigger is squeezed. This firearm has made a name for itself over the years. Designed and manufactured by the same company that has been known for developing AR-15 firearms for years now, the DPMS AR-15 TPR was specifically designed using the American spec and parts. It has been known for perfectly hitting its targets when a 1/2×28 thread pitch is used.
This is a 30 round AR-15, 5.56mm NATO firearm with the characteristics of a Semi-Automatic. Forged with a 7075 T6 Aircraft Aluminum and accompanied by an Aluminum Trigger Guard, it works perfectly with a 1/2×28 thread pitch. Again, it also comes with a free-float Magpul M-LOK hand stop function, coupled with its Magpul MOE black grip storage compartment system.
This firearm was specifically designed for defense and tactical purposes and is a popular choice in many shooting sports. A mid-length gas feature, that provides a smoother recoil impulse enables a precise, quick-fire when used with this firearm. This 5.56MM caliber semi-auto AR-15 firearm, like others, also uses a 1/2×28 thread pitch.
6. LMT CQB MRP Defender Model 16 5.56
This is another popular AR-15 semi-auto firearm with an upper receiver that fits well with a 1/2×28 thread pitch. It comes with a tactical charge handle, SOPMOD buttstock, and standard trigger. With a fitting thread pitch, the LMT CQB MRP Defender Model 16 5.56 can accurately discharge 30-round magazines with the aid of its rugged push button.
Although there may be varieties of AR thread pitches out there, the 1/2×28 thread pitch has remained one of the most standardized thread pitches in the industry. It is also important to note that although most of the AR-15 firearms use 1/2×28 thread pitch, many others like the Heckler & Koch HK416, Heckler & Koch HK417, MP5, Heckler & Koch UMP, Heckler & Koch MG4, Heckler & Koch HK33, Heckler & Koch SR9, etc. don't. For easier comprehension, you should take note of those AR-15 firearms that fit well with a 1/2×28 thread pitch. That way, you can easily go for it without having to guess the fitting thread pitch.
Another way to tell what thread pitches to attach to an AR-15 barrel is by simply looking at the information section of the thread pitch you wish to attach. You can also take the help of equipment: set clippers, and a gauge which is specifically designed for thread pitches. But to succeed in knowing what fits using the gauge, you must know the standard size of an AR-15 thread pitch, which is (of course) 1/2×28.