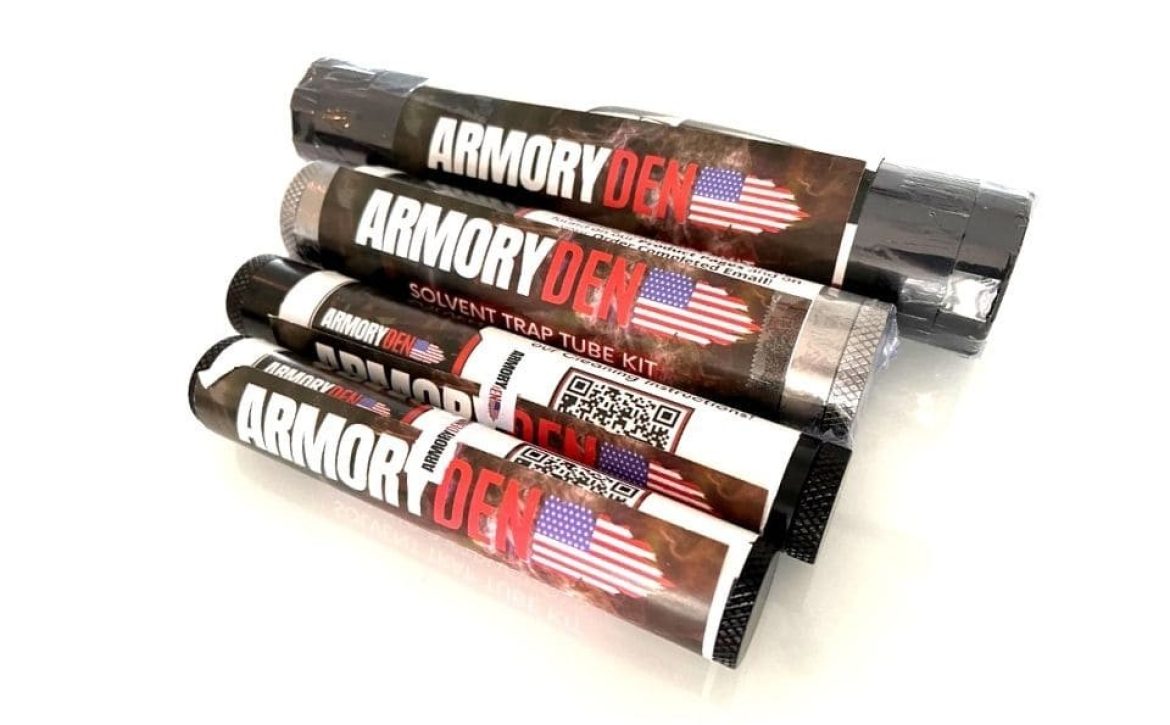 Armory Den's Best 1/2×28 Thread Patterned Solvent Trap Selections
Firearm enthusiasts have used solvent traps for various firearm cleaning and maintenance operations for years. And while these devices can be attached to the threaded end of any firearm, it's important to use one that is particularly suited for the intended firearm.
Here we'll showcase some of the best selections in the 1/2x 28 solvent trap range offered by Armory Den. But before we get started, here's a quick rundown of the different solvent traps offered by Armory Den.
Overview of Armory Den's Solvent Traps
Armory Den offers solvent traps in various thread pitches, including the 1/2×28 and the 5×28 thread pitches, which are the most common firearm thread pitches in the US. Our solvent traps are made from durable and high-quality materials designed to give you both comfort and flexibility during cleaning usage and transportation.
Most of our solvent traps are made from either aluminum, titanium, or stainless-steel material. We designed our products this way to ensure that we can accommodate all our customers' various needs and budgets.
For example, our titanium solvent traps are constructed with high-grade grade 5 titanium material to provide our clients with a durable solvent trap material that can withstand adverse environments due to its superior anticorrosion properties. Our aluminum solvent traps are more suited for customers looking for a cheaper and lightweight option that can accomplish the same task of preserving their expensive cleaning solvent, for those willing to pay the extra dollars for titanium, we have rarely heard that it was not worth the investment!
Regardless, we offer various lengths of the 1/2×28″ solvent traps designed with aluminum and titanium materials.
Best Selections in The 1/2 x 28 Solvent Trap Range:
1- 7″ GR5 Titanium 1.45 OD" Solvent Trap Tube:
Given the incredible cleaning, storage and transport functionality crammed into this firearm accessory, it's no surprise why this device takes the top spot on the list. This 7″ GR5 titanium 1.45 OD" solvent trap tube kit is a multipurpose device that comes with either 1/2×28 or 5/8×24 grade 5 titanium thread protectors.
The entirety of the kit, including the end cap, is constructed with durable grade 5 titanium that can last through numerous cleaning sessions. The solvent trap kit includes one sealed end cap, nine stainless steel storage cups, and either the 1/2×28″ or 5/8×24″ thread protector.
Furthermore, the solvent trap features an ergonomic design and weight balance to promote ease of use during cleaning and maintenance. While its construction material provides extreme strength and anti-corrosive properties that help extend the device's shelf life for an extended period.
2- 9″ Aircraft 7075 Aluminum (M36x1.25 TPI) Solvent Trap Kit:
There's nothing as exciting as getting a fantastic solvent trap at a great budget, and the 9″ Aircraft 7075 Aluminum (M36x1.25 TPI) Solvent Trap Kit helps bring that excitement to life. This solvent trap kit is the aluminum version of the GR5 Titanium 1.45 OD" Solvent Trap Tube mentioned earlier. It includes a 1/2×28′′ and 5/8×24′′ thread protector, 8 Stainless Steel K Cups, and a sealed end cap. The outer diameter of this kit is 1.73 inches, while the inner diameter is 1.375 inches.
Furthermore, this solvent trap is a military-grade direct thread solution with a Type III (hard-coat) anodized finish. The Type III Hard-Coat Black Anodized military-grade application has a sealed end cap thread for simple switching.
Additionally, this solvent trap type includes a groove design for easier handling and is more durable to prevent damage over time.
3- 6″ or 7″ x 1.05″ OD 6061-T6 Aluminum Solvent Trap Tube with Stainless Steel Cups:
If you're looking for a solvent trap with class, then you should be looking at the 6″ or 7″ x 1.05″ OD 6061-T6 Aluminum Solvent Trap Tube with Stainless Steel Cups to meet your expectations.
This exceptional solvent trap has become very popular within the firearm community, especially among Ruger 10/22 and other .22LR firearm enthusiasts. The solvent trap kit includes everything from a sealed end cap to a combination of the 5/8×24″ and 1/2×28″ thread protector, all constructed from 7075 Aircraft Aluminum material.
If you're unfamiliar with this material, this is the same material used in constructing aircraft structures and has been touted for its strength and ability to reduce wear and tear on threads.
Furthermore, this solvent trap kit also boasts a type III anodized finish often used for military applications, further enhancing its appeal to firearm enthusiasts looking for a perfect combination of quality and effectiveness at a limited budget.
4- GR5 Titanium Adaptive Solvent Trap Kit (AST):
When you talk about a premium choice solvent trap, the GR5 Titanium Adaptive Solvent Trap Kit (AST) is the number one solvent trap that comes to mind. This elegant solvent trap combines a well-balanced design and a high level of craftsmanship Hence, we featured it on the list of best 1/2×28 solvent trap kits.
The Titanium AST Model has a 1/2×28″ or 5/8×24″ Thread Protector, a Sealed End Cap, a 2.5″ Tube Extension, and 8 Adaptive Storage Cups with modular designs.
Like other storage cups, its Adaptive Storage cups can be used to store solvents for reuse or for transit storage to ensure proper disposal.
Moreover, this solvent trap model also features a 1.375-24 TPI to 1.1875-24 TPI Standardized Adapter. The thread adapter allows firearm enthusiasts to save time by not having to use a vise and wrench to install solvent traps on firearms with a 1.1875-24 TPI thread pitch.
Furthermore, our GR5 Titanium Adaptive Solvent Trap Kit (AST) is engineered and designed the same way as our 7075 Billet Anodized Aluminum and 304 Stainless Steel Adaptive Solvent Trap, but it's made of Grade-5 Titanium.
However, it's important to note that the Grade-5 titanium solvent trap is stronger than its aluminum counterpart and will last longer if subjected to the same usage conditions. In addition, keep in mind that the titanium solvent trap is also a bit heavier than its aluminum model.
The solvent traps listed above are only a few of some of the best 1/2×28 solvent trap models offered by Armory Den. We have a wide selection of premium solvent traps tailored to various design specifications to trap expensive solvents during firearm cleaning operations.
Nonetheless, please visit the
Armory Den store
for a full list of our featured selection of 1/2×28 solvent traps.