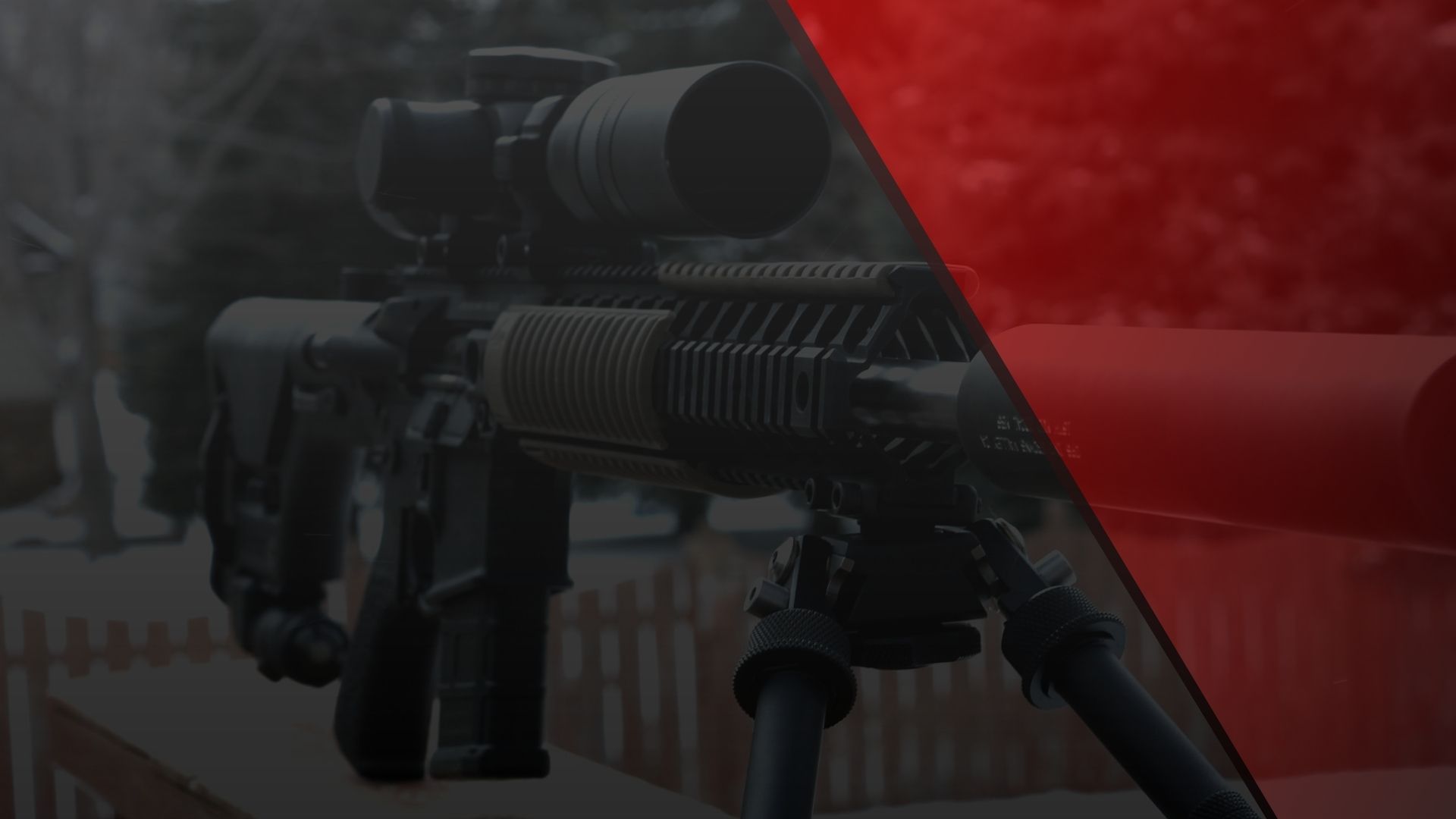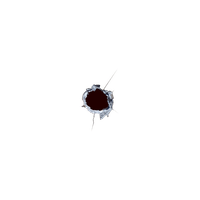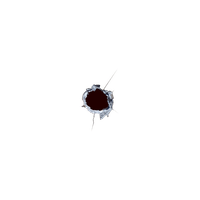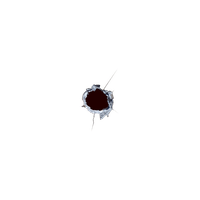 1/2x28 Solvent Trap
1/2x28 Solvent Trap, The Legality of Fuel Filter Solvent Traps, How and What to Buy
Many firearm owners have learned that 1/2x28 solvent traps have the same thread pitch size as many automotive fuel filters. A 1/2x28" solvent trap is the thread pitch on a firearm cleaning kit's thread mount that is intended to connect to the firearm barrel that shares this thread pitch, for cleaning. 5/8x24" and 1/2x28" thread pitches are the most common for American firearm barrels: From .30 Caliber setups, such as 6.5 Creedmoors, .308s, 300 Blackouts to 9mms, 5.56 NATO/.223 (AR15s) and .22LRs, and more. We would venture to say that 60 to 70% of American firearm calibers using a threaded barrel, use these two aforementioned thread pitches.
Many Firearm Owners Purchase these Auto Parts to Save Money
Many firearm owners purchase these auto parts to save money, with the intent of converting them into an unregistered Class III item, without going through the appropriate channels. This act has attracted investigative attention by the ATF/NFA, which has fueled further disproportionate attention to the use of solvent traps, even the legal and intended use has become hindered. You're probably wondering, "aren't solvent traps legal"?…
Yes, they absolutely are! But if one's intention is in modifying a solvent trap in order to quiet or dampen a firearm's report, this first requires an approved Form 1 NFA Tax Stamp from the BATFE/NFA, which will register the item to a serial number selected by the applicant on the Form 1 application. Once this approved Form 1 Tax Stamp and the associated serial number come back, one can bring the item to a company, FFL 7 Class 2 SOT to have the number engraved and other modifications completed. Or, the applicant can do the modifications themselves after receiving the approved Form 1 and Tax Stamp back from the aforementioned channels. Not only is this process 100% legal, it is laid out, advocated and constantly improved through innovation (i.e. E-File System) by the ATF/NFA.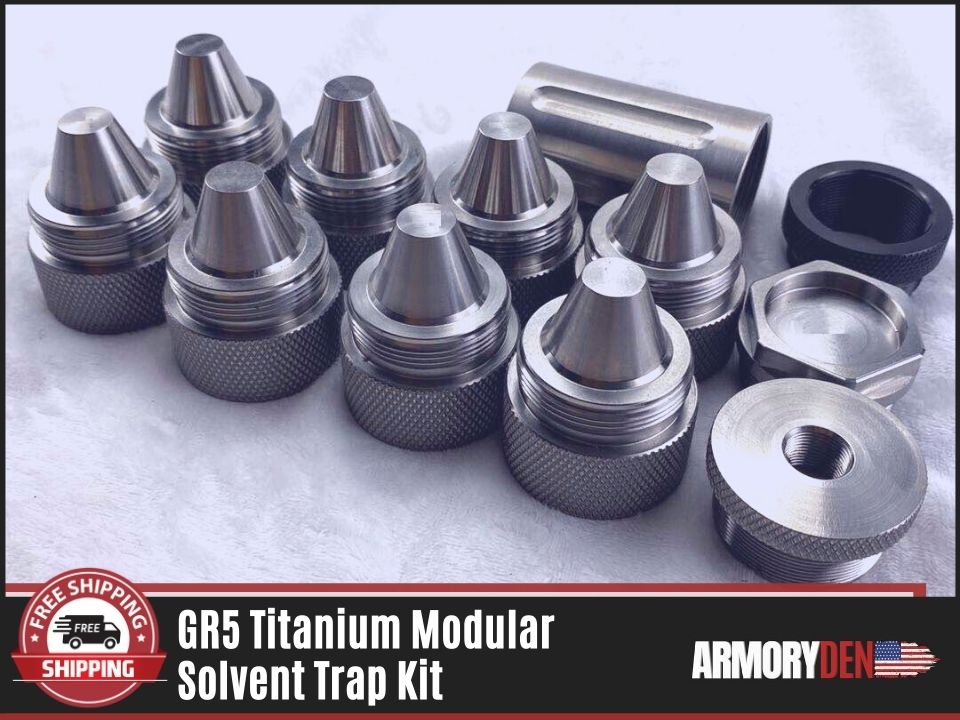 The Difference Between a Solvent Trap and Auto Oil Filter…
Oil filters are used to extract pollutants from a car's engine, pollutants that gather over time. Pure auto oil is vital because it could become saturated. Small, hard particles can wear surfaces in the engine if the oil is left unfiltered for some time. You can see how there are similarities between fuel filters and firearm solvent traps and why savvy firearm owners have purchased fuel filters in the past. Most have purchased car fuel filters because there were simply not many viable options nor information online or in the general market for them to use.
The auto part is solely made for use with automobiles. They're not meant to be a firearm cleaning accessory! Sure they can be made to work, but wouldn't it be best to clean your firearm and trap residual solvent with a part made specifically for that item and need? Some auto parts purchased to be solvent traps are Napa parts, Napa Freeze Plugs, Wix Fuel Filters, and other fuel filters, all items the ATF has cracked down on tremendously due to previous illicit uses by individuals not properly educated on the legalities.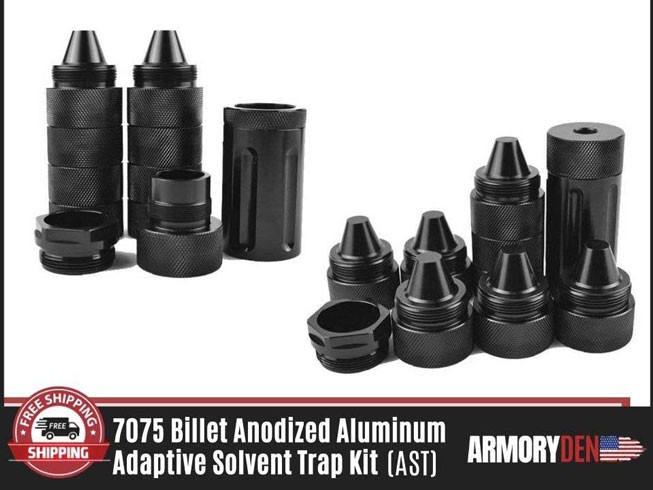 Avoiding Legal Issues When Cleaning your Firearms with a Solvent Trap
Solvent traps are used to clean firearms and trap solvent. However, because anyone can alter solvent traps to operate as unregistered Gun Control Act of 68′ regulated items, legal questions have emerged about a solvent traps' intended use.
Legal issues over the use of solvent traps are not all about avoiding hefty fines. It's about steering clear of felony charges as well. Some tips to prevent legal issues but also taking advantage of the cleaning opportunities that solvent traps offer to owners of firearms are as follows:
Do not Alter The Solvent Trap
Generally, until it is modified, a bullet will not move through a solvent trap. As a matter of fact, it would be dangerous for one to discharge a firearm with a solvent trap on it…think about a car driving full speed into a wall, get the picture? Some alterations to a solvent trap that look like they could be designed to allow a shot to escape might raise suspicion; even markings or indications on solvent traps may show "constructive intent" and may be deemed unregistered NFA items due simply to the fact that these markings exist! Ridiculous? Yes, that's an understatement, but that's where we find ourselves today.
Be cautious to prevent any adjustments or modifications to the tube, end cap, or threaded adapter or cups|dividers. Adjustments that look like they might allow or facilitate a modification that would then allow a bullet to pass through the firearm's barrel while using a solvent trap wouldn't be legal without the proper registration approval from the BATFE obtained through the Form 1 process.
When Using your Firearm, Keep your Solvent Trap at Home
It is still legal to bring your solvent trap with you when shooting at the range, but it is simply not necessary, unless you plan to clean your firearm at the range. This is not a requirement by law, but apparently regulators have grown overly-sensitive to anything that is shaped like a tube, even if their own spokesman deem solvent traps unregulated firearm accessories that fall outside of the NFA Handbook or Gun Control Act of 68′ escape apprehension altogether. If it's not with you while using your firearm, a solvent trap can't be used as a non-legitimate item.
When purchasing something of this nature, you should use legitimate channels and buy from companies such as Armory Den. Solvent trap cleaning systems like the Stainless Steel 1.10″ Adaptive Solvent Trap Kit (AST) and the GR5 Titanium Tube Solvent Trap Kit are sturdy and reliable, and most importantly they get the job done!
The GR5 Titanium Tube Solvent Trap Kit
The GR5 Titanium Tube Solvent Trap Kit comes with 9 Stainless Steel Storage Cups. It has an overall perfect weight balance. Its extreme durability under all conditions is one of its unique selling points. The GR5 Titanium Solvent Trap Kit is 1.45″ OD (Outer Diameter) with a 7″ length. All 9 cups that come with this kit are pressed stainless-steel cups, not giving space for flaws. A long-lasting solution that will aid your firearm routine cleaning and maintenance sessions.
The Titanium Solvent Trap Kit has a 1.45″ Outer Diameter and a 7″ length. When the weight and fit are dropped into the tube after fixing the titanium end caps, it oozes flawlessness. This explains why this kit was designed with a spacer and pressed stainless-steel. The thread pitch on the solvent trap is M34x1.25; before now, buyers' possibilities of getting direct threading their solvent traps were limited. The M34X1.25 is rare and is not standard across the industry. A durable firearm cleaning kit, saving you from spending money on a new one soon.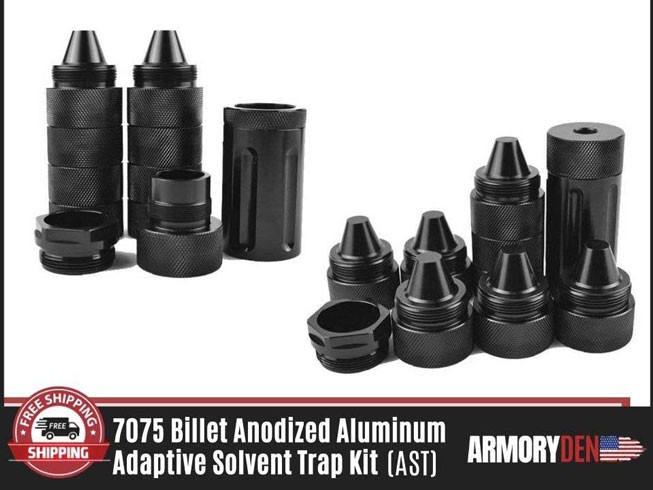 Suppose you don't want titanium and still desire quality tubes and end caps. In that case, there's another offer for the same product in a 7075 Aircraft Grade Aluminum (hard-coat anodized in black).
The Stainless Steel 1.10″ Adaptive Solvent Trap Kit (AST)
This Stainless Steel 1.10″ Adaptive Solvent Trap Kit (AST) includes both a 1/2 x 28″ and 5/8 x 24″ Threaded End Cap Adapter for direct threading providing service to various barrels allowing and you to clean a variety of firearms.
This firearm cleaning solution Kit (AST) carries the same modular cup design as our other Adaptive Solvent Trap models. However, it's a solvent trap kit made of 304 Stainless Steel with a highly sturdy matte black finish. The cleaning tool is a more durable option, even though stainless steel is heavier compared to Aluminum. The increase in weight makes it an ideal offer for firearm owners who want a solvent trap with a smaller diameter. Your firearm cleaning routine is made easy!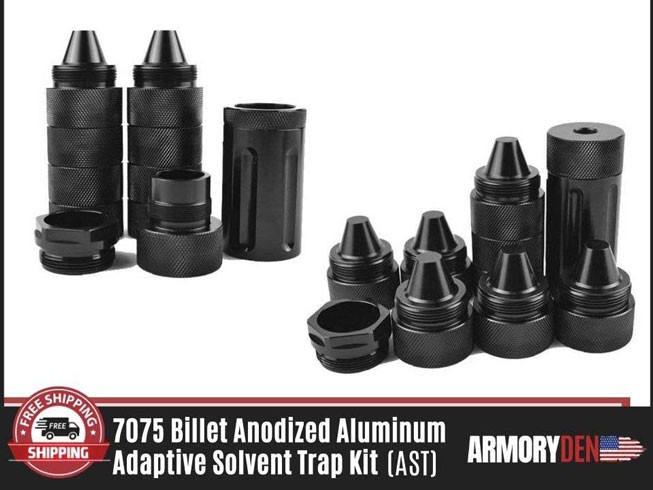 The kit has a 6.4″ length in the most extended configuration and a 3″ length in its shortest design. This Stainless-Steel AST weighs 14 ounces in its maximum size. A solvent trap specifically made for firearm owners who want a direct thread solvent trap without using an adapter from aftermarket parts. This is because of its narrow configuration.
Note:
Purchasing a fuel filter solvent trap without first filing an ATF Form 1 with a $200 Tax Stamp and getting your approved serial number is illegal. A Form 1 approval may take up to nine months; I'm not sure if you can wait that long.
Buy at Armory Den Now! Start enjoying your firearm cleaning routine.






Guaranteed Customer Satisfaction.
Our 5 star customer reviews published on various sites such as Gun Broker and Trust Pilot, reflect our ability and drive in bringing only the best solvent traps and parts from around the world while providing top-notch customer service!  Solvent Trap Direct has one goal and that is to exceed all expectations!
Quit overpaying for solvent traps or worse, overpaying for inferior products! We keep the best 7075 type III hard-coat anodized billet machined aluminum solvent traps, titanium solvent traps, and stainless steel solvent traps in stock at all times. If you're still looking for a reliable solvent trap products you came to the right place!
Fast Free Shipping, Nationwide.
Armory Den is a US company and wholesale supplier. We have east coast and west coast facilities in order to satisfy our customers from both ends of the country. We take pride in our den deliveries and provide fast free shipping to both our customers and businesses, as well as our wholesale partners. We rarely have problems with satisfying our deliveries, even with natural disasters and situations outside of our control.
If you're a business interested in becoming a Den Wholesale Partner and reselling our products you may submit our wholesale solutions form below. For general inquires, give us a call or us the 'Contact Us' form below. A representative from the den will be getting back to you shortly.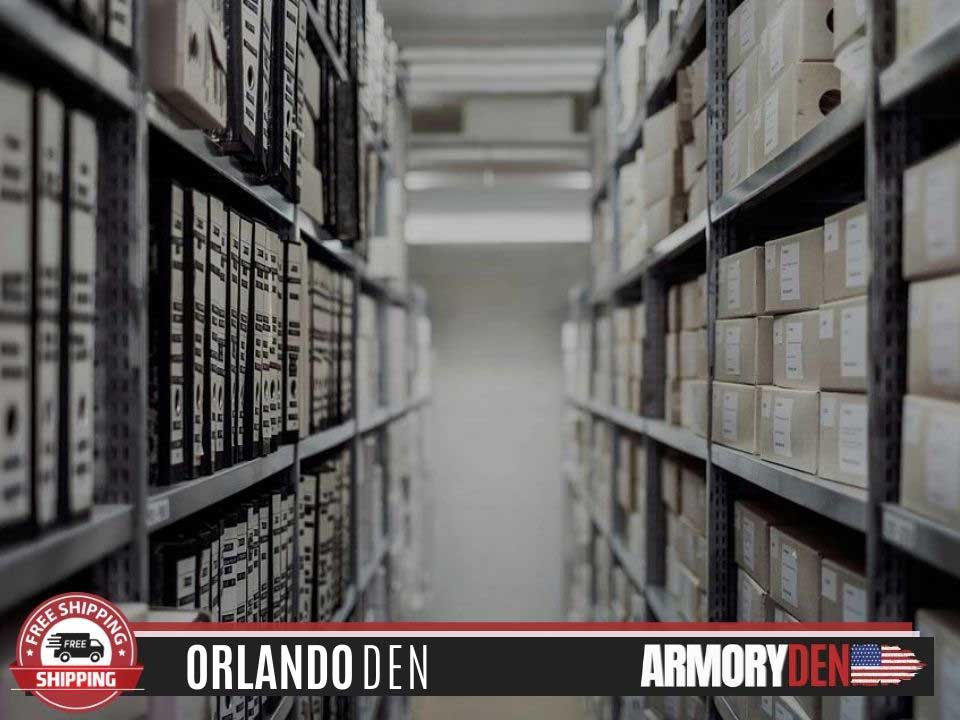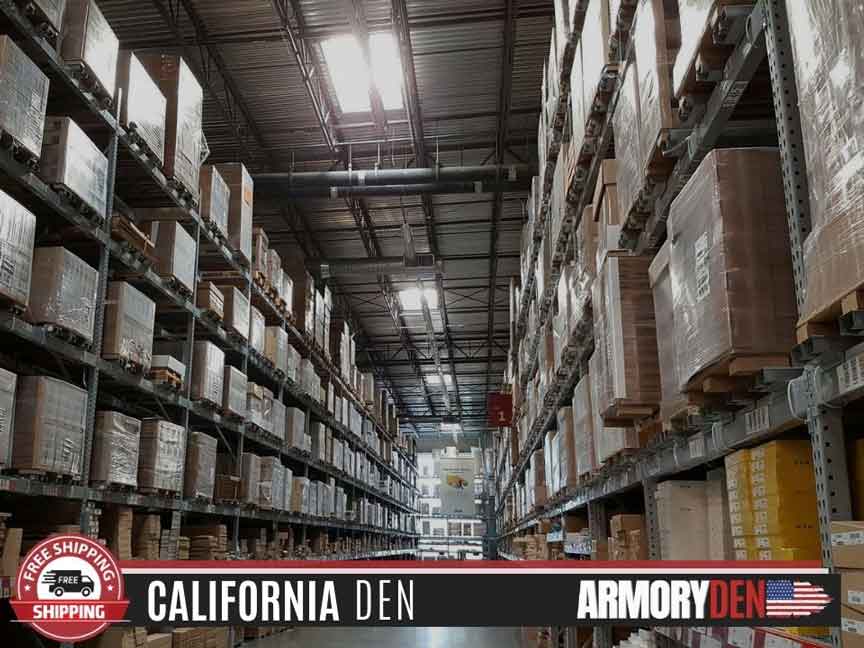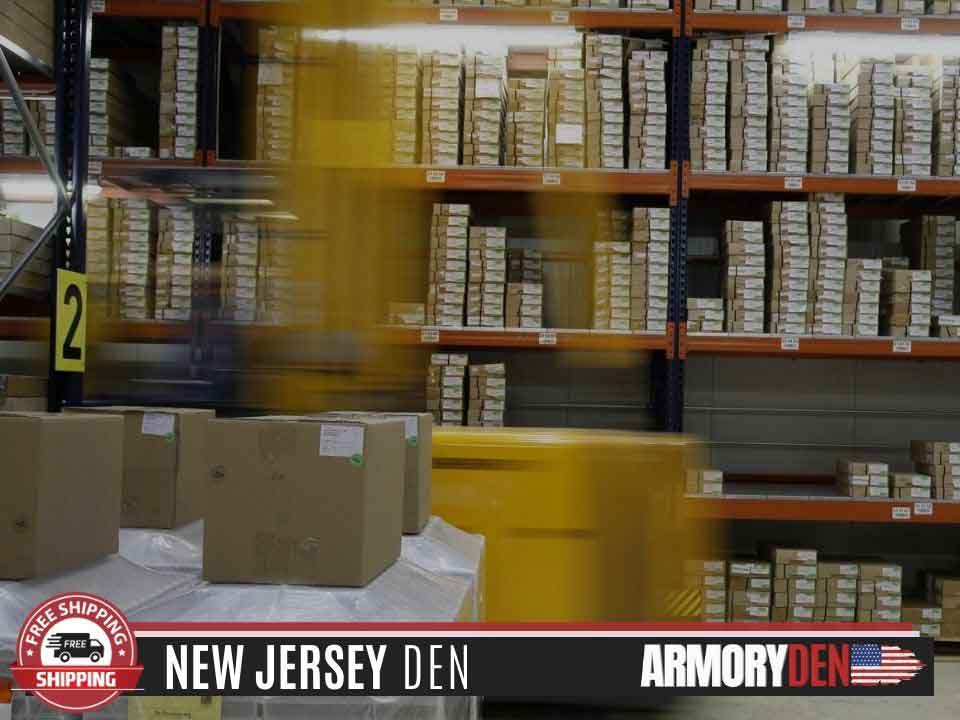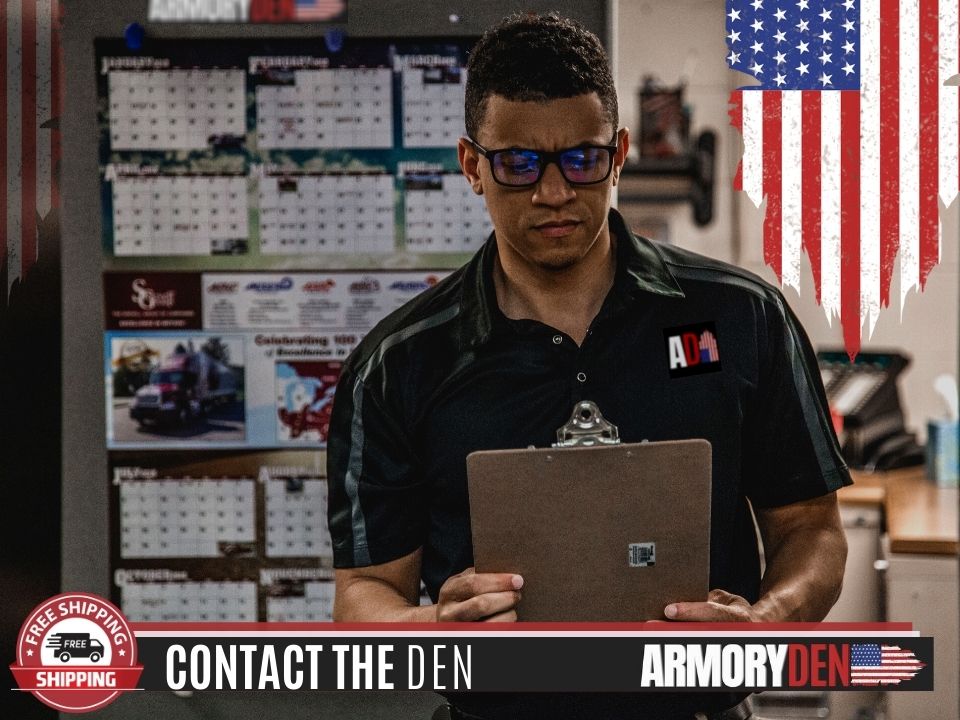 Have questions? Submit the form below and our staff will get back to you soon. Armory Den is an american made company.
Please fill out the form below to learn more about our wholesale solutions and bulk order discounts. One of our den representatives will contact you shortly.