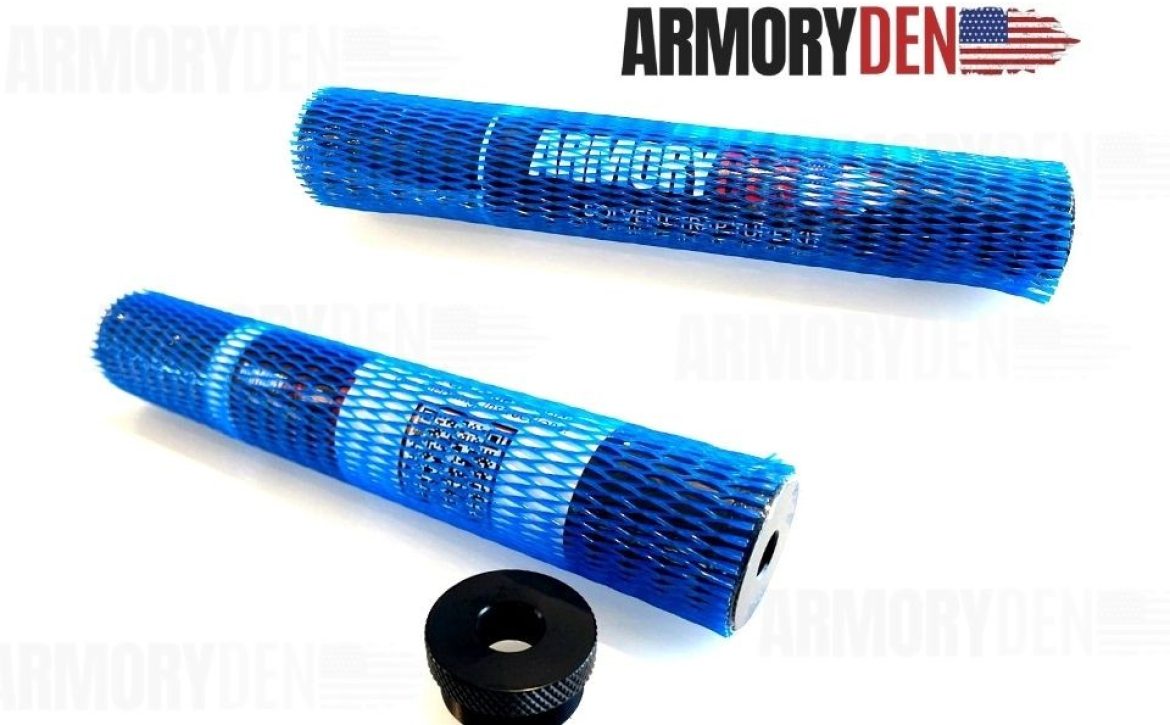 5 Reasons Why We Discourage People to Buy Low Grade Foreign Solvent
Shopping around for solvent traps should be fun because they make life easy, but it is important to be aware of foreign vendors and websites that claim to sell the best quality products at the lowest price. Selling inferior products is one thing, but purchasing from a company who sells them illegally or ill intended is can get you in trouble.
Solvent traps are essential firearm maintenance accessories for firearm owners. The main purpose of a solvent trap is to capture the cleaning solvent from the firearm in a safe, effective, and efficient manner. The best quality solvent traps are reliable solvent traps and when it comes to design, they are actually quite easy to use.
Here are the top 5 reasons we discourage people from buying unvetted foreign solvent traps.
Illegal Products
Solvent traps are cleaning accessories, and there is no way a bullet can pass through them. However, you may be deemed to have committed an act of felony if the solvent trap has been altered or modified in any form that can be used for illegal purposes. Purchasing this illegal product means that you may have to take full responsibility for your actions. Since the manufacturers are overseas, they can't be held accountable.
The ATF governs the rules and regulations of anything related to firearms and accessories on a federal level. The ATF doesn't care about the overseas manufacturers; they are only interested in the individual who purchased it.
Poor Quality Products
Poor quality is one of the most common reasons why you should avoid buying a foreign solvent trap. Most of the foreign solvent traps are mixed with low-quality metal composites. As a result, these devices may not function as intended and can be significantly compromised. They can malfunction and cause harm to you or damage your firearm. For instance, most of these foreign solvent traps don't have anti-corrosion properties – at best, they will only work for a short duration, and you will end up having to purchase replacements regularly.
If you purchase your solvent trap from a reputable company, you get one that is less susceptible to corrosion, improving its productivity and durability. Quality solvent trap materials such as titanium, aluminum, and stainless steel are durable materials, and you can use them for an extended period of time. They are also resistant to chemicals.
Most Foreign Solvent Manufacturers are Noncompliant
By now, you should know that there are strict regulations concerning solvent traps. Unfortunately, foreign solvent trap manufacturers don't know or care about these rules and regulations. In fact, laws regarding solvent trap use vary by state. For instance, (with an approved form 1) Virginia allows you to use a modified solvent trap for things like hunting, whereas it is considered a felony in Hawaii and prohibited in California. Foreign solvent trap manufacturers don't care about compliance or you; they just want to sell their solvent traps, which can get you into trouble.
Fortunately, Armory Den sells solvent traps strictly for cleaning. So it is  important all solvent traps sold by our company are legitimate and legal in order for firearm owners to use them them for routine firearm mainteince without concern. Reputable solvent trap vendors like Armory Den sell solvent traps as reliable firearm accessories.
Products Don't Guarantee Safety and Reliability
Cleaning your firearm frequently can improve its performance and enhance reliability and safety. One of the major benefits of using a solvent trap is that it helps contain the cleaning solution to prevent leaking and contact with your skin. Many firearm cleaning solutions contain toxic and harmful ingredients that, while they are effective, can be harmful if not handled properly.
A high-quality solvent trap can help protect the user from this risk. In contrast, with foreign solvent traps, there is a higher risk that they won't be able to sufficiently contain the cleaning solution, which means there is a higher chance that you will be exposed to toxic chemicals.
Most Foreign Solvent Trap Manufacturers Don't Have a Return Policy
When dealing with foreign solvent trap manufacturers, selling is a one-way ticket, and they don't account for international returns. Since the industry is not well regulated, and most manufacturers sell in the black market, they hardly think about a return policy. If you see a foreign solvent trap manufacturer that has a return policy, you may be responsible for a hefty return shipping fee, a huge restocking fee, or a long wait for a credit.
We understand that you want to save money. But while it seems harmless to buy a lower quality product from overseas, it is rarely the case with firearms and accessories. You could be placing yourself at risk when you purchase a foreign solvent trap.
Fortunately, you can purchase completely legal and high-quality solvent traps from reliable vendors such as Armory Den. We provide superior products, long-term value, and great customer service. Plus, we stock solvent traps that withstand the most stringent uses because we use premium materials. Every solvent trap sold by us is proprietary, so beware of replicas that use low-quality materials marketed as premium products.
References
https://www.ice.gov/investigations/astp/faq
https://www.bigtimedaily.com/armory-den-cleaning-guide-solvent-trap-firearm-cleaning/
https://www.reddit.com/r/NFA/comments/iqb9nd/solvent_traps/
https://www.cbsa-asfc.gc.ca/publications/dm-md/d19/d19-13-2-eng.html