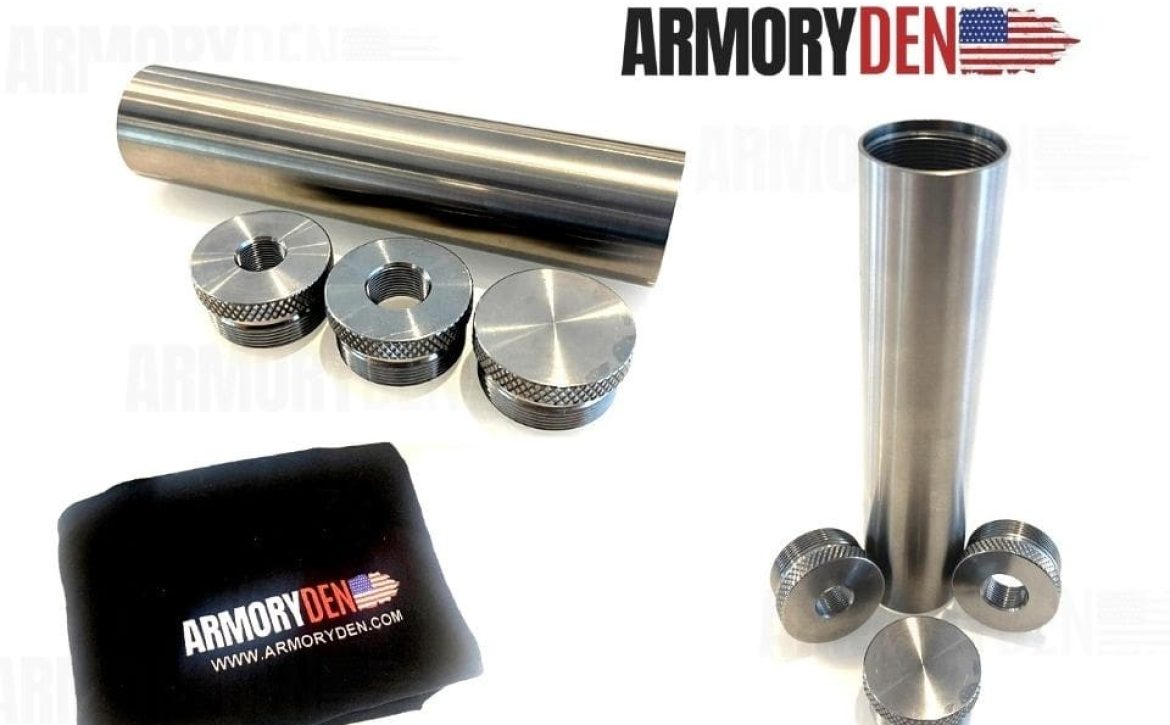 Aluminum vs. Titanium Solvent Traps: Which One to Choose?
It can be hard to know which solvent trap to choose when looking for a way to clean your firearms. Aluminum solvent traps are a popular choice, but titanium solvent traps have been gaining popularity lately within the firearms community.
Both have their pros and cons, but which one should you choose for your needs? Here's a breakdown of both solvent traps so you can properly decide which one is better suited to your needs.
But before we get into that, here's an overview of solvent traps for those unfamiliar with the term.
A solvent trap is a device that is used to capture volatile organic compounds (VOCs) and other pollutants before they escape into the atmosphere. But more importantly, it's a device used to trap firearm cleaning solvent during firearm cleaning operations allowing the solvent to be reused or disposed of properly.
Solvent traps are often used by gunsmiths, hobbyists, and other professionals who work with firearms. They typically have a threaded end that is attached to the threaded barrel of the firearm.
When cleaning firearms, the intricate structures in a solvent trap capture debris from the firearm while allowing the solvent to flow through a hole until it reaches the cup at the bottom. This feature allows firearm owners to clean their weapons without creating a mess in the process.
There are various types of solvent traps. However, for the purpose of this post, we will be looking at the two main types.
Aluminum Solvent Traps
Titanium Solvent Traps
Of the two types of solvent traps mentioned, aluminum traps are the most common type. They are usually made from stamped or extruded aluminum which is then transformed into various sizes and shapes.
They also have a large internal diameter, making them ideal for cleaning large firearms. Plus, because of the lightweight nature of aluminum, they are very easy to transport and use in a variety of situations.
Aluminum solvent traps are inexpensive and easy to make, but they have a few drawbacks. One is that they can be easily damaged if not handled properly. They are also susceptible to corrosion, which can shorten the life of the solvent trap. Moreover, aluminum solvent traps tend to clog up more quickly than titanium solvent traps, requiring more frequent cleaning.
Overall, aluminum solvent traps are a good choice for those looking for an inexpensive option that is easy to use and relatively durable. However, they may need to be cleaned more often than titanium solvent traps.
They are lightweight.
They can be easily transported.
They are inexpensive.
They are suitable for large firearms.
They are easily dented, scratched, or damaged.
They are susceptible to corrosion and wear.
They clog up faster than titanium traps
Titanium solvent traps are becoming more popular within the firearms community. They are made from durable titanium or titanium alloy, making them stronger and more durable than their aluminum counterparts.
Titanium solvent traps also have a number of advantages over aluminum solvent traps. For starters, they are resistant to corrosion and wear, so they will last longer. They are also less likely to clog up, making them a good choice for those who need to clean their firearms frequently.
However, titanium solvent traps have some disadvantages: they are heavier than aluminum solvent traps, are not as readily available as aluminum solvent traps, and have a smaller capacity than aluminum solvent traps.
Overall, titanium solvent traps are more expensive than their aluminum counterpart, offering superior performance and durability.
They are strong and durable.
They are resistant to wear.
They can withstand corrosion.
They are suitable for frequent firearm cleaning.
They are less likely to be damaged, scratched, or dented.
They are heavier.
They are more expensive than aluminum solvent traps.
Which is Best? Aluminum or Titanium?
Ultimately, deciding which solvent trap to choose comes down to personal preference. Both aluminum and titanium solvent traps have their advantages and disadvantages, so it is up to the individual to decide which one is best suited to their needs.
However, here are a few general guidelines to help you in your selection process:
If you are looking for an affordable and lightweight solvent trap, then aluminum is the best option.
If you are looking for a more robust and more durable solvent trap that is less likely to be damaged if dropped, titanium is the better option.
Regardless of the type of solvent trap you choose, read and follow the safety instructions carefully to avoid any accidents.
Importance of Solvent Traps
Solvent traps are an essential tool for firearm owners and the environment at large. By trapping solvents and other chemicals, solvent traps help keep these materials out of the environment. This is important because these chemicals can be harmful to people and the environment.
In addition to their environmental benefits, solvent traps also have several safety benefits for firearm owners. These traps help keep dangerous fumes from escaping into the air by trapping solvents. This makes it safer for gun owners to clean their firearms and reduces the risk of accidental fires.
Moreover, firearm cleaning solvents are relatively expensive, and it would be a shame to see them go to waste after one round of cleaning. By trapping the cleaning solvent, solvent traps act as a safe storage container for expensive cleaning solvents to be trapped and reused.
Overall, solvent traps are an essential tool for keeping our environment safe and our firearms clean. Thanks to their many benefits, solvent traps should be a key part of any firearm owner's toolkit.
The Best Solvent Trap for Your Firearm
The bottom line is that both aluminum and titanium solvent traps have their pros and cons, and it is crucial to choose the right one for your needs. When in doubt,
consult with a firearms expert
like
Armory Den
to help you decide which solvent trap is best for you.