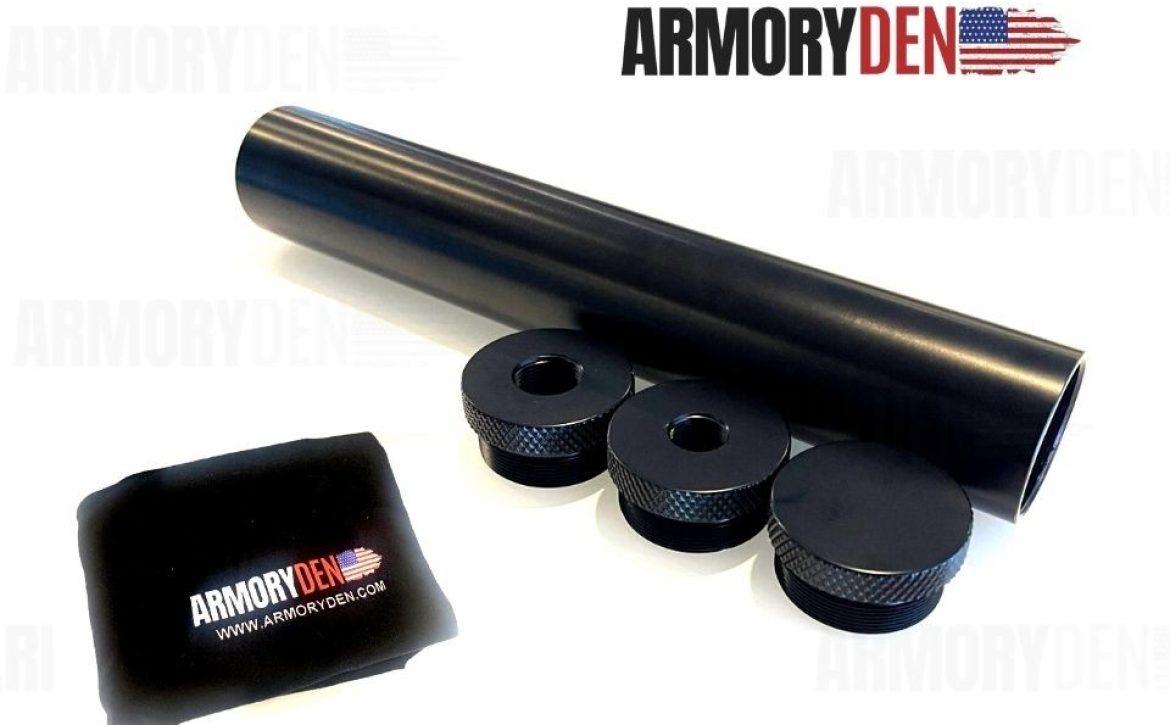 5 Reasons Why You Should Buy Solvent Traps on Armory Den
Solvent traps are legal in any state in the USA. They are not among the regulated items. However, many people believe that since they are associated with firearms, they automatically become a firearm part, bu† they are not…Solvent traps are used for cleaning and thus are deemed a "firearm cleaning accessory". There's a lot of completely false information online that incorrectly leads some people to believe that solvent traps fall under the ATF/NFA regulatory body or the Gun Control Act of 1968.
Regardless, solvent traps have become increasingly popular in the firearm space. The demand for these firearm cleaning accessories is growing in the industry as more people realize their benefits. Cleaning a firearm regularly using a solvent trap could help prevent a messy cleaning process.
Armory Den clearly states the intent for the use of their solvent traps in many areas on its site. This prompts customers to enjoy asking questions about the best products they can use to clean their firearms. Firearm owners love a chat about their machines, and cleaning is a fun topic.
A US-based company supporting US Veterans and First Responders. It gives firearm enthusiasts the best in cleaning solutions by offering configurable, adaptive, durable, lightweight, and affordable cleaning accessories.
Solvent traps can help firearm owners collect and reuse cleaning fluids later, based on how frequently they conduct maintenance routines. Here are the reasons you should buy solvent traps on Armory Den:
Armory Den Observes Solvent Trap Legality
As a firearm owner, you need to understand that buying a solvent trap is 100% legal, even without a Form 1. However, many restrictions and regulations surround the purchase of solvent traps, which you should be aware of before buying one. For example, firearm owners cannot alter, modify, or redesign a solvent trap into another device.
Users need to understand that a solvent trap is explicitly designed for firearm cleaning. Any modification to the device must be followed by first filing and receiving back from BATEE an approved Form 1. Skipping the restrictions and regulations regarding these devices is an offense, and penalties vary from one state to another.
Only after receiving the approved Form 1 back can one alter a solvent trap. It's a crime to change or modify before obtaining the paid tax stamp. Armory Den understands the legality of buying a solvent trap.
The company warns its clients of altering or modifying any of its products or any other solvent trap for that matter before getting back the approved Form 1. Any person who neglects this warning and does the opposite risks felony charges.
Armory Den Sells Genuine, High-Grade Solvent Traps
Upon shopping for a solvent trap, you can find many websites with links to their blogs. Such links often lead to foreign companies that make low-grade solvent traps. Others even sell illegal solvent trap kits. For example, if you find a website with "spiral-looking" solvent traps, these are illegal and can attract felony charges.
Additionally, some companies lure customers with "fuel filters" when selling their solvent traps. Regardless of the manufacturer's calls, the law is after who made it and who purchased it. Before you enter your shipping address, you need to think twice because once you hit the submit button, you'll be tied to an illegal product.
At Armory Den, you can get only genuine, legal solvent traps. The company doesn't sell illegal solvent traps like Monocore Solvent Traps, storage cups with center marks or dimples. Besides, Armory Den doesn't offer other indications or components that are not intended for use in a firearm cleaning process.
All end caps and storage cups from Armory Den don't include illegal center marks. All solvent traps conform to legal parameters and guidelines. Instead of buying these accessories from shady suppliers overseas, consumers can avoid felony charges by purchasing genuine items from Armory Den.
Armory Den Solvent Traps Are Easier to Use
Solvent traps are designed explicitly for firearm cleaning. The user attaches the device to the threaded end or a firearm barrel to trap the fluids used to clean a firearm. Cleaning a firearm regularly can help boost its performance, improve its safety, and make it more reliable.
Solvent traps from Armory Den are easier to use. With a threaded end, they attach seamlessly to the threaded end of a firearm barrel. While they come in various designs and aesthetics, they also vary in mechanical designs. For instance, when shopping for a steel solvent trap, the user should first understand the mechanical design needed for a specific firearm.
Through Armory Den's "Den Financing" Partners, Sezzle and Afterpay, customer can split their orders into four interest-free payments over six weeks – These vendors have interest based programs as well for credit-based qualifying customers.
The required soft credit check has no impact on the buyer's credit score. It comes with no interest and attracts instant approval decisions. The financing is simple, and buyers need to select an option at checkout. This arrangement is one of the reasons you should buy solvent traps on Armory Den.
Armory Den offers genuine, high-grade solvent traps that are 100% original. The products undergo thorough testing and quality control before releasing them to the public. Additionally, its high-grade products come without any markings or characteristics that would cause their items to be deemed anything other than solvent traps.
Armory Den solvent traps are made for firearm cleaning only. In all its public and private communications, the company is clear that its solvent traps are sold as cleaning products. They are equally used as storage devices, as firearm owners can transport and store solvents, oils, and other cleaning supplies.
Additionally, solvent traps from Armory Den can serve as misfire safety systems, providing a layer of protection during firearm transportation or storage. According to Armory Den's official website, the company currently offers the best prices on the market.
The US-based company offers the best quality solvent traps, firearm cleaning kits, accessories, and other components. With top-notch quality control and a dedicated research team, the company is constantly updating the industry's best quality and the most affordable prices.
For more information about Armory Den solvent traps and other firearm accessories,
click here
.