Learn More
Monocore Solvent Traps Versus Our Solvent Traps
MissionMan
February 13, 2022.
Armory Den = HELL YEA! 🙂 Finally a company who doesn't rip people off. I searched forever for a trap kit that matches industry design and option. Ran into tons of scam sites until now. I bought the 304 Steel Adaptive Trap (10" inch) and that was on a Friday. That same night or the next day they already had USPS label from Florida and it shipped out that same day! Armory Den is the best site out of all the knock off scams or just plain fraudulent sites claiming to sell traps. Everything from their shipping to the transparency of sells via Stripe payment, keeps reputation in the front seat. Thank you whoever runs Armory Den. You are doing so many people favors. Your prices are cheapest along with design and materials offered. Its China that makes knock offs and Armory Den DONT PRODUCE OR SELL THAT GARBAGE. (P.S. stay away from Solvent Traps Direct).
Frankie
December 17, 2021.
Amazing! Absolutely thrilled with the level of customer service. Anytime I had a question they respond very quickly and always answer my questions completely. I love their packaging. While it may be somewhat difficult to get to their products through all the packaging, I really appreciate that they take the time to properly wrap their products. I feel like this attention to detail would protect my order if the delivery person were to leave it where it could get rained on or left in the weather. The packaging is amazing, and I will continue to return as a customer.
Mike S.
December 11, 2021.
Outstanding on all fronts Great company! I am 110% satisfied with my experience. The ordering process was easy and secure. The package arrived 3 days early by USPS. The product was extremely well-packaged: outer bubble envelope, inner bubble wrap, a box, and the individual pieces were separated and secured within holes in foam material. The trap itself is very well constructed as advertised. I'm glad I paid the extra $$ for a high quality product rather than risk with a random internet company just out for sales. Also customer service responds within hours and is extremely responsive—they have actual humans interacting with you! Will use again. Thx!
Adam Carruth
June 19, 2021.
custumer of Armory Den for life. where do i start, well for one thing these people have custumer service covered on a legit level. the best hands down communication with me then any company has ever had. up until my first purchase amazon had that on lock. but Armory Den has them beat. And if your skeptical of the quality of material or machining. one time is all it will take for you to truely trust that every single purchase you make with them will be the best you can buy. The best business and people you will ever spend money with. I am a customer for life and that is a fact! truely greatful for a business that actually cares about the people they do business with. thanks yall god bless you!! Adam Carruth
William Patterson
May 25, 2021.
Solid from website to my hand, top shelf As I shopped for the product, I kept returning to the Den website. Descriptions are clear, lots of good information, very good value. Ordering is simple, terms are straightforward. I had special shipping instructions, followed perfectly. Secure packaging. The trap is well machined, fits tight, and is nicely finished. The hand-feel has heft and is of quality. Extra care at every step. Thanks.
Great experience Great experience
They did the right thing! Let me just start with Thank you Armory Den! What exceptional customer service! Their response time to emails, is faster response time then the police department has where I live for 911 calls lol j/k. Seriously, they answered me on Sunday, morning and afternoon. No company does that! Also, I asked about a part I thought came with my order. I was ready to pay for it, nope, they sent them to me for free, and shipped on a Sunday! No one does that! I'm a customer for life! I even canceled an order I had with another company, just so I can buy from ARMORY DEN! My business motto is "always do the right thing l, no matter what" they obviously follow it also!
This company is the real deal I was a little skeptical about ordering honestly. I hadn't heard much about armory den and could only find good reviews lol. But I took a chance and put through an order. Everything arrived as described and is awesome. Be aware that you may receive multiple shipments based on what you order. These guys respond fast and from what i have seen, produce quality products. They have my future business. I've put up similar reviews and given a recommendation on their FB page.
Michael Whitehurst
February 14, 2021.
Great experience Great experience. Product can exactly on time, as expected. Very pleased with product. Very well engineered and good quality. Customer service is excellent. Answered all questions quickly and very informative about products. Will definitely be ordering more in the future
Modular Solvent Traps vs. Monocore Solvent Traps
At their most basic level, solvent traps are simple in deisgn and easy to assemble and use. The important thing is know is what company to purchase from and what to avoid. You may comes across a store calling their products traditional cup solvent traps or modular solvent traps, or even monocore solvent traps. Other try to sell automotive fuel filters and automotive parts. If you are looking for solvent trap cleaning kit, are you really going to by automobile parts?
At Armory Den, we only sell high grade firearm cleaning accessories that are realible and dependable.
Solvent Trap Beginnings...
Initially, solvent traps were made from 6061 T6 or 7075 Aluminum which consisted of a tube, end cap, and a thread protector.
Actually, these solvent trap tube kits are still a very popular type of solvent trap kits.
However, the demand for different materials, adapters and sizes created a market that innovative CNC machine shops have happily supplied.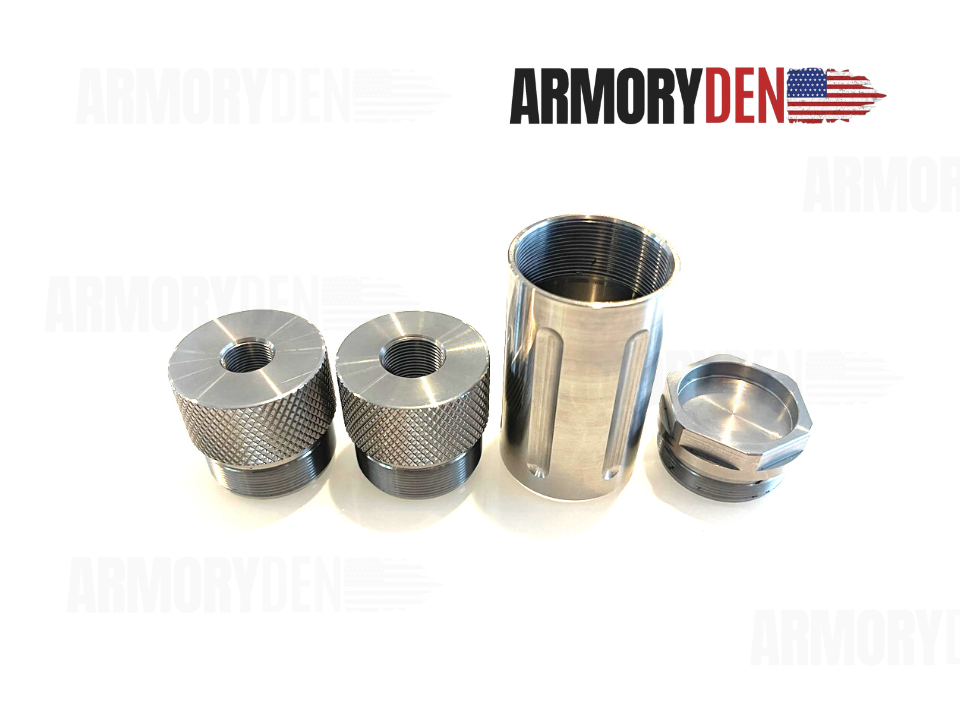 Solvent Trap Design And Preferences
Someone coming across this article that is new to the 'solvent trap' universe may ask why there would such a large demand for various solvent trap materials such aluminum and titanium?
Solvent trap kits are solvent trap kits can be used for firearms cleaning or dry storage. We offer different types of solvent traps to give our customers the option based on factors they choose to use in their decision making process and sometimes it's just based on preference. It's really quite simple. We have grade 5 titanium solvent traps and 7075 aluminum solvent trap kits that differ in length.
Let's say you clean your firearms often. Actually you clean multiple firearms and you want a product that will be long-lived even with constant threading on and off a metal barrel. You happen to like one product over another due to anti-corrosive properties and price is of no concern. You don't need the lightest product, but you do care about durability, then maybe titanium is a good fit for you.
Maybe you are in the market for a cost-effective solvent trap that you plan to use occasionally for cleaning. You want the product to be reliable but you don't need the strongest solution out there, but you do want something you can easily turn into a storage device for your hiking trips that will fit conveniently in your bag, then maybe a 6 inch or 8 inch aluminum solvent trap might be best.
At the end of the day, a solvent trap will help you clean your firearm efficiently as long as the thread protector matches the thread pattern of your barrel, and they can all be used for storage, or dry storage with the purchase of an additional end cap. Other factors might be what firearm you are cleaning, or solely based on the a nice polished finish or anodized finish. Many people will make their decision soley of aesthetics. What store only sells one type of T-shirt in one varition? How boring would that be?
The point is, if you are looking for something to help you clean efficiently or for storage purposes, or both – choose whats best for you. There are many that want/need the 'best of the best' when it comes to design and material, so this segment of the solvent trap market demand is definitely a factor too.
If a company only offers one type of product, then it doesn't give your customers much of an option which leads to poor experience. The question is, if you clean your firearm regulary then why wouldnt you want to use a solvent trap to clean as opposed to not using one?
What To Know About Our Solvent Traps
A solvent trap is a device used to catch and contain solvent and residue during firearm cleaning. Here, we are going to focus on the legitimate benefits of using a solvent trap for firearm cleaning purposes:
Contain and collect solvent: Solvent traps are designed to capture and contain cleaning solvents used to clean firearms, preventing them from spilling onto surfaces or harming the environment. This makes the cleaning process more organized and environmentally friendly.
Reusable and cost-effective: They are typically made from durable materials such as aluminum or stainless steel, making them reusable for many cleaning sessions. By using a solvent trap, firearm owners can save money on disposable cleaning supplies over time.
Easy disposal: When product is saturated with residue and solvents, it can be safely and easily disposed of according to local regulations. This reduces the risk of environmental contamination compared to disposing of cleaning solvents directly.
Reduced exposure to harmful chemicals: When cleaning firearms, shooters are often exposed to various chemical solvents that can be harmful if inhaled or come into contact with the skin. A solvent trap helps minimize direct exposure to these chemicals, promoting safer cleaning practices.
Maintenance of shooting area cleanliness: Using a solvent trap helps keep the immediate area where firearms are cleaned cleaner and free from solvent spills, which can be messy and difficult to clean up.
Prevent fouling accumulation: They can also be useful for catching fouling and debris during the cleaning process, which can accumulate in the trap rather than being left on surfaces or falling into hard-to-reach areas of the firearm.
Travel Size Storage: Solvent traps can easily double as a storage solution for travel, camping, hiking or any type of transport.
Essential Dry Storage: The tube can be quickly and conveniently turned into a dry storage solution with two end caps by sealing both ends.
It is essential to note that the use of a solvent trap should only be for its intended purpose of capturing cleaning solvents and debris during firearm cleaning. Misusing or converting a solvent trap without proper authorization is illegal and can lead to serious legal consequences. Always comply with local, state, and federal laws regarding firearm accessories and modifications.
Monocore Solvent Trap Questions And Caution
So what's the deal with a monocore solvent trap?
Monocore solvent traps started popping up on foreign websites disguised as 'car cleaning parts' for trapping solvent during car repairs. One major problem with ordering monocore solvent traps from Chinese suppliers is that you are very likely purchasing a product with questionable quality and diluted metals. Think about it…unless you have tools that allow for the testing of metals or are a chemist, would you really know if you received T6 6061 vs 7075 Aircraft Grade Aluminum?
Not to mention, many overseas vendors claim Type III Hard Coat Anodizing but the actual product is painted with matte or paints one would buy at a hobby store. Honestly, you are lucky if the product purchased from a Chinese seller even arrives at your doorstep, considering the high seizure and loss rates.
Another problem with ordering monocore solvent traps off from unvetted suppliers off Aliexpress is that it is easy to place an order, but many don't know they may be unintentionally importing an unregistered suppressor. If you are looking to clean your firearm, just choose a legitamate company who sells solvent traps for their intended purpose and who provide products guides on how to use them properly.
The Firearms and Ammunition Technology Division (FATD) of the NFA has strict rules and regulations when it comes to what they deem a suppressor. For instance, there are many solvent trap manufacturers that product solvent trap product with index marks. There is no purpose for a solvent trap to have parts that are indexed.
Regulators of the firearms industry used to go after all types of items, using "Constructive Intent" as the legal tool. In the eyes of the NFA/BATFE, certain features are considered to show some form of intent, including metadata and how products are marketed, but again this is a topic with limited to no reliable and publicly available information. It also depends on express intent, from a supplier or solvent trap vendor point of view.
If there are no signs of constructive intent on a solvent trap kit, but the company selling them advertises them as Form 1 Kits or do it yourself suppressors, then the express intent of the sale is for them to be converted. It is important to know this when shopping around for a firearm cleaning solution because you don't want to be caught up in a situation when innocently shopping online. It's suppose to be a fun experience, not a unexpected nuance.
This is what makes Armory Den different! We know the importance of cleaning firearms and keeping firearms clean for reliability and safety.
Are Solvent Trap with Index Marks Legal?
As a legally operated business, we have always considered index marks to be illegal in our eyes as they serve no purpose to our the intended purpose of our solvent traps. When it comes to monocore solvent traps, they have a single baffle and most of them have a hole bored through the entire baffle. This type of solvent trap does not fall in line with our goals as being a top solvent trap supplier for cleaning and dry storage solutions.
Armory den sells solvent trap cleaning kits to improve efficiency, safety, reliability, and overall performance of your firearm. If you want to learn more about our solvent trap kits or configurable dry storages solutions, there are
5 Things you Need to Know About Solvent Traps
.




Guaranteed Customer Satisfaction.
Our 5 star customer reviews published on various sites such as Trust Pilot, reflect our ability and drive in bringing only the best solvent traps and parts while providing top-notch customer service! Our goal is to exceed all expectations!
Quit overpaying for solvent traps or worse, overpaying for inferior products! We keep the best aluminum solvent traps, titanium solvent traps, and stainless steel solvent traps in stock at all times. If you're still looking for a reliable solvent trap products you came to the right place!




Have questions? Submit the form below and our staff will get back to you soon!