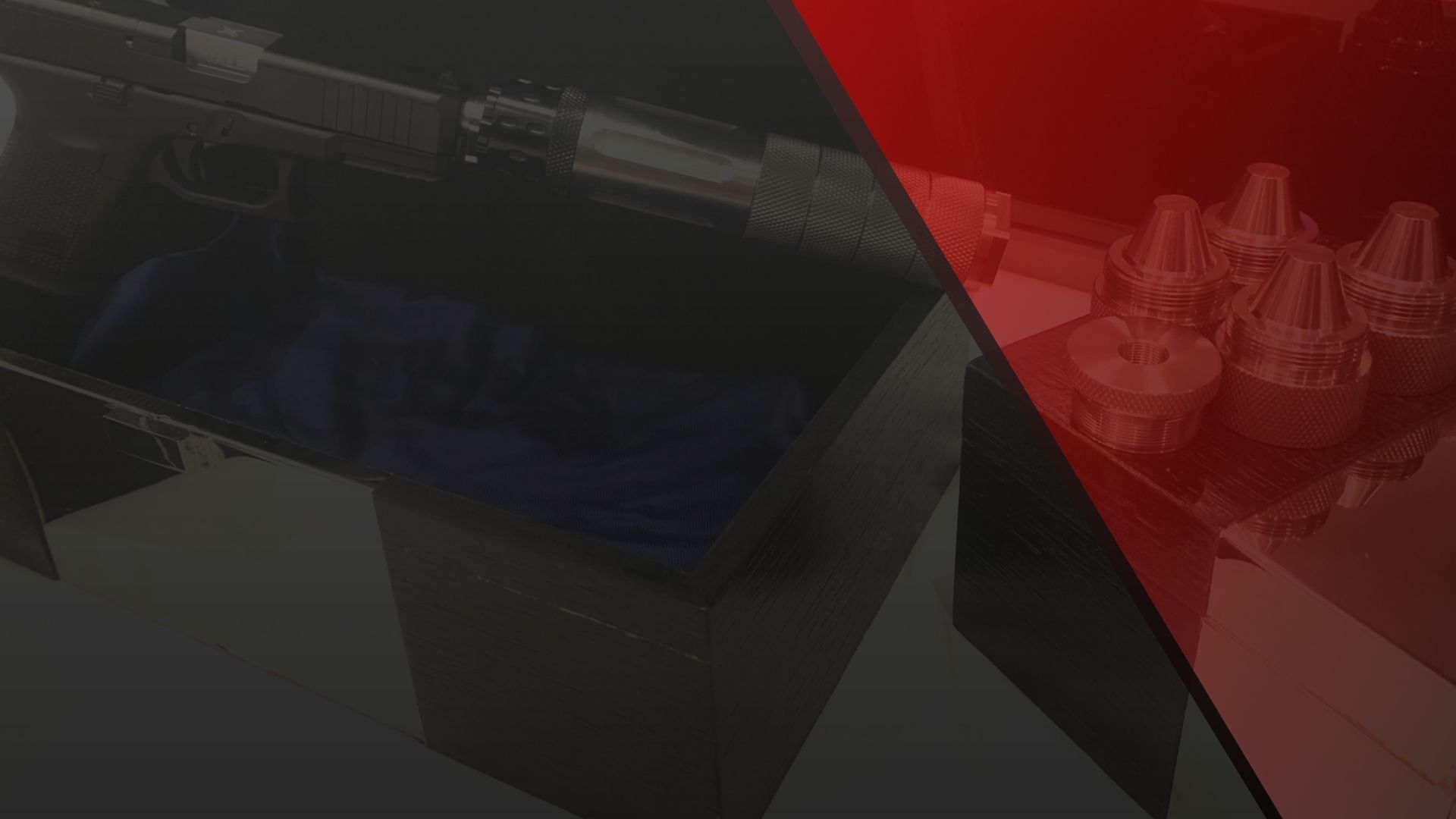 Learn More
Monocore Solvent Traps Versus Our Solvent Traps
MissionMan
February 13, 2022.
Armory Den = HELL YEA! 🙂 Finally a company who doesn't rip people off. I searched forever for a trap kit that matches industry design and option. Ran into tons of scam sites until now. I bought the 304 Steel Adaptive Trap (10" inch) and that was on a Friday. That same night or the next day they already had USPS label from Florida and it shipped out that same day! Armory Den is the best site out of all the knock off scams or just plain fraudulent sites claiming to sell traps. Everything from their shipping to the transparency of sells via Stripe payment, keeps reputation in the front seat. Thank you whoever runs Armory Den. You are doing so many people favors. Your prices are cheapest along with design and materials offered. Its China that makes knock offs and Armory Den DONT PRODUCE OR SELL THAT GARBAGE. (P.S. stay away from Solvent Traps Direct).
Frankie
December 17, 2021.
Amazing! Absolutely thrilled with the level of customer service. Anytime I had a question they respond very quickly and always answer my questions completely. I love their packaging. While it may be somewhat difficult to get to their products through all the packaging, I really appreciate that they take the time to properly wrap their products. I feel like this attention to detail would protect my order if the delivery person were to leave it where it could get rained on or left in the weather. The packaging is amazing, and I will continue to return as a customer.
Mike S.
December 11, 2021.
Outstanding on all fronts Great company! I am 110% satisfied with my experience. The ordering process was easy and secure. The package arrived 3 days early by USPS. The product was extremely well-packaged: outer bubble envelope, inner bubble wrap, a box, and the individual pieces were separated and secured within holes in foam material. The trap itself is very well constructed as advertised. I'm glad I paid the extra $$ for a high quality product rather than risk with a random internet company just out for sales. Also customer service responds within hours and is extremely responsive—they have actual humans interacting with you! Will use again. Thx!
Adam Carruth
June 19, 2021.
custumer of Armory Den for life. where do i start, well for one thing these people have custumer service covered on a legit level. the best hands down communication with me then any company has ever had. up until my first purchase amazon had that on lock. but Armory Den has them beat. And if your skeptical of the quality of material or machining. one time is all it will take for you to truely trust that every single purchase you make with them will be the best you can buy. The best business and people you will ever spend money with. I am a customer for life and that is a fact! truely greatful for a business that actually cares about the people they do business with. thanks yall god bless you!! Adam Carruth
William Patterson
May 25, 2021.
Solid from website to my hand, top shelf As I shopped for the product, I kept returning to the Den website. Descriptions are clear, lots of good information, very good value. Ordering is simple, terms are straightforward. I had special shipping instructions, followed perfectly. Secure packaging. The trap is well machined, fits tight, and is nicely finished. The hand-feel has heft and is of quality. Extra care at every step. Thanks.
Great experience Great experience
They did the right thing! Let me just start with Thank you Armory Den! What exceptional customer service! Their response time to emails, is faster response time then the police department has where I live for 911 calls lol j/k. Seriously, they answered me on Sunday, morning and afternoon. No company does that! Also, I asked about a part I thought came with my order. I was ready to pay for it, nope, they sent them to me for free, and shipped on a Sunday! No one does that! I'm a customer for life! I even canceled an order I had with another company, just so I can buy from ARMORY DEN! My business motto is "always do the right thing l, no matter what" they obviously follow it also!
This company is the real deal I was a little skeptical about ordering honestly. I hadn't heard much about armory den and could only find good reviews lol. But I took a chance and put through an order. Everything arrived as described and is awesome. Be aware that you may receive multiple shipments based on what you order. These guys respond fast and from what i have seen, produce quality products. They have my future business. I've put up similar reviews and given a recommendation on their FB page.
Michael Whitehurst
February 14, 2021.
Great experience Great experience. Product can exactly on time, as expected. Very pleased with product. Very well engineered and good quality. Customer service is excellent. Answered all questions quickly and very informative about products. Will definitely be ordering more in the future
Modular Solvent Traps vs. Monocore Solvent Traps
At their most basic level, solvent traps are very simple and basic in design.
But there is a huge demand for this basic item and as of this writing, the demand has been amplified by recent record firearm sales. There are three main types of solvent traps on the market: Traditional Cup Solvent Traps, Modular Solvent Traps and Monocore Solvent Traps. This list only includes solvent traps made specifically for firearms and does not include homemade solvent traps, such as those made from automotive fuel filters and other automotive parts.
Adaptive Solvent Trap™
Best Sellers
Solvent Trap Beginnings...
Initially, solvent traps utilizing a 6061 T6 or 7075 Aluminum tube, a sealed end cap, a threaded end cap and several aluminum or stainless steel cups (depending on the length of the tube), were by far the most popular.
Actually, solvent trap tubes and cups are still a very popular types of solvent trap configurations.
However, the demand for different materials, cup styles and end cap adapters has created a market that innovative CNC machine shops have happily supplied.
As mentioned above, the solvent trap market started with basic aluminum materials and cup designs. Many of the earlier solvent traps were converted from Maglite tubes. Firearm owner's would remove the flashlight parts and then seal or weld the flashlight button hole shut. Furthermore, the side with the lightbulb would be replaced with a sealed end cap, and the opposite end was fitted with a threaded end cap. Then there were other final touches which were popular,  prior to the knowledge of storage cups. Storage cups or dividers come with solvent traps. These products are nothing more than firearm cleaning accessory.
Eventually, freeze plugs were replaced by users who found out about solvent trap storage cups.  The standard measurements for the Maglite were based off battery size. The "DIY" market began creating step-by-step guides and video tutorials, then they would post them on their websites for educational purposes, and reference the Maglite battery size that was being used. Some preferred a smaller builds such as the B-Cell Maglite, and others preferred a larger build which would be the D-Cell. Then there were others who preferred a diameter between these two, and would go with a C-Cell. A-Cell sized kits were highly sought after too…
Next came the CNC milling companies armed with machines and CAD design software who saw a new market opportunity. These companies machined tubes, along with cups and end caps that had much better fits than the DIY Maglite alternatives. This created more opportunity because there was a huge demand for stronger materials such as stainless steel, and stronger and lighter materials such as titanium. In reality, these companies were simply creating firearm cleaning accessories which have been around for years, but with a different intent, unlike our intent.
Someone coming across this article that is new to the 'solvent trap' universe may ask the following question:  "why would the solvent trap market  have such a large demand for custom cup designs and materials stronger and lighter than aluminum, such as titanium?"
Well, many use solvent traps for trapping solvent, so it does not spill all over the place when cleaning their firearms.  Some purchase higher grade solvent traps to clean their firearms and like the look of certain designs, aesthetically pleasing or for sure novelty. There are many that want/need the 'best of the best' when it comes to design and material, so this segment of the solvent trap market demand is definitely a factor too. But the largest portion of demand that spurred further innovation in the solvent trap market is attributed to the ATF Form 1 Process. Heck, many in the solvent trap industry may venture to say the ATF is the biggest marketer or customer of existing solvent trap companies.
What To Know About Solvent Traps
When purchasing a serialized NFA item from a Class III Firearms Dealer, it is done through the ATF Form 4 Process. Class III manufacturers such as Gemtech, YHM, Osprey and OSS manufacture and serialize suppressors. These NFA items are then sold by Class III dealers. Customers purchase these serialized NFA Items as individual's, corporate entity's, or through through an
NFA Trust
through filling out an ATF Form 4 with the Class III dealer… customers' pay for their NFA item, and normally with the help of the Class III dealer, they submit a $200 tax stamp payment with their application. Upon approval, they can go pick up their NFA item. As of this writing, average wait times are about 12 to 16 months, up from 6-9 months during preceding lower demand years. We are explaining this process for educational purposes and also to explain the issue below when purchasing a monocore solvent trap – Armory Den sells solvent traps for cleaning only and our disclaimers can be found throughout our site. Armory Den does not recommend and urges against the modification of our items, which will also void any future customer support and return/exchange opportunities.
Now that covers the Form 4 Process, but what about a Form 1? Completing a ATF Form 1 is something that you can do yourself, it was created for individuals or individuals via a trust or business entity, to manufacturer and serialized a firearm or similarly pre-serialized item. The goal being, for the item to be serialized, the goal by the ATF of course, through the NFA is oversight and registration (they know exactly who has what when it comes to any Form process). The Form 1 Process has become very popular because it allows individuals to legally build and own their own suppressors along with other serialized firearms built or manufactured without pre-existing serial numbers. We at Armory Den sell solvent traps as firearms cleaning accessories. We understand though that much of the demand for solvent traps is for the purpose of completing the Form 1 process and converting solvent traps into registered suppressors. That is why we disclaim that we do not recommend this but we do provide the information needed throughout our site on the proper channel to take in order to successfully file a Form 1. Armory Den has a disclaimer multiple times relating to exchange/refund provisions that is as follows: Any modification to any items, including but not limited to its solvent trap cleaning kits, will result in the voiding of not only exchange/refund provisions, but in further customer support on that specific order.
The Form 1 can be sent via hard copy or online via E-file through the Form 1 Efiling area. You complete the details just like with a form 4 but you don't do it through a Class III dealer. You choose a serial number and then send in the completed Form 1 along with the $200 tax stamp payment. Once you have that serial number received from the ATF/NFA stating the Form 1 is approved and active, you are allowed to serialize and complete the item that you sent the Form 1 in on originally.  The reason the Form 1 Process has become so popular is that the Form 4 process takes up to 8 times longer to process. At the time of this writing, a Form 1 can be approved in as little as a few weeks to a month or two, and as mentioned above, the Form 4 can take up to 8 months or longer to be approved.
After and only after receiving an approved Form 1 Application, will be able to complete certain final manufacturing processes, including serialization. Some with machine access and a background in machining may complete the serialization and boring process themselves, others may take the Form 1 approved item to a professional, such as a Class II SOT/FFL 7.  Again, we are informing the public of the facts and the facilities the ATF blatantly has setup to help individuals complete this process legally. Armory Den is a firearm cleaning company ONLY! Even though items may resemble something else, it does not mean that is what the item is. Know when you purchase a solvent trap cleaning system from us, it comes as a cleaning kit and is 100% legal, customers that modify the items in any way are accepting all legal and other forms of liability, per our Terms & Conditions and policies.
Monocore Solvent Trap Questions
So what does this have to do with a monocore solvent trap?
Monocore solvent traps came into the spotlight after solvent trap manufacturers saw an opportunity to meet demand. Many registered suppressors sold by Class III Dealers are designed with a monocore baffle, which is a single baffle as opposed to a multi-baffle or modular-baffle setup. Thus, the issue is that these items resemble NFA items so closely and those interested in purchasing a solvent trap cleaning device should definitely steer clear of them!
Many low cost, poor quality options started popping up on foreign websites disguised as 'car cleaning parts' for trapping solvent during car repairs. One major problem with ordering monocore solvent traps from Chinese suppliers is that you are very likely purchasing a product with questionable quality and diluted metals. Think about it…unless you have machining tools that allow for the testing of metals or are a chemist, would you really know if you received T6 6061 vs 7075 Aircraft Grade Aluminum? Not to mention, many Chinese vendors claim Type III Hard Coat Anodizing but the actual product is painted with matte or paints one would buy at a hobby store. You never want to put a low quality parts on the end of your gun, regardless, just don't take the chance. Honestly, you are lucky if the product purchased from a Chinese seller even arrives at your doorstep, considering the high seizure and loss rates. Not to mention, if seizure occurs by ICE, you may have another problem on your hands.
Another problem with ordering monocore solvent traps off of places like Aliexpress is that you can easily place the order, but many don't know that you may actually be importing an unregistered suppressor.
The Firearms and Ammunition Technology Division (FATD) of the NFA has strict rules and regulations when it comes to what they deem a suppressor. The problem is, the NFA is notorious for having extremely vague and illogical rules that have limited information published publicly, when it comes to the specifics. For instance, there are many solvent trap manufacturers in the United States that produce cups with center markings.
You may be wondering what Center Markings are… Center markings help those that will Form 1 their solvent trap know where to drill the holes. Center markings are viewed as showing "Constructive Intent" in the eyes of the ATF, because the center markings are intended for drilling and thus the ATF views these markings or dimples as 'already drilled' from a constructive intent point of view. This one is obvious to some industry veterans, but new solvent trap startups don't stand a chance. Even many veteran producers or resellers of solvent traps have no clue they are in violation!
Regulators of the firearms industry go after all types of items, using "Constructive Intent" as the legal tool. In the eyes of the NFA/BATFE, certain features are considered to show some form of intent, including metadata and how products are marketed, but again this is a topic with limited to no reliable and publicly available information. It also depends on express intent, from a supplier or solvent trap vendor point of view. If there are no signs of constructive intent on a solvent trap kit, but the company selling them advertises them as Form 1 Kits or do it yourself suppressors, then the express intent of the sale is for them to be converted. Many companies are selling items under the name 'Solvent Traps', but have an intent shown in their item(s) construction and public and/or direct communications, that attempts to circumvent the legal system, this is what makes Armory Den different! We know the importance of cleaning firearms and keeping firearms clean for reliability and safety, this is what we stand for!
Are Solvent Trap Center Marks Legal?
Monocore solvent traps have a single baffle and most of them have a hole bored through the entire baffle. Many believe that because the end cap is still sealed that they are in the clear to own a monocore prior to receiving an approval on their Form 1. The NFA/ATF may view this differently because in theory if a monocore solvent trap is placed at the end of a pistol or rifle and that firearm is discharged, it's very probable that the round will travel through the center of the monocore baffle and exit through the end cap, or blast the end cap right off the tube.
It becomes even riskier when ordering monocore solvent traps from Chinese companies, as it is rumored that they come with open end caps that can be swapped out for sealed end caps. These end caps look like a ring and replace the sealed end cap and essentially convert the solvent trap into a full blown suppressor. Ordering from overseas means they are imported, so now you are not only purchasing an unregistered suppressor, but you are importing one too.
Adaptive Solvent Traps And Solvent Trap Tube Kits Are Great For Cleaning, Storage And More!
We offer modular solvent traps and tube kit solvent traps for the most efficient cleaning there is and we provide guides on how to use them on our product pages. Our Adaptive Solvent Trap have a unique modular design, and they can and Tube Kit solvent traps, but this design is so new that it is no surprise.
Besides being an extremely high quality and versatile solvent trap, it comes with everything you need to adapt to the most popular items that the industry offers. For those that want to direct thread to calibers ranging from 9mm, .22LR, to 6.5 Creedmoor or 30 Cal barrels, we've provided both of the most popular threaded end cap adapters. Other's may want to use a muzzle extension device, muzzle break or QD adapter and that is why we have included the 1-3/16×24" end cap adapter.
Armory Den's 1.57" 7075 Type III Anodized Billet Aluminum Modular Solvent Trap is a good example of a versatile solvent trap, and like all of Armory Den's other solvent traps, it does not have any dimples as it is a solvent trap cleaning system only.
When you order a 1.57" 7075 Billet Aluminum Modular Solvent Trap Kit from Armory Den, you will receive a legal solvent trap kit with a 1/2×28" and 5/8×24" threaded end cap, a 1.1875-24  TPI end cap adapter, a 3" base tube, modular (adaptive) cups and an 'unmarked' sealed end cap. This modular kit Is under 12 oz. in its maximum configuration of 8.25". One of the best things about this solvent trap is that cups |dividers can be removed for a variety of length configurations.
Besides being an extremely high quality and versatile solvent trap, it comes with everything you need to adapt to the most popular items that the industry offers. For those that want to direct thread to calibers ranging from 9mm, .22LR, to 6.5 Creedmoor or 30 Cal barrels during cleaning sessions, we've provided both of the most popular threaded end cap adapters. Other's may want to use a muzzle extension device muzzle break or QD adapter and that is why we also offer the 1-1.375-24 TPI (Male) to 1.1875-24 TPI (Female) adapter.
When it comes to deciding on whether to take the grey area and purchase an inferior monocore or to take the legal route for the intended use of cleaning and purchase a superior Adaptive Solvent Trap with a modular design, that will allow you to improve routine bore cleaning processes, efficiency, safety, reliability, and overall performance of your firearm.
If you want to know more, there are 5 Things you Need to Know About Solvent Traps.




Guaranteed Customer Satisfaction.
Our 5 star customer reviews published on various sites such as Trust Pilot, reflect our ability and drive in bringing only the best solvent traps and parts while providing top-notch customer service! Our goal is to exceed all expectations!
Quit overpaying for solvent traps or worse, overpaying for inferior products! We keep the best Aluminum aluminum solvent traps, titanium solvent traps, and stainless steel solvent traps in stock at all times. If you're still looking for a reliable solvent trap products you came to the right place!




Have questions? Submit the form below and our staff will get back to you soon!