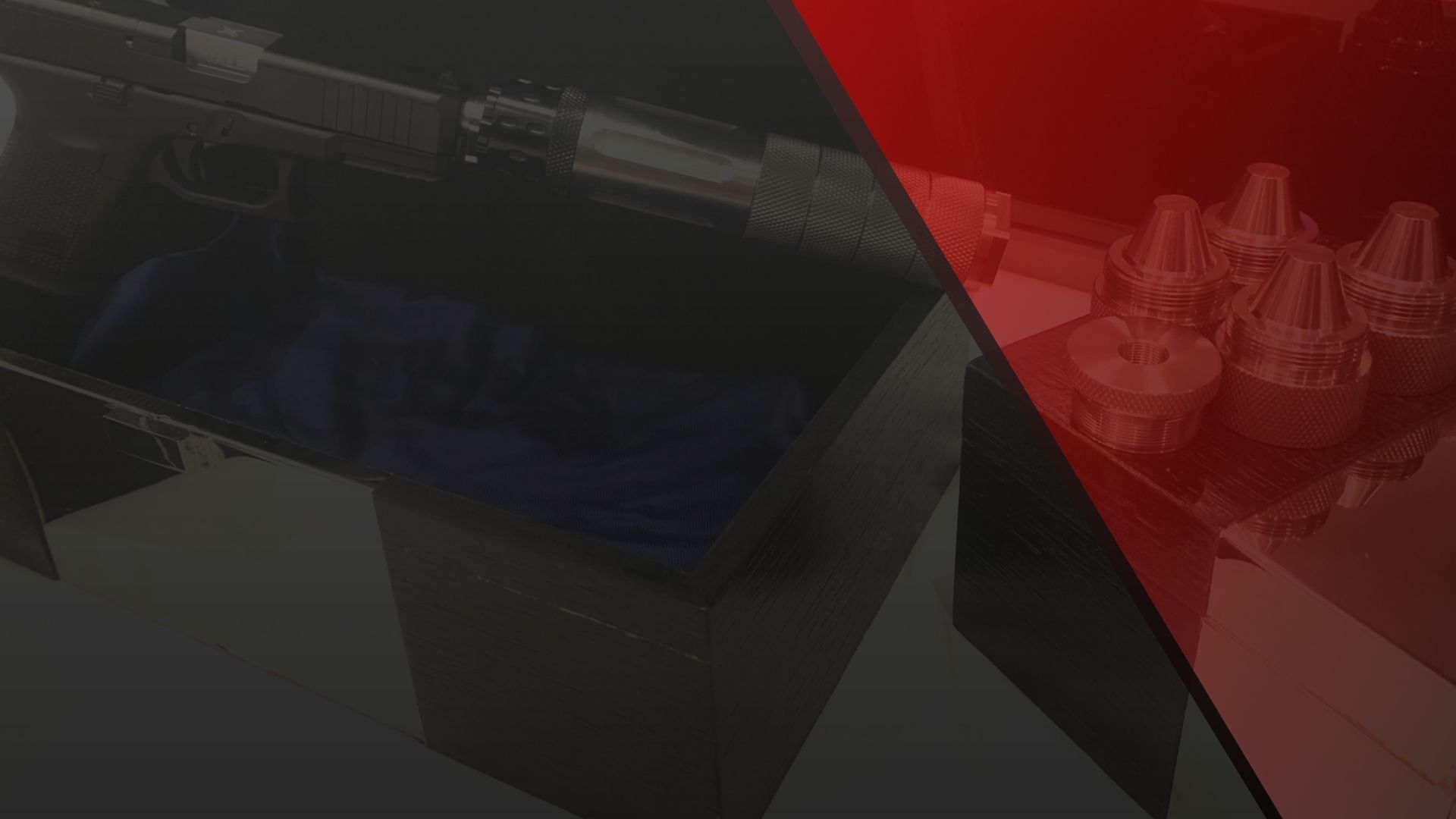 Learn More
What Are 7075 Aluminum Solvent Traps?
7075 Aluminum Solvent Traps
Aluminum Solvent Traps are Among the Best
Cleaning your firearm with a solvent trap is essential for any owner who wishes to contain cleaning chemicals. The process of trapping solvent and other cleaning oils during firearm cleaning is one that is safer for owners, and one that improve firearm cleaning efficiency. Routine mainteince improves firearm performance too.  It's important, especially for the first responders who rely on their firearms to maintain law and order. Solvent traps can also be used for dry storage purposes for those that are savvy. There are several creative ways to use our Adaptive Solvent Trap models for both cleaning and dry storage solutions as well. Review our product guides to learn more and view a few of our provided methods!
There has been a notable increase in knowledge and demand for multiple firearm cleaning solutions, with solvent trap kits topping the alternatives. A solvent trap kit is a product that helps you trap solvent for efficiency, and to avoid a total mess. They can be extremely effective when used properly as directed. These solvent traps differ in size, material, design, and composition like any other online product.  So what are they? If you're looking for a high quality 7075 Aluminum solvent trap we have this material in two models; Solvent Trap Tube models and Adaptive Solvent Trap models.
See What Our Customers Say About Our Solvent Trap Products
MissionMan
February 13, 2022.
Armory Den = HELL YEA! 🙂 Finally a company who doesn't rip people off. I searched forever for a trap kit that matches industry design and option. Ran into tons of scam sites until now. I bought the 304 Steel Adaptive Trap (10" inch) and that was on a Friday. That same night or the next day they already had USPS label from Florida and it shipped out that same day! Armory Den is the best site out of all the knock off scams or just plain fraudulent sites claiming to sell traps. Everything from their shipping to the transparency of sells via Stripe payment, keeps reputation in the front seat. Thank you whoever runs Armory Den. You are doing so many people favors. Your prices are cheapest along with design and materials offered. Its China that makes knock offs and Armory Den DONT PRODUCE OR SELL THAT GARBAGE. (P.S. stay away from Solvent Traps Direct).
Frankie
December 17, 2021.
Amazing! Absolutely thrilled with the level of customer service. Anytime I had a question they respond very quickly and always answer my questions completely. I love their packaging. While it may be somewhat difficult to get to their products through all the packaging, I really appreciate that they take the time to properly wrap their products. I feel like this attention to detail would protect my order if the delivery person were to leave it where it could get rained on or left in the weather. The packaging is amazing, and I will continue to return as a customer.
Mike S.
December 11, 2021.
Outstanding on all fronts Great company! I am 110% satisfied with my experience. The ordering process was easy and secure. The package arrived 3 days early by USPS. The product was extremely well-packaged: outer bubble envelope, inner bubble wrap, a box, and the individual pieces were separated and secured within holes in foam material. The trap itself is very well constructed as advertised. I'm glad I paid the extra $$ for a high quality product rather than risk with a random internet company just out for sales. Also customer service responds within hours and is extremely responsive—they have actual humans interacting with you! Will use again. Thx!
Adam Carruth
June 19, 2021.
custumer of Armory Den for life. where do i start, well for one thing these people have custumer service covered on a legit level. the best hands down communication with me then any company has ever had. up until my first purchase amazon had that on lock. but Armory Den has them beat. And if your skeptical of the quality of material or machining. one time is all it will take for you to truely trust that every single purchase you make with them will be the best you can buy. The best business and people you will ever spend money with. I am a customer for life and that is a fact! truely greatful for a business that actually cares about the people they do business with. thanks yall god bless you!! Adam Carruth
William Patterson
May 25, 2021.
Solid from website to my hand, top shelf As I shopped for the product, I kept returning to the Den website. Descriptions are clear, lots of good information, very good value. Ordering is simple, terms are straightforward. I had special shipping instructions, followed perfectly. Secure packaging. The trap is well machined, fits tight, and is nicely finished. The hand-feel has heft and is of quality. Extra care at every step. Thanks.
Great experience Great experience
They did the right thing! Let me just start with Thank you Armory Den! What exceptional customer service! Their response time to emails, is faster response time then the police department has where I live for 911 calls lol j/k. Seriously, they answered me on Sunday, morning and afternoon. No company does that! Also, I asked about a part I thought came with my order. I was ready to pay for it, nope, they sent them to me for free, and shipped on a Sunday! No one does that! I'm a customer for life! I even canceled an order I had with another company, just so I can buy from ARMORY DEN! My business motto is "always do the right thing l, no matter what" they obviously follow it also!
This company is the real deal I was a little skeptical about ordering honestly. I hadn't heard much about armory den and could only find good reviews lol. But I took a chance and put through an order. Everything arrived as described and is awesome. Be aware that you may receive multiple shipments based on what you order. These guys respond fast and from what i have seen, produce quality products. They have my future business. I've put up similar reviews and given a recommendation on their FB page.
Michael Whitehurst
February 14, 2021.
Great experience Great experience. Product can exactly on time, as expected. Very pleased with product. Very well engineered and good quality. Customer service is excellent. Answered all questions quickly and very informative about products. Will definitely be ordering more in the future
7075 Aluminum Solvent Traps
7075 aluminum solvent traps are among the best and most versatile firearm cleaning and mobile dry storage alternatives in the market. They come in different sizes, and they rank superior compared to other solvent trap kits.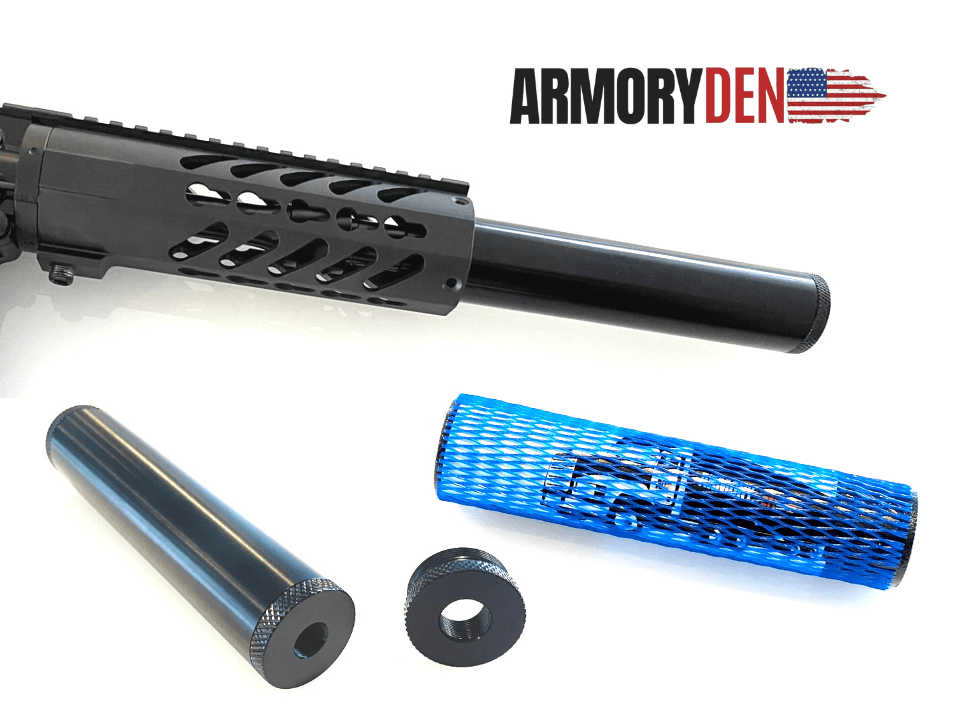 Some of the distinguishing factors from the rest include;
High-grade materials – Solvent trap kits made of aluminum are solid and durable. The material used for manufacturing 7075 aluminum solvent traps is high-grade and a popular 'top quality' choice.
Distinctive modular design – 7075 aluminum solvent traps from our adaptive solvent trap models have a clear-cut modular design, which differ from the rest. They are easy to assemble and can be used to adapt to a users cleaning or dry storage needs. Designs are preferential, but all solvent traps offered are durable to reduce damage overtime, such as wear and tear on threads.
Excellent finishing – Most 7075 aluminum solvent traps have a hard coat (type III) anodized finish, and have better anti-corrosion properties, opposed to other weaker metals.
What Are Some of The Parts Of 7075 Aluminum Solvent Traps?
Here are a few parts included with our Adaptive Solvent Traps made of 7075 Aluminum:
 Thread protector – This is the part that supports the connection of the Adaptive Solvent Trap Tube to the firearm's muzzle. As the name suggests, it mounts the solvent trap onto the firearm in order for solvent and debris to be collected into the tube and stopped by the end cap. 7075 Aluminum solvent traps include a 1/2×28″ and 5/8×24″ thread protector.
End cap –  The end cap is the part that is threaded onto the opposite side of the solvent trap tube to seal the end, and that prevents any collected solvent from escaping the solvent trap. It's fitted at one end of the solvent trap to contain the fluid and debris.
Dry Storage Cups – Adaptive Dry Storage Cups are where the solvent is collected during the cleaning process. They are usually a couple of them depending on the kit purchased, and they give you the option of either storing the solvent and recycling them later or disposing of them. About 6 to 8 storage cups are included in 7075 aluminum solvent traps.
Adaptive Solvent Trap Tube – The Adaptive Solvent Trap Tube is the central part of the item which the end cap and thread protector attaches to. All 7075 aluminum solvent traps (AST models) have an Adaptive Solvent Trap Tube.
7075 aluminum solvent traps are durable and should be considered if you look for a long-lasting firearm cleaning and dry storage solution. Armory Den is America's #1 Supplier of Solvent Traps. Visit our Den for the best 7075 aluminum solvent traps for your firearm cleaning and dry storage solutions.




Guaranteed Customer Satisfaction.
Our 5 star customer reviews published on various sites such as Trust Pilot, reflect our ability and drive in bringing only the best solvent traps and parts while providing top-notch customer service! Our goal is to exceed all expectations!
Quit overpaying for solvent traps or worse, overpaying for inferior products! We keep the best Aluminum aluminum solvent traps, titanium solvent traps, and stainless steel solvent traps in stock at all times. If you're still looking for a reliable solvent trap products you came to the right place!




Have questions? Submit the form below and our staff will get back to you soon.